16:30, Saturday 10th December 2016,
Slumped over a table in a garage, sun-burnt, heat exhausted, probably dehydrated, and struggling to make any headway on the burger and fries in front of me – I slurped on a chocolate milk shake in a desperate attempt to get some form of calories down. Comparisons with my Joburg 600km DNF didn't end there. We were 330km in and, as on that earlier failed ride, both Henri and Kenneth were sat at our table. The omens, if you believe in such things, were not good. It felt like we'd battled weather and terrain the whole of the way so far, often both at the same time. Our riding time of 22.5 hours to this point was already dangerously close to the cutoff time, and for the second time today I was giving serious thought to quitting.
18:15, Friday 9th December 2016
The start of our attempt on the Cape 1,000km the previous day had not been without it's own share of drama. Theunis phoned on the way to the start to say his wallet had been stolen whilst visiting the shops to get snacks and energy drinks. So now, as well as battling a painful elbow injury from the previous weekend's race, he'd also be starting late, with no money, and no food. It's testament to his determination that he didn't just turn around and go home there and then. We delayed the start by 15 minutes to give him time to get sorted, and agreed to share out cash and rations as we rode along .  Maybe it was the time of year, or the small group of just five of us kitting up, but there was a distinctly festive atmosphere as we posed for final team photos. Nico's wife Valerida came to see us off, along with their ridiculously cute baby little Nico. For those few peaceful moments as the sun dropped lower and shadows lengthened across the vineyards it was almost possible to forget about the monstrous challenge awaiting us. Almost! But this ride is not nicknamed the Cape Beast without reason, and only The Cape's two strongest endurance riders (one of whom would be starting with us today) had ever successfully completed it. Only a hopeless optimist could i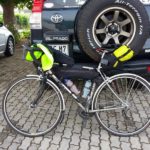 magine that all of us would manage to finish this brute. But half the battle on long distance rides is getting to the start and, as the clock struck quarter past six, five hopeless optimists rolled down the tree lined drive at Vrede and out onto the open road to tackle whatever lay ahead.
The open rolling countryside towards Paarl was delightful, a patchwork of nearby fields leading to distant mountains, each lit up sublimely in the contrast of the evening light. Our riding pace was easy, and conversation flowed freely – banter about the ride ahead, TCR, bikes and wheels, bike setup, bag options, and all manner of cycling related chit-chat. Chris mentioned he'd had house guests staying the last few days – his inner tour guide was clearly still active as he relayed that Paarl Main Road, which we were riding along, was the longest town main road in the country. It does indeed go on for a very long way. By the time we turned right off it and back into the vineyards, we were already 28km into the ride and closing in on our first control. It was tempting to lift the pace to keep up with Nico and Chris who were pulling ahead, but so early into a long ride such a decision is never wise. So Theunis, Kenneth and myself sat back and rode a steady pace into the outskirts of Wellington. We opted for the easier, albeit somewhat less salubrious route through town. A large crowd of young men loitered underneath a shabby shop sign saying "drankwinkel" (liquor store), uncomfortably close to where our route turned right to cross a bridge up and over the railway line. There was no malice in the few cries thrown our way though, and before long we turned left by the impressive town church and span easily over the last few meters to the Shell Garage marking the control.
Wellington control, 40km – 19:44 Friday 9th December 2016
So early in the ride, and so obsessively provisioned, none of us really needed much. I grabbed a water to get a receipt marking our time of passage, and I vaguely remember a couple of the other guys grabbing coffees. We stood under the forecourt lights rummaging through our various snacks for something tasty to keep the fuel levels topped up ahead of the first big climb of our route. Everything in Audax land so far was peace and light,  but we were only a fraction of the distance in and with all of the hard parts still ahead. For some reason, Mike Tyson's famous quote popped into my head:
"Everyone has a plan until they get punched in the mouth"
Bainskloof Pass brought on the usual mix of emotions – wonder at it's stunning beauty; and breathless agony at the merciless gradient to the top. It was a first for Kenneth, the previous route having started out over Franschhoek Pass. It's hard to tell whether he was actually enjoying the experience but we were making good progress nevertheless. The wind must have been a little from behind as we took the ninety degree left-hand curve before the long straight traverse that marks the final part of the climb. Our wheels ran free-er and both of us steadily shifted up several gears as we picked up pace towards the summit. We crested the ridge and free-wheeled down to where Theunis was waiting for us, stopped beside one of the holiday cottages that sit in the sheltered dip where the pass crosses from one side of the mountain to the other. Chris was long gone now – his pace and strength would gradually open an ever widening gap as he started to pass controls far ahead of us in time and distance. We snacked briefly as we did up jackets, and I added arm warmers and a skull cap. Hot and sweaty from the climb would soon become icy cold as the chill night air combined with a fast run to the bottom. Although he wasn't at the top as we rolled out again, as a faster descender, we knew Nico would catch us soon on the way down.
The road twisted and wound as my wheels picked up speed. The road surface, still bad, was not quite so jarring as I remembered – perhaps I'd managed to get my tyre pressures better than on the last occasion. Theunis was soon far ahead of me, but I was pleased with my speed, flowing through the corners with minimal braking, and generally descending faster and with more confidence than usual. As the pass flattened out I heard a shout from behind
"Certainly no missing your rear light"

"I think I need a retina transplant"
I have written those two quotes as I heard them. Because, in the middle of the night, with a tired brain, I heard them as completely unrelated comments. The first clearly being a resounding endorsement of my lighting system. And the second, presumably, being a reference to bouncing around at high speed on a bad road surface having damaged his eyesight. Of course it's obvious now, as Nico explained a little down the road, that those two comments were in fact connected and it was the brightness of my tail-light which had burned out his vision. This would not be the last time that, through fatigue, we'd have conversations completely at cross purposes to each other.
We waited at the foot of the pass for Kenneth. There were a couple of junctions coming up and he'd mentioned something earlier about not having the latest route version loaded in his Garmin. I remember shuffling kit around at least a couple of times at this point. I think I swapped from gilet and arm warmers to my new Endura lighweight jacket (an FS260 PRO SL in green – a piece of kit I grew to love as the ride went on). One thing I recall very clearly is both of us switching our lights off and remarking how perfectly timed one aspect of the ride was. The moon was almost full, lighting up the countryside with such force that aside from being visible, there really wasn't any need for a front light. The night time stretches ahead should be truly magical. Eventually Kenneth rolled up, also did a quick kit swap, and we headed out again. Almost immediately we passed Theunis, who'd stopped on the main R60 also to wait for us to regroup and swap kit. Before long, the four of us were riding together again as we headed into Slanghoek valley for the last 20km to the next control.
Aside from one house party, all was peaceful on the stretch through Slanghoek. It could not realistically be called quiet though – a pesky little wind having picked up. At this stage it was more cooling than troubling, barely enough to hamper our progress. But it was a worrying development given the direction and length of the section  between Rawsonville just ahead and the third control in Robertson. I cursed under my breath at the conditions. I was feeling considerably less than 100% as finally Kenneth pulled away, making me the last man on the road. I was only a few minutes behind the guys pulling into the filling station on the edge of Rawsonville, but I limped in on heavy legs. We were just 95km into the ride, and already my spirits were sagging and my body felt sore and disinclined to continue. I told myself it was the usual bad first 150km which I suffer on many long rides, and that I just needed to get inside, get some coffee, and pull myself together.
Rawsonville control, 98km – 23:15 Friday 9th December 2016
We spent half an hour in the garage – most of it sprawled on the floor, leaning against the ice cabinet taking alternate swigs from a cup of coffee and a chocolate Sterrie Stumpie (a local milk shake brand), and stuffing down a variety of salty and sweet snacks. At this point our timing was well on track and, although it was perhaps a longer stop than we'd intended on our original discussions, the body and spirits did feel somewhat revived as we headed out into the night, the start of a new day now just a few minutes further down the road.
I have three very clear recollections of our midnight ride through Worcester. The first was Nico calling a detour through the town to pick up the R60 towards Roberston, rather than our usual route on the R63 past the township to the left turn at Aan de Doorns cellars. The second, and related to this, was Theunis' repeated attempts to get us to do a quick left and right turn to take the main road through town. Having grown up in Worcester, he was worried about our current trajectory through a somewhat seedier and less safe part of town. The third, and most powerful memory though, was trying to recall if I had remembered a nearby Protea Hotel correctly, and whether they'd have a room for me at which to abandon the ride and give my now drum tight leg muscles a rest. As a result of this third factor, I blithely ignored Theunis – if someone had jumped out and bike jacked me, I'd have an excuse to end the torture which required no loss of face on my part, and might even earn a bit of sympathy. We rode on, continuing to ignore Theunis, until it eventually became a moot point. We reached the R60 anyway, despite our apparently perilous route. Even though the tar was smooth and fast, and the road had a nice wide safety lane, it would not be fair to say I was pleased to be heading out of town. As far as I was concerned, all we'd achieved was another 50km and a few more hours of hell before I could abandon the ride and find a hotel in Robertson instead.
My lasting impression of the ride to Robertson was that it carried on upward for far longer than seemed possible, and the pesky little wind had grown into a full blown stroppy teenager, complete with truculent outbursts blasting us backwards in the direction of Worcester. Landmarks crawled past slowly, one by one. First the quarry just over the brow of the main incline, then Rooiberg winery, and finally Graham Beck winery at the foot of the last incline up and over into Robertson itself. Bizarrely, this last climb despite being the steepest of all, was by far the easiest – shorter, sheltered from the wind, and spirits buoyed by the thought of a rest just ahead. We were soon whizzing down the other side, and into our third control of the day.
Robertson control, 166km – 03:25 Saturday 10th December 2016
It was yet another filling station of course, but this one had fresh ground coffee, friendly staff, and comfy chairs. The Steers fast food counter wasn't open, but the coffee shop had a decent array of pies, cakes and sandwiches. Unusually for me, I opted for tea and a packet of four Oreo cookies. I think my body just needed sweet and comforting, and couldn't deal with the harsher bitterness of coffee.
"This might be me done. Not sure I can carry on. Very least I need to sit this out a bit, so please don't wait for me if you want to carry on"
I really had every intention of quitting – the major muscle groups in both legs (glutes, hip flexors, quads, and hamstrings) were now tight as a drum and screaming at me. It felt like both legs were being simultaneously stretched in a vice whilst being pummeled by hammers. Theunis replied that if I was quitting he'd also stop – the pain from his elbow was not easing at all. Nico and Kenneth both said they were happy to wait and not in a rush to push on. At first I just sat there miserable, but eventually resolved to try and change something about the situation. I grabbed a pastrami sandwich with mustard in it, something I know can help cramps as well as giving my body some much needed fuel. I also took some painkillers and a couple of Rennies, again in the hope that the magnesium would alleviate the tightness. I may have also got coffee as well, but the one thing I do remember is a piece of wisdom coming back to me from this year's TCR reports. Mike Hall or one of the organizers had urged a competitor not to abandon in the night time but rather wait until dawn. The theory being everything always looks and feels different in daylight. This was the final thought which lifted my slumped body out of the cafe chair and back onto the bicycle. If I was going to quit, I'd do it somewhere down the road in daylight – probably Barrydale, which was also where we'd most likely meet up with our safety driver, Peter, for the first time.
The guys had been super patient waiting for me at the control. What should have been a quick pit stop, spread into an hour by the time we rolled through the still sleeping streets, up to the roundabout at the head of town, and out onto the open road. I repaid their kindness in the only way possible – I dropped them like a bad smell over the 15km into Ashton. It was completely unintended, and I didn't even notice until almost at the end of this stretch. Dawn broke soon after we left Roberston and some combination of this, the pills, and the rest seemed to have almost worked their magic. One other factor was different too, a conscious change on my part. I rationalized that if all my big muscles were hurting, the smart move would be to change my pedal stroke so I was not using them so heavily. I dropped several gears lighter, and lifted my cadence to the point of spinning like a hamster. Over that stretch I focused solely at maintaining that high cadence but light pedal pressure regardless of whether the terrain was rolling up or down. I became so much a part of the rhythm that I lost all sense of time and place. I savoured the fresh light breeze at my face, gazed at the first shafts of daylight streaming down through the clouds, but felt completely apart from them. Time, at that point for me, existed only in the perfect circles of whirring feet and spinning wheels. One odd part I do remember noticing is that somewhere along this section is the village of Klaasvoogds which, despite seeming to barely exist at all, manages the impressive achievement of having both a Klaasvoogds West and a Klaasvoogds East.
"No one who can suddenly ride like that is allowed to get in Peter's car at Barrydale"
Nico was the first to arrive at where I'd stopped at the far side of Ashton and called me out on my shockingly bad behaviour. He was smiling though, and seemingly unperturbed. Had the situation been reversed I'd have struggled not to utter some sarcastic remark along the lines of "thanks for the tow …. (arsehole) … ". I guess day break had improved all of our spirits, and it didn't hurt that we were standing within sight of Cogmanskloof. Even with the current roadworks, the stunning scenery that announces the start of the Route 62 is a highlight of any ride. Once regrouped, we weaved through the Stop-Go sections, occasionally hopping onto the gravelly new stretches of tar to avoid having to dice with cars traveling on the narrow single lane stretches. One advantage of being stopped at the lights in the middle of the kloof was the a chance to look up and really admire the rocky landscape. Nico temporarily took over the tour guide role and informed us this was the rock climbing capital of South Africa. No wonder really. Stacked layers of rock wrapped into insane curves like folded sheets of paper – it must be a mecca for those vertically inclined.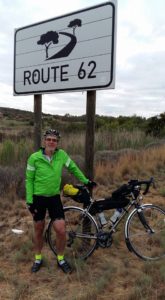 It took us a few minutes to regroup at the far side of the kloof – photo and traffic light stops having split us up as we navigated the patchwork of part mended road. It was around 6am as we rolled through the town of Montagu, serene and peaceful in the early morning, but with a few signs of life emerging here and there.  Immediately on leaving the town the slope began, a long drag up and over to Barrydale which none of us had been looking forward too – Wildehondskloofhoogte Pass. Neither it's elevation or gradient are remarkable and, aside from having the longest name of any pass in South Africa, it would be easy to dismiss, except for one small fact – it's relentlessly brutal on a bicycle. On it's earlier stages we enjoyed lively conversation on whether we had entered the Karoo yet (we had) and took time for a photo stop alongside one of the Route 62 road markers. The jollity did not last though, and soon we were head down and swearing between breaths. For every 2 meters climbed, the road seemed to drop by about 1.5 meters solely for the purpose of making us climb back up again. We pulled over at a padstal at the top and immediately remarked that it was no coincidence that the Double Century travels this route in the opposite direction. Faced with this ugly slog of a climb, many teams would probably mutiny on the spot. But on the plus side – at least there was cake. Or to be more accurate, superb brownies courtesy of Peter's wife Bronwen. And coffee, and a variety of other tasty snacks and drinks. We congratulated ourselves for such a clever location for a secret control.
Barrydale control, 250km – 10:30 Saturday 10th December 2016
The chase down into Barrydale was fast and refreshing, and longer than I remembered. Despite our recent roadside stop, we headed to one of the cafes for toasties and shandies. The food and rest were welcome and reviving although, in hindsight, on analysing the GPS log it's clear we spent a lot of time on those two stops. Combined with my need for a longer stop earlier, we were between two and three hours behind our original schedule. One of the perils of long distance rides is time lost off the bike and, without really being aware of it, we were beginning to edge dangerously close to cutoff times, and eat into our sleeping  time later on. Spirits were good though, and my body finally seemed to be settling into the riding. Despite the uphill battle to get here, I was feeling fresh and raring to go as we headed out on the road again – now definitely in the Karoo, even if we'd had doubts earlier.
The next control at Ladismith was just 77km ahead and, aside from a stiff climb immediately on leaving Barrydale, the route has no major hills. The two towns only differ by around 70m in elevation too, which ought to make for gentle riding. Unfortunately, we soon learned that this part of the Karoo is not made that way. Route 62 crosses a number of valley floors, book-ended either side by hilly ramparts. None are large or especially steep, but co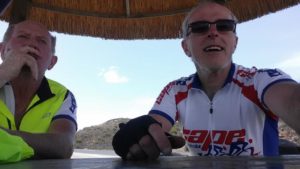 mbined with growing midday heat, headwinds, and the arid, semi-desert, landscape they make for a wearing onslaught to the body and mind. Theunis and I pushed on and on until a picnic spot with shady tables at the top of one of many rises was just too tempting to pass by. We tucked into snacks and drinks and put on sunscreen (too little and too late in my case, I would later discover). Nico and Kenneth had stopped for a quick beer in Ronnies Sex Shop, and hence came through a while later. By the time they arrived, both our safety drivers were present – Peter for the current leg, and Henri who would take over in Ladismith. We made quite the procession as we set off again.
We'd traveled perhaps one dip further before I started to sense Theunis was struggling behind me. Rather than alternating at the front, I could feel him dropping off the back. Soon after I heard him call out from behind
"That's it, I'm calling Peter to get in the car – I'm done."
It wasn't the oppressive heat that forced him off the road alongside a single, solitary tree, just barely tall enough to cast a usable patch of shade. After 315km his elbow had finally refused to do any more work, leaving him with little control of his steering and absolutely no power for braking. Common sense and safety prevailed, although I knew just how rotten he'd be feeling at the sight of me slowly slogging off into the distance whilst his second attempt on this beast of a ride wilted and evaporated in the hot karoo air. I wasn't feeling much better myself and, at that point in time, I really wasn't sure how much further I'd be riding before throwing in the towel and accepting a lift home. The sight of Nico a bit further down the road and the prospect of some riding company did at least lift my spirits. The rubber mounting for his front light had broken, and the minutes he'd wasted recovering the bits had let me catch up. We were perhaps 20km away from the control, as we ground slowly up yet another short uphill just past the Rietfontein private game farm.
I have no idea how many more dips and rises we rolled through – they felt endless but, in truth, it was probably only three or four more. I do recall another short, shady stop in a long tree-lined ravine, before the last couple of ups and downs into Ladismith. I'm sure it was the heat, but the last couple felt especially cruel and unnecessary. Eventually though the wheels broke free as Nico pronounced our arrival:
"That's the last one, all downhill now"
Or words to that effect.
Ladismith control, 332km – 16:40 Saturday 10th December 2016
At the sight of the garage and Steers we hurried down the hill, bumped up the kerb, crossed the forecourt, and rode pretty much into the shop. With perfect timing, Henri grabbed my bike from me as I pulled up. It was a good job he did too – I felt my knees buckle and wobbled slightly as I dismounted. With no more effort needed for now, exhaustion had taken over. I trudged across to the counter and someone, I think it was Peter, put in an order for a milkshake. I sat contemplating food options, and Nico insisted I ate his chips, which came with the combo he'd ordered. I went to order a plain burger to go with them, and when it came proceeded to peck at both of them with all the appetite of a tiny bird. There was no lack of hunger, and my body needed the fuel, but in my semi-heat-exhausted state my mouth and throat had gone on strike, refusing to chew or swallow anything substantial. Long distance rides in the heat can play havoc with the mucus membranes, and my open-mouthed style when riding under load only serves to make this worse. Combined with a level of dehydration, and general tiredness, it becomes very hard to get the fuel in your body needs and craves. Eventually I gave up and just sucked pathetically on the milkshake.
It wasn't long before Kenneth arrived and pronounced that I looked even worse than he felt. He wasn't wrong. The too-late application of my sun screen meant my face, ears, neck and legs were all badly sun-burnt. We were at least a couple of hours behind the schedule I'd originally hoped for and there'd be little chance of making up any of that time on the next, also tough stretch. Although even contemplating that felt a little immaterial at this point. I was empty and wrecked, and really had no belief in my ability to carry on any further anyway. I kept a watchful eye on the long, padded bench near the counter of the Steers and as soon as it was vacated I grabbed it and lay down. Nico was kitting up to ride out again, and Peter offered to check on him at 20km into the next leg. I told them both I'd catch an hour's nap and make a decision when Peter returned. In all honesty though, I was pretty sure I'd be joining Theunis and Kenneth for a lift home. I quickly phoned Yoli to let her know I was close to abandoning. I forget the exact words of her pep talk, but the gist of it was:
"If you quit without giving it a proper go, you'll kick yourself and it will ruin your confidence for TCR."
I drifted off into a short sleep with those words in my head.
I woke up feeling groggy and disoriented as Peter arrived back. He brought with him a message from Nico – and although I don't recall it's content fully, I do remember thinking that it matched almost word for word Yoli's message to me on our call. I really felt no better but, somewhere deep inside, I found a small ember still glowing faintly. My mind and body were a mess, but the fire was not completely out. Both Theunis and Kenneth looked more than a little shocked as I wheeled my bike out of the shop and instead of pushing it around to the bike carrier on Peter's car, I mounted up. Their surprise was nothing compared to my own. I felt positively dazed and a little delirious as I messaged Yoli to let her know I was carrying on, bade farewell to the guys, and turned right and and headed off towards Calitzdorp. Even now, as I write this, I still can't quite believe I got up off that bench to ride again – and I have no idea what inner force compelled me to do so. Any rational person would have just got in the car and gone home.
19:30, Saturday 10th December 2016
Despite my shabby state, I had a sense of calm pedaling out of town in the now much cooler late afternoon air. Riding solo at your own pace brings its own sense of tranquility and, although I was slightly concerned for my safety being alone, the few souls I did greet on the way up the long slow incline all smiled and returned my greetings. Instinct took over and I rode in recovery mode – eating frequent bites of snack from my top tube bag, and taking regular sips of water. There was no danger of running dry – the heat had subsided, Calitzdorp was only 50km ahead and, even if everything was closed, I'd taken the precaution of buying an extra bottle of water that sat snugly in the feed bag mounted on my handlebar. The mountain tops ahead grew orange, then pink in the fading evening light. It was impossible not to feel uplifted by the peace as Route 62 and I gradually rolled up and down towards them. Eventually my bike picked up pace as it chased down the road towards the hamlet of Zoar. For some reason, riding through this town worried me – perhaps because of seeing cars racing around here on previous road trips. And, sure enough, a couple of locals sped past, did U-turns, and then charged back into town. I was more than a little nervous they were checking out this odd lone cyclist as possible prey but, as with Ladismith an hour or so earlier, the only greetings rolling through town were friendly ones. The houses faded away behind and the black blanket of night wrapped around me as the long rise towards Huisrivier Pass began.
I tried to remember how the terrain went as I rode along but my recollections proved hopelessly wrong. What I thought was the descent into the river valley was really just a short dip. To my surprise, at the bottom a heavy, seemingly endless slog of a climb followed. Disoriented in the darkness it was only when I saw the sign announcing Huisrivier Pass 660m at the top that I realised my mistake. I was now actually at the start of the long descent through the pass. It was a thrilling, if somewhat troubling blast down the winding road – impossible to hide from the need to climb back up it again to get home. Eventually the first of the river bridges came up as the pass bottomed up. I had a vague recollection that there was yet another climb to get back up out of the valley again and over to Calitzdorp. I hop
ed I'd remembered it wrong, or maybe it was just a short incline before the run down into town. Sadly, on this occasion, my memory was painfully accurate – no sooner had I crossed the second of the two bridges than another interminable drag began. I battled slowly on and up, eyes locked on the orange glow up ahead, willing it to come closer, which it did, of course, eventually. A truck passed me and soon after it's tail lights veered right and disappeared. I knew it must have crested the hill, the end was quite literally in sight.
22:30, Saturday 10th December 2016
Rounding the same corner I was greeted with that most wonderful of sights – the twinkling lights of a town, down below you, with no pedalling required to get you there. But it wasn't all good news. Glancing down at my Garmin confirmed something which I was already pretty certain of even as I left Ladismith. My passage had been predictably slow, and it was now late. Nothing would be open. I had enough supplies to ride on, but I didn't really want to. All day I'd been dreaming of calamari at the little Portuguese restaurant opposite the graveyard at the far end of town. I knew they would have closed, but that didn't stop me casting a long look as I rode past, in the hope that maybe someone was still there eating late. There we no signs of life though and I was debating whether to look around for something else or ride on when a familiar voice called out from my side of the road.
"Hi Rob, you made it!"
It was Nico. And he hadn't just waited for me, he'd managed to keep the restaurant open as well. I did have to beg them a little to rush out one last order but, before long, a wondrous vision appeared in front of me – a plateful of burger and fries and a Winhoek beer. OK, it wasn't quite squid in white wine and garlic, but it was a damned good second. I ate and drank slowly, accompanied by the rhythmic snoring of Nico. With no more need to keep an eye out for me, he'd stretched out flat on the stoep and fallen fast asleep. I envied the ease and speed with which he could nap. I'd probably also have lain there, and perhaps snoozed for a short while, but nothing like the rapid, efficient sleep he was now enjoying. It wasn't all peaceful though – as I returned from the loo a drunk local was trying to engage Nico in a long dialogue about cycling, and the colour of his old bicycle from the days when he also rode. Eventually, he got the message and wobbled back inside. I'd only managed about half of the food, and even less of the beer before I pushed the plate away. My appetite, or maybe more accurately my ability to actually eat had not improved since Ladismith even if the rest of me was feeling considerably better. I was just contemplating another three hours on the bike when the restaurant owner came out and spoke to us.
"You're surely not going to ride on to Oudtshoorn now?" she inquired, clearly doubting our sanity.
I explained we had a room waiting there (a fact which was confirmed at almost the exact same time by a text from Henri) and, since we were tired and needed a bed, we didn't really have much choice. I've never doubted the innate hospitality in smaller, rural South African towns, but even knowing this I was surprised by what happened next. The lady owner rang a friend of hers who ran a recently refurbished B&B nearby (she referred to it as a backpackers, but that term honestly did not do it justice).
It was close to midnight, but the owners of The Calitz got up, got dressed, drove a couple of blocks to meet us, and then drove back to show us the way to their accommodation. The rooms were smart, modern, and delightful – and our hosts Colleen and Charlie could not have been more hospitable. They didn't even raise an eyebrow when we said we'd be leaving in a couple of hours. Instead they showed us how to let ourselves out and where to leave the key. Before crashing, Nico and I agreed we'd set alarms for 02:30 – just over a couple of hours sleep, but it would be enough and also prevent us slipping too much further behind the clock. I fell asleep in minutes – forgetting to put either my lights or phone on charge. A rookie mistake but one which would not matter as things turned out.