It's somehow like a 'vasbyt' in the army, you just keep going and wait for something to break inside you or to recover.
A faint glow rose above the eastern horizon as our wheels ate up the final few kilometers to the half way checkpoint, rolling easily across the smooth tar after hours of gravel roads. Dawn would break over us before we got there, but only just. We were three riders, myself, Janine, and Etienne. Riders with no connection aside from all being mad enough to take on this crazy challenge – and all preferring some good company and conversation rather than riding alone for twelve hours through a dark and cold night. It was almost exactly twelve hours too – the Solo group had left Oudtshoorn at 6:10pm the evening before, and it was now approaching 6:15am. In around 15 minutes we'd be dismounting and heading for breakfast, coffee and the warmth of the checkpoint. After some low points on the ride to here, it was great to be arriving in good spirits and in touch with the schedule I had been hoping for.
The first few kilometers of the ride had also been in daylight, or at least dusk anyhow. Ominous clouds loomed grey and heavy over the mountains into which we were heading, but the storm never broke. The tracks were still wet and muddy in the dips and hollows though from the heavy downpour earlier in the afternoon.
The last of the daylight faded by the time the route swung left and onto tar road for a while – directly in front of the Cango Ostrich Farm just outside Oudtshoorn. With the onset of night, front and rear lights were being switched on all around. The groups were still numerous and chatty, speed having not yet spread out riders and distance having not worn down their spirits. Before long the real work began in earnest – a marshal signaled us right and we gradually started climb. I recognized the turn from our sightseeing trip earlier that day to the Cango Caves – it was marked with one of those brown tourist signs showing a picture of a waterfall. And as the road rose up we could hear the sound of a stream directly down to our left. In the dark it was impossible to tell how deep the ravine it ran through was, but the edge of the road fell sharply away. I decided not to take any chances, and kept well to the right of the edge, waiting for a nice wide gravel shoulder before hopping off to take a much needed pee.
Not long after I got rolling again two things happened: the tar gave way to gravel road again; and I found myself riding alongside rider #175, a girl with a purple Camelbak and a headlamp. I didn't find out her name for another 100km, but this was the first time I rode and chatted with Janine. She talked about her reasons for doing the ride – as preparation and experience for the Freedom Challenge later in the year. And I explained mine, as a break from road riding but one which would still be good endurance training and quite literally a change of scenery. Our speeds varied along the climb, but we kept passing each other – it was clear our overall pace wasn't that far apart. I remember at some stage we both hopped off and decided to walk a short but steep part of the climb, albeit separated by maybe 50 meters or so. I heard someone later comment that it'd be a very long day for those people he'd seen walking already. He wasn't wrong – my legs were stiff and tight, partly from the growing chill that night was bringing, and partly I'm sure due to nearly three weeks off the bike with vacation and other interruptions. There wasn't much which could change that now though, the ride was underway and whatever I had in the legs and lungs would have to be enough.
Aside from the one steep stretch, it wasn't a tough first climb, in fact I was whizzing downhill towards the first water point feeling great before long at all. Feeling great sure, but also starting to get cold. I'd definitely be changing into some of the warmer gear I'd stashed in the box waiting for me at the next stop – Leeublad, the second waterpoint, but first full checkpoint. It was somewhere near De Rust from memory, although all we actually ever saw of the town on the way there was some lights far off to our right, before swinging onto an especially muddy stretch and yet another climb. Somewhere around here I began boring possibly my 3rd or 4th victim with stories of long distance road riding. I forget his name, but do recall he was a marketing guy for plots on the Touwsberg Nature Reserve, or some job involved with its development anyhow. I rarely ask or remember what people do for a living, but Yoli and I had passed the reserve on the drive up and both commented on it, remembering having seen literature on it at some padstaal or other on previous a roadtrip.
Riding along and chatting, I could feel myself beginning to push a bit too hard – I even commented on it, but refused the offer to drop back. My heart rate crept up to 150 and at times as high as 160, completely above my endurance zone and definitely not sustainable. The damage was soon done – I uncleated as cramps shot through my left leg, and my riding companion asked if I was OK as he passed me.
"Yep, I'm OK, leg just a bit stiff – you guys push on"
Or some bollocks like that. I wasn't OK, I was sore – and it wasn't just one leg it was alternating between both. I could barely make it up the smallest of gradients without at the very least uncleating, and sometimes coming to a dead stop. It took me a while to find a workable way of handling this, but eventually I realized that standing and climbing for a while stretched out the legs and eased the pressure. A bit surprising really – I do alternate standing and sitting on the road bike too, but when cramps set in I usually find that standing makes them worse. I had a hunch my bike fit was partly too blame here, but wasn't about to start fiddling around with the bike if I could find some way to survive it, which for now at least it seemed I had. Checkpoint 1 was not far ahead – it was way way too early in the ride to be suffering cramps or any other kind of issue, but at least there was some time off the bike and hot soup to look forward too. I fixed my mind on that and tried as best I could to ignore the shooting pains.
There weren't just shooting pains either – there was actual shooting. Somewhere along the way myself and the chap I was riding alongside heard the unmistakeable sound of gunfire to our left. And not shotguns being used to blast unsuspecting furry creatures, this was small caliber pistol or rifle fire. I joked that hopefully they were bad shots and would aim at our lights. The guy beside me joked back something about maybe our lights were what was giving them a target to aim at. I think both of us unconsciously sped up and ducked a little lower on our bikes. No more shots rang out though – the danger, if indeed there had been any, was passed.
It wasn't the end of my immediate troubles though. I'd overdone it and wasted energy pushing too hard, given myself the cramps, and now as I rolled into the checkpoint the one thing I had really been looking forward too wasn't there. The soup had all gone. I swore at the bastards ahead for drinking it all – but it wasn't their fault of course, the organizers hadn't got their catering right. Pretty poor really on a now very cold night, with a ride where we had been promised we needn't worry about food because each checkpoint had plenty. I swore again, went to get my box, and swore some more. Sitting on the only place I could find – a low, cold brick wall – I slowly unpacked the warm gear from my box, and swore some more. I sat, and swore, and shivered, and swore. My energy levels were low and I was cold now from the inside. Leg warmers went on, a long sleeve thermal replaced the thin base layer, my thicker outer jacket went on, and with no rain in sight I went for my non-waterproof but much warmer and more comfortable Berghaus fleece gloves. I was still bloody cold and shivering. I knew that the only thing which would get me warm was to eat whatever I could find, and ride on.
My recollections of the stretch to Waterpoint 3 are pretty sketchy. I do remember eating nuts and an energy bar, and making a concerted effort to drink both the electrolyte mix from my bottle, and water from my backpack. I know from experience that dehydration is just as great a risk on cold night rides, if not more so, because you don't feel thirsty which leads to not drinking enough to replace what you are still sweating out. I also remember a rather pretty section where our trail dropped down into a dip to cross a river, and as it did so you could see the lights of riders ahead climbing a series of switchbacks to get back up out of the dip. It may have been along here too that I passed and briefly chatted with rider #175 again, who by now was hearing lions roar in the night. Despite most of us probably only catching an hour or two of sleep the previous afternoon, and it now being past midnight there was no way hallucinations could be setting in. There really must be lions somewhere out in the dark, hopefully behind a big fence of some kind – first gunfire, and now lions. They did say this ride was going to be a challenge.
It's hard to say whether water, food, or warm clothes made the real difference but by the time the 500m to Waterpoint 3 sign came into view my spirits were considerably improved. I was enjoying the ride again. There was still no hot food, but they had peanut butter sandwiches and the staff helping out were super cheerful and friendly. I made a conscious decision to fill my bottle with energy drink – I normally don't touch the stuff but now, with food options limited, I knew my body needed fuel and lots of it. It was time to be practical not picky, the back end of this ride would require every ounce of reserve and running out of steam early was simply not an option.
More lions roared on the next section, this time I heard them too – or thought I did anyway. There were a couple of epic sized, road-engulfing, mud wallows along this stretch too. I managed to pick a slithery line through all but one of them, which was just too vast to even attempt – I had no desire to take a dirty plunge having just started feeling better. The gravel roads rose and fell, swung left and right, but with so little to see beyond a short patch of rutted dirt road it's hard to recall any details. Just before Waterpoint 4 though they took us on a curious little detour. We left the track and rode around the slightly muddy edge of a farmers field. It wasn't really obvious why we were doing this initially since we were mere meters from the road we had been on for most of the time. I began to think it was to avoid a busy road junction, and perhaps there was some truth in this, but after a couple of kilometers we came upon a railway line and the marshals signaled we must ride along it and through a tunnel – actually more of a bridge really, it wasn't that long. The best line wasn't immediately apparent, but having tried the stones next to the rails and found them way too loose, I eventually picked out a trail of tyre tracks in firmer ground. We were actually on some single track!
We rode right of the tracks for a while, rising above them slightly, before dipping down and crossing them to ride on the left. It was a fun stretch – the riding path was narrow, and the bank down to the left was steep. Occasionally there were storm-water drain bridges too. It demanded full concentration to stay on the path and not crash into the stones on one side, or fall down the bank on the other. By the time we finally parted company with the rails, we had just a short freewheel down to the waterpoint. And as I sped down, a number flashed by again – #175 – it's amazing how it happens on so many rides that you pass and re-pass the same riders.
"That was fun ….." she said, the rest of the words trailed off and were lost as she sped past me, down the track and into the stop
My reply was some minutes later after dismounting and hanging my bike in the rack
"I can't believe we've ridden 145km just to find coffee and hot food!"
And added hastily, lest I offend the guys manning the water point:
"You have no idea how welcome this is, you guys rock!"
I meant it too – boerie rolls, sosaties, and cups of hot sweet coffee. It was the best stop so far, real manna from heaven. To make things even better, there was now only one more leg of 37km before I'd be seeing Yoli and Ben at the halfway mark, Checkpoint 2. It was still dark, and cold, but I was now feeling top notch. Even the legs were beginning to loosen up nicely. I dug in the pack for my phone and quickly rushed off an SMS to Yoli as promised – confirming that I was at WP4, with 1.5 – 2 hours until the checkpoint. I'd see her and Ben there, awesome!
Somewhere along the next section the third member of our merry band joined up – or we joined him. The three of us had been bouncing past each other for quite some way, myself, Etienne, and rider #175 – who I can now refer to properly as Janine, all of us having finally exchanged names. We settled in and rode along, and before long swung out onto the tar almost perfectly in time with arrival of light from the approaching day.
"Half way guys, well done. Hot food and coffee ahead."
The marshals at the entrance to checkpoint 2 greeted us cheerfully, jotting down our numbers as the sensors clipped to our forks triggered beeps from the nearby sensors.
Ahead was a large house, bikes propped everywhere and cyclists sprawling all around. It took me a couple of minutes to spot Yoli and Ben standing on the left side of the surrounding front stoep. Our plans from the day before had worked, they'd got my message and were here. Moments later I was dismounting stiffly and Yoli was taking my bike off me. It was great to see them, and even better was the family hug that soon followed. After the greetings, I followed Yoli to where they had been sitting – cleverly she had found a spot which not only had comfy chairs, but was directly in front of a roaring fire. This was going to be tough to leave! That was a problem for later though, for now having disrobed and dumped my kit all around I needed to eat. Etienne joined us by the fire with a polystyrene plate of full of Lasagne. I headed off in search of some, collecting coffee too whilst I was there.
We sat and chatted as I ate and warmed up. With one plate of food down, I went back for more  – it was delicious and the energy from it much needed. Whilst I was tucking in to seconds, Etiene bade us good bye, keen to get underway again. I wasn't quite ready and lounged some more. Although not quite to the extent of the couple on the sofa next to me – both fast asleep under a blanket and showing no signs of stirring. One of the marshals looked at them and laughed, clearly also wondering if this was it for them. Later on I discovered there were a Tandem couple, fellow Randonneurs, and they had in fact finished. Janine had decided to call it a day though – she'd already commented she may do on the last stretch in. Having already gained the night riding experience she was hoping for, the control was clearly too comfortable to leave.
Given the choice, I'd probably have packed there and then too. After a reminder from Yoli that I'd already been here for 45 minutes, I knew it was time to leave. I'd come here to finish the ride, and despite feeling pretty wrecked, I wasn't ready to quit just yet.
"Good luck Rob"
Janine called out as I topped up water bottles.
"Thanks, good luck for Freedom Challenge"
I replied, or words to that effect as I headed down the steps to my bike to begin the kitting up process. After swapping out batteries, and shuffling around clothes and layers it was time for a last hug before rolling slowly down the drive out and turning left out of the checkpoint.
Getting going again was tough – every turn of the pedals was sore, sharp pain shooting through my right knee, and every time I went to sit down the saddle chaffed at my raw backside. The break was necessary, but the endorphins had subsided whilst I lounged around and now the body just was not happy on the bike. At least it was fully daylight now, bright blue skies all around and fresh crisp air, it was going to be a beautiful day to spend on the bike. Or it would be soon, once the adrenalin got going and nature's pain killers kicked in again. I alternated a few pedal turns standing, to ease the bum, and a few pedal turns sitting to ease the knee. Slowly but surely the Garmin started creeping above half way – I knew better than to stare at it, the longer I looked the slower it edged forward.
In a few hundred meters I reached a T-junction, and just before I swung left a dark shadow loomed into my peripheral vision on the right, soon followed by the tooting of a horn and some shouting. It was Yoli and Ben – they had caught me up and were waving goodbye one last time. The Prado roared off, and our ways split – it would be many hours before I'd see them again. Exactly how many was anyone's guess. With the big hills ahead, I was pretty certain it would be more than the twelve it had taken to cover the first half. It didn't really matter too much though as long as it was less than 23 hours I'd be inside the cutoff time and be declared an official finisher. I knew time was not my enemy today – fatigue, accident, lack of determination, not looking after my hydration or fuel needs. Those were the real risks to not completing the rest of the ride.
With no great time pressure I ambled along, soon after the left split a lone marshal signalled me right onto a farm track – back on dirt road again. At times it was a narrow sandy track, a surface that could have been sketchy without yesterday's downpour – or had that been the day before? I was losing track of time, the steady churning of pedals and passing of kilometres were replacing the rhythm of clocks, and hours and minutes as the measure of my day. Up ahead another solo rider was slogging on, and just beyond him the gravel track could be seen turning right, and then sharply upwards into the hills. The warmup was over, the second half was about to begin.
I said something as I pulled alongside – I forget exactly what, some remark about the hill ahead probably. He didn't really reply, just a grunt – I'm not totally sure he understand me, the grunt sounded more Afrikaans than English. Clearly he wasn't in the mood to converse, so I slowly passed and began the climb. Somewhere close to the top a couple of guys passed me, pulled over to the side, dismounted and started taking their clothes off. It was a good idea, the morning was warming up and the climb was adding to the heat. My brain decided to do the same, but my body was too slow to react – the bike stalled on the slope, both cleats stuck fast with build up of mud, and the bike and I fell slowly to the left. Crashing to the ground with a yelp of "bollocks!" or something like that. Possibly the most embarrassing thing you could do on a bike and I'd done it right in front of them. I had to laugh. A voice from behind volunteered a tip
"You should drop your heel to uncleat"

Seriously? I could have punched him. But heck, I must have looked like a total beginner and he was just trying to be helpful. I said nothing, electing instead to do a very obvious job of cleaning my cleats out to make it clear this was the problem, which also wasn't totally true. I was bloody tired, that was the problem.
More and more people arrived, and more and more clothes came off, mine included. I recognised one of the riders from breakfast from her CBC craft brewery jersey. She had sat near Yoli, Ben and I at breakfast. I'm not sure my "did you bring the beers" quip was any funnier this time than it had been at breakfast, it certainly didn't seem to go down any better. My backpack swelled as I stuffed leggings, base layer, jacket and other crap into it. One of the guys made a comment in Afrikaans to his mates along the lines maybe I could fit their kit in too. My mental faculties were so dull that by the time I'd translated one of the other guys had already responded
"Hy kan jou nie verstaan nie"
I hadn't so much as looked up, so it was a fair conclusion. I looked up and said something along the lines that I had understood but my head was a bit slow – and offered up the stuffed pack as proof that I didn't really have room anyway.
The group of friends were underway several minutes before me, I was faffing around with shoes and kit, and I actually did want to get my cleats clean properly to avoid a repeat fall. By the time I got going again the five riders were disappearing around what looked like the crest of this climb. The slope was gradual and winding, and the scenery stunning. It was wonderful riding. I forget exactly how the terrain went from here, it rose and fell many times – the climbs were occasionally sharp but mostly fairly manageable. The descents though were one thing and one thing alone – fun. Great surfaces, wide sweeping bends that required no braking whatsoever. With each downward rush my Garmin registered a new top speed for the ride. A couple of times I wondered just how painful it would be if something broke suddenly on one of these – with the speedo passing 60Kmh and rocks and gravel all around, it would not be pleasant. I held firm inside and trusted that William had checked all my bolts properly – there was no way I wanted to waste one watt of downhill momentum that could save a bit of pedalling at the start of the next rise.
Rather surprisingly, bit by bit, I found myself ever so slowly overhauling the group of friends. Eventually I drew alongside, but had neither the energy or desire to pull ahead, instead I struck up conversation with them. They were all mates who had talked each other into the ride. The girl with the CBC shirt, Anja, was actually a brewmaster for the craft beer firm – not every day you get to ride with a beer maker, and I didn't waste the opportunity to chat a bit about my own efforts at home brewing, how she got into beer making etc etc. One of the other guys ran a bike shop in Malmesbury. I mentioned how many of our Audax rides went through there, and resolved to get his details so we could call in if passing during opening hours. I totally failed at this though and still have no idea where exactly his shop is. I remember chatting about cycling with the other guys, but the details now are sketchy. I do remember nearly wiping one of them out as we dropped down to cross ride the smooth white boulders of the river bed we had been riding alongside. I misjudged the corner, braked too hard, and he nearly ploughed in from behind. Yet more proof of my limited skills on a MTB, if any were needed.
We rode through a couple of water points together. The landscape was insanely beautiful: rolling farmland, gradually giving way to karoo scrub and deep red soil as the road wound its way towards the foot of the mountain range ahead. It was not hard to see how Rooiberg got its name. One of the guys had asked if I wanted to ride with them to the end – he even suggested that being a roadie, I might be able to help them pull a bit harder over the last 10km to get a better time. They had a goal to be home before 9pm. It was a nice gesture but I knew the climb ahead could well defeat the idea. One of their group was beginning to suffer from lack of sleep, but that aside they were a lot younger and looked considerably stronger than I was feeling. I knew inside I was going to be way slower climbing the mountain pass, and you simply can't ride someone else's pace on an endurance ride of this magnitude.
I filled up on potatoes, a Mars bar, and yet more energy drink at the waterpoint before the climb. I also sent Yoli a message, or tried too. In fact I forgot to hit send, and wouldn't rectify this until over the pass and almost at the next stop. So for now, she had no notion I was reaching the crux of this section of the ride. Even before the pass the group had strung out – Anja and one of the guys gradually stretching out ahead, then myself, then the remainder of the guys behind. I wondered if we'd regroup at the top but deep down I knew this was the split which inevitably happens at some stage on every long ride. It had been great to have such good company for the last few hours, but now it was time to ride solo again. Which was fine, especially with an evil climb ahead that I needed to take at my own speed without feeling guilty about walking in places when the legs or heart didn't have the will to climb. It also gave me a chance to whip out the camera and snap some not very impressive shots of the landscape. Having had it in my pocket all this way at least I was living up to Yoli's insistence that if carried it I must actually use it.
The climb was dusty, occasionally steep, and seemingly endless. I trudged up the greater part of it, only mounting up for short flatter stretches. My legs probably could have spun me up most of it, but once over the other side there would still be 90km and a fair amount more climbing between me and the finish. With an ever tightening right knee, I just didn't want to take the risk of over taxing the legs now. It made for a slow grind – after a while I stopped looking at the distance on the Garmin, focusing instead on the altitude. I had no idea of how far the top of this beast was, but knew from the route profile that it was around 800m in altitude – although I  wasn't totally sure if that meant 800m upwards from the start of the climb, or if the peak was at 800m. I decided it must be the latter, and as the Garmin slowly ticked upwards it became clear that this was probably correct. As the display ticked over to 799m, the trail swung left and flatted out almost completely. I allowed myself to hope this was actually the top, mounted back up and rolled effortlessly through the red dirt flanked by lush fynbos. A little way ahead the path veered slowly right and then snaked sharply left and down. This was the rocky and tricky descent we had heard warnings about, and disappearing around the first hairpin bend I saw Anja and her group of friends maybe a kilometre ahead. I knew they'd be much farther ahead than that by the bottom – I'm not the fastest or most confident of descenders, especially when someone has planted the idea in my head that what lies ahead is dangerous.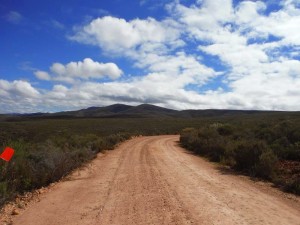 The first couple of bends were fine, but then the trail started to drop more steeply and the surface broke up into a rocky 4×4 trail. I actually passed an SUV on this part – a Jimny I think. It seemed to be  a couple out for the day and not one of the ride marshals or sweepers. A one finger wave was all I could manage, not wanting to lose my grip or concentration. I hopped left and right across the track looking for the less rutted and smoother line – there were deep gouges everywhere to be negotiated, and sharp rocks. The corners were tight, with loose gravel and stones. As much as I tried to heed William's comment not to trail my brakes, eventually I started too. I'd managed a few sections of letting the bike run and only braking in short hard stretches, but my hands were just too sore and my nerve was failing. So I fell back to beginner tactics, and kept my speed low by overusing the brakes. The bottom took an age to come – my hands and arms were stiff by the time the last bends unwound and the rocky track gave way to smooth-ish farm trail. No more steep edges and sharp drops to fray the nerves, but still plenty of painful corrugations to jar the arms and prevent them from recovering. At least it was gradually downhill, allowing some speed again without requiring much effort.
I thought it would be a relief to hit tar again on the run-in to Calitzdorp, but oddly it wasn't. The sun was how overhead and the day getting hotter. Despite the town being only 10km or so ahead it became a long and tiring slog. The bike was shifting pretty quickly, but the eyelids were getting heavy as the warmth broke through the thin veil of adrenalin, exposing the extreme tiredness underneath.
"Gee ons 'n bietjie tjoklit aseblief"
A group of very round middle aged women cried out, laughing as I rode past – farm workers I guessed, or their wives maybe. My normal sense of humour failed me and I had no banter for them in reply. Instead I just stared down at the grey tarmac and pedalled on. I was close to done – the mind was faltering, the body sore and broken. A few buildings rolled into view a little ahead – visible across the top of a large bed of reeds, or was it bamboo, I forget. Based on the distance I guessed it was checkpoint 3 but the first building showed no signs of life and I began to wonder. Soon after though I spotted  the flags and a marshal signalling me left. I rolled down the concrete ramp and into the farmyard. I nearly fell off the bike as I dismounted, and it took me a couple of attempts to get the bike up onto the rack.
Dazed with fatigue I stumbled to the tables for food. The small part of my mind still capable of thought was beginning to wonder if there was anything on offer which could help me recover enough to be able to carry on. Someone had thoughtfully laid out a couple of camp beds – one of which was already occupied with a rider who was fast asleep. It was tempting to just skip any attempt at food and claim the other one for myself. I knew it would most likely have ended my ride though. It was already mid-afternoon and the shadows were beginning to lengthen. I'd definitely be seeing another sunset somewhere fairly soon into the last leg home, assuming of course I did actually manage to ride further. if I slept now though the night would probably creep in whilst I dozed. I doubted whether I would have the mental strength to leave the comfort of the checkpoint and ride out again into the dark. Reluctantly I headed for the food table.
A very friendly guy helped me to sosaties, wors, and pointed me in the direction of bowls full of pasta and potato salad. By the time I left the paper plate was bending under the weight of food. I grabbed iced water and coffee too. Sitting at the table though it was a battle to get the food down. My throat did not want to swallow – a scary reminder of the Joburg 600 which I had bailed on a year ago. I knew I had to force the food down to avoid a similar result here. The salad dressing burnt my throat and re-ignited the acid building in my tummy. I hastily searched through my backpack for the little plastic bag of medical supplies, chugging down two Rennies the moment I'd located it. It wasn't a solution, but it damped down the fire enough to get down some more of the food.
I paused a number of times to try and get more food down. In one of those pauses I called Yoli – it was in my mind to tell her I was quitting, and see if she would come and pick me up. She refused of course. She has strict instructions to never ever give in to my pleas unless either the bike or I are so badly damaged that we cannot possibly make it home. I felt broken, but despite my voice wavering to hold back tears, she knew I wasn't actually done. Instead she put Ben on the line to say good luck and I love you. He barely managed to get the words out before accidentally disconnecting our call. Or maybe my clumsy fingers had. Either way, we didn't chat long.
In the short time I had been at the table, I'd managed to scatter kit everywhere. And now I needed the loo. Ordinarily I'd have gathered it all up, packed it away and headed for the ablutions. But I was too tired for any of that and just got up and headed off for the porta-loos, leaving behind a person sized hole where I had been sitting, surrounded by all my junk.
Even in my dazed state I couldn't help thinking of the lines from a Passenger song as the plastic door flexed and closed behind me:
"I hate festival toilets, especially when you need a shit"
The thought of it made me smile as I sat there – and in that moment I knew I'd be able to carry on. If you can find humour sitting taking a dump in a blue and white plastic cube then you can get back on your bike and finish what you came here to do.
I dithered a bit more – eventually collecting my drop box and sifting through to extract the warm gear and light batteries I'd need for the final leg. A quick bit of mental arithmetic indicated maybe 3 or 4 hours of night riding, if things went well. My main light would last fine, plus a couple of batteries for the Lezyne as backup just in case. Clothes were trickier. Eventually I figured a long sleeve thermal under the William's Bike shop jersey would do, with my windproof on top and a warm hat and gloves just in case. The benefit of this setup being I did not have to carry my heavy jersey or jacket for the next few hours until the temperature dropped enough to wear them. I was quite surprised with how logical and methodical my preparations were – despite my fatigue I was thinking clearly about the demands of the road ahead. It was a good sign, and when I finally rolled out of  the checkpoint I did so with a fair degree of confidence. I was prepared. I may have already ridden 50km further than my longest ever bike ride, and there may still be 80km still to ride, but I had this in me. Barring accidents or mechanicals I was going to finish.
Immediately on leaving the checkpoint at Boplaas farm we exited left and back onto a gravel road that wound around the outskirts of town, passing a few workers houses before crossing the main road and heading out into the mountains again. We had crossed the valley floor, and the route was now taking us back towards the foothills of the Swartberg range. I knew from the profile that although the biggest hills were now behind, the climbing was far from done. I vaguely recalled a mound of about 400m, followed by another of about 700m. Had I studied a bit further, I'd have realised I missed one – in between was another of about 600m with a small dip before the final peak. It was probably best I didn't check, much easier just to focus on a couple of climbs ahead – and the checkpoint staff had assured us they were gradual and rolling rather than steep.
The trail wound around farms, at one point taking a sharp left after a short ramp. My reduced speed gave kids from a nearby house a chance to run out and catch me up. They sprinted alongside, each taking turns to slap my hand and then dash ahead of their mates so they could do it again, all the time laughing and shouting at each other and me. They ran, and laughed, and ran – so far in fact their house was almost out of sight behind by the time they finally turned back. It was a priceless moment of pure joy. Adding to it the food was now working it's magic too, and the day was cooling off as the late afternoon bathed the surrounding hills in a warm orange glow. My one knee and both feet were painful to the point of breaking, but my spirits could not have been higher.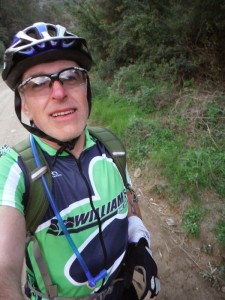 On, and up and on the track twisted, at some point passing a large dam which answered the question Yoli and I had debated on the drive up as to where this area got their water. A few houses were dotted here and there along the road, which eventually stopped its gradual rise and levelled off with the Garmin reading around 405m. To confirm my reading of the profile my speed picked up as the track ran at first flat, and then downhill. It felt like the penultimate water point should be close by, but it wasn't. I noticed the Garmin reach 299km – a major milestone was approaching, and I watched carefully until it hit exactly 300km. There was little around to mark the achievement, but I dismounted anyway to snap a picture of the screen, a selfie, and a couple of shots of the surrounds. It'd be some time, if ever, that I rode this far on a mountain bike again so the moment had to be recorded. Eventually, as the road wound up again I realised I must have failed to register some part of the route. Up and up again we went, until the Garmin topped 600m before finally diving down again and into a small hamlet. Later on I realised from road signs that this must have been Kruisrivier.
At last the waterpoint came into view – possibly one of the friendliest so far. By some quirk of fate too their limited range of snacks included exactly what my taste buds were craving – small marmite sandwich quarters. The first one barely touched the sides, and I was busy munching on the second when it occurred to me that the evening was now becoming rather cold. I apologised to the ladies at the refreshment tables and stripped off – donning the long sleeve thermal before putting the William's jersey back over the top. Both were slightly damp, but it didn't take long for body heat to cancel out the initial chilling effect. I ate at least one more sandwich whilst chatting to the helpers, possibly more. They didn't have any Mars bars, which I was also craving, but it wasn't a disaster – I still had some chocolate energy bars left. Two guys who were riding as a team had pulled in a bit after me, and we stood around chatting with one of the Marshals about the section ahead. He confirmed that ahead lay the final climb which I had overlooked, but after that it was mostly downhill to the final waterpoint and the end.
The three of us rolled out of the waterpoint as daylight began to recede from the valley. We'd exchanged a few words at the waterpoint but weren't really riding together. We weren't really riding apart either though. Most of the time the two guys were ahead of me, but every now and then I saw them separate as the hill got steeper, one of them clearly dismounting to walk – his rear blinkie suddenly stopping and then plodding on at a much slower pace. My legs were shot too, and I also found myself dismounting around the same spots. So we never really caught up, and never quite put any distance between ourselves either. In the very last of the daylight another rider flew past me as the trail dipped down again. Just visible ahead was yet another gradual climb but it was now impossible to see how high it went or what lay beyond. The night engulfed us and once again we were cycling alone, the immediate world defined only to the extent of our lights. Beyond just blackness and the occasional screech of an owl.
The invisible climb proved very gradual, hardly a climb at all in fact. And somewhere before it's top the bright white torch of a marshal waved us right. I pulled over in front of one of their bakkies so I could take advantage of its headlights to don my final night time layer. In the gloom I guessed this was the top and my jacket would be needed to keep out the cold wind of the descent. We travelled along what I guessed was a ridge for a couple of kilometers, red tail lights just barely visible ahead. Finally the road pitched downwards in earnest, and surprisingly I found myself catching up with the two guys in front. My lights were both on full beam which lit the trail ahead very well. Perhaps this accounted for my faster descent – certainly not any technical ability, that was for sure.
It was a long fast run down – occasionally so narrow that the branches of bushes from either side of the track closed around us. Several times the path swung down and across a stream before climbing up and out of the other side. It was fast and exhilarating. I mistook a group of marshals and medics on quad bikes for the final water point, and was surprised to hear them say it was still some 10km ahead. My mind had got this section of the route seriously wrong – I'd been expecting the stop at any moment. Rather more unpleasant was that we were at the bottom of the descent, meaning the trail now pitched up again often as it rolled around the contours of the valley. Clearly we were now running back into a more inhabited area too – the road widened, buildings passed left and right, and the surface became corrugated as a consequence of the regular traffic. It seemed to take an age to reach the waterpoint, but finally the unmistakeable lights and flags came into view. What a relief – some respite from the bumpy road, and only another 20km or so to go.
I sat on an ice box – coffee in one hand, and two mars bars in the other. I had such a job with the wrappers that one of the staff offered to open them for me. I declined, but continued to fiddle with them for long enough to immediately regret not accepting their help. My numb fingers eventually tore the slippery plastic, and I stuffed them into my mouth, along with gulps of coffee to wash them down. I dug out my phone one last time to message Yoli. Something along the lines that I was at the last waterpoint and would be home in the next 1.5 to 2 hours. Looking at the time I was quite pleased. I would be well over the 24hrs that I'd hoped for, but comfortably under 30hrs, meaning I'd be home well before midnight. I topped up with a little extra water – just in case – and headed to collect my bike. I wasn't allowed to fetch it though. A helper took it down from the rack, held it whilst I mounted, and then re-assured me it was only 20km now – easy riding, and half of it on tar road. What a relief.
Once again, I rolled out at the same time as the two guys riding in a team – only this time we rode together to the end of the dirt road. The batteries of one of their front lights had failed, and I tucked in behind them – my lights casting a long beam ahead to aid with the riding. We could see the lights of a police car ahead, but it took an age to reach – the dark and flat road fooling the mind into making it appear closer than it was. When finally we did reach it the guys pulled over to message their family, telling me to keep going and they would catch up. The left turn though took us back onto tar though, and despite intense fatigue the roadie deep down inside me kicked in. I settled into a steady cadence and my speed began to pick up. A few cars past and their headlights lit up a tree off in the distance as they drove by. I studied each car as it reached the tree and then vanished a few moments after passing it. I knew from driving here a couple of days before that this was effectively the end – the other side was a downhill run back into Oudtshoorn. Almost home.  I aimed myself firmly at the tree and pushed hard
A lone marshal stood on the outskirts of town at the bottom of the hill. He signalled us left onto a grass verge, and a bit further on another marshal signalled us left again off the verge and onto side streets of the town. I sat up, took a deep breath and relaxed. My smile grew as each side street passed. It was a little eerie though also – the area was deserted aside from the odd youth hanging around. I felt rather vulnerable – it would be rather ironic to get mugged just a kilometer or so from the end. None of that could detract from the immense relief of being so near to the end. Eventually, I spied the tiniest of arrows indicating the final right turn into the street back to the hotel. It would have been easy to miss, there being no marshal indicating the way. Each of the stop streets beyond was marshalled though. I waved and thanked the guys standing at each of them. At last, ahead, I saw the flags and lights which we had left behind the evening before. Somehow, the mind and body had kept going.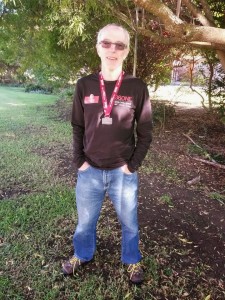 I rolled up the ramp, down the grass bank the other side, and nearly fell off my bike as I dismounted. Every ounce of energy had now left my body and I was shivering with cold. A girl grabbed my shoulder, and snipped the timing chip off my front fork. Another handed me a medal. And that was it – the end of the toughest 361km and 27hrs I had spent on a bike. Big rides so often have an anti-climactic end, especially at the tail end of the field, but this was perhaps as low key as any I had finished. I did see Anja and her parents who were just leaving, and muttered something about well done and tough ride. Mostly though I just wanted to be home. I limped slowly off to find our room, Yoli, some food, and my bed.