So here we are at last, after three and a half years of dreaming the day is finally here – it's the 16th August 2015 and the 18th edition of Paris-Brest-Paris starts today. Frankly, I cannot wait – not just because it's been in my thoughts so long, but also because the last two days or so have been a steady processing of rushing from one place to another to get to the next waiting line in time. Airport check-in, security controls, flight boarding, bike checks, registration, and jersey collection. That last one was the most needlessly long really – how hard is it to dole out a bunch of jerseys of a known size to people.
Anyhow, I'm not moaning – really, I'm not! The atmosphere has been superb so far, surrounded by fellow randonneurs from all over the globe. And the waiting in line, even if it seemed unnecessary at times, was an opportunity to chat to other rides and soak in the vibe as the excitement built. I'm just eager to actually be riding now – the bike and luggage are all sorted (I think), and I've literally had to remove myself from the hotel room so I don't faff and tinker any longer.
Which brings me to blog entry I had intended to write, but never got around too – how my bike setup and kit has changed from LEL, and why. So since I have time, I can catchup that now – although it seems a little mundane really. Not only is every country seemingly represented here, but every possible shape and size of bike and rider. Some aren't even really bikes at all – vélos spéciaux as the French refer to them. This set of weird and wonderful machines includes velomobiles, EliptoGOs, and all manner of other human powered vehicles. In fact, even when it comes to actual bicycles the variety is bewildering: recumbents, tricycles, tricycle tandems, folding Bromptons, an assortment of turn of the century vintage machines, even an updated modern form of a Penny Farthing. As one of the Cape riders said at our get together last evening – the first question which comes to mind is "Why?". Surely PBP is hard enough already?
Anyhow, I digress, surrounded by a cornucopia of the strange I will now describe probably the most mundane and orthodox Audax machine that you'll see on the road over the next few days. Pictured above is the bike setup outside my hotel in Guyancourt on the way to the bike check.
Luggage – gone from my LEL setup are the bar bag, my top peak saddle bag, both of which have been replaced by my Bridge Street saddle bag. It's served me well on the brevets, although I still have lingering doubts whether the L would have been a better choice. Based on a promising weather forecast I've paired down my warm clothing to save space – a decision which hopefully does not bite me!
Lighting – gone is the Lezyne XL, replaced by my Extreme Lights MTB light with 6800mah battery pack. I've had whole night rides on a mix of Med and Low settings with this, and the SON Dynamo Hub remains as a backup. Rear lights are a pair of el-cheapo AAA powered affairs.
Groupset – almost by accident this got upgraded to Ultegra 11-speed. In fact, actually by accident. When the RD on Merry broke, I decided to move the 10-speed across to that bike and treat Jolly to some lovely new kit.
Everything else – remains largely the same: Burls TI frame, Mavic Open Pro 32h/36h wheels, mudguards, Shimano SPD touring pedals, Garmin eTrex for navigation. It's such a common Audax setup it could definitely be described as middle of the road – which is all fine really, it's a fitting phrase for the rider too!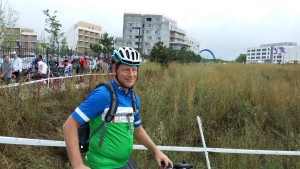 There was at least a bit of riding yesterday in between the waiting. First down to the Novotel Golf to deliver my drop bag. With no one around, I left it in a heap of similarly tagged bags – so I'm really hoping it actually gets to Loudeac! I met a chap called Tim (pictured right) who was doing the same and we rode to the Velodrome together. Having already tried to ride the wrong way on several roundabouts and roads it was good to be alongside someone used to riding on the right to correct me. Despite the San Francisco shirt, Tim actually hailed from Sacramento – part of a large contingent of Northern California Randonneurs who were outside the Velodrome for a group photo later.
The queues were epic – first for the check and then inside the velodrome itself. It's hard to describe how many bikes were there, but even finding a space in the bike park was a challenge. It was good to get done and have the all important frame badge and brevet card in hand. The latter rather confusingly did not seem to be personalised to start times, so I'll need to remember I have a couple more hours in hand than on the card. A selection of pics from the mornings adventures are below. It was good to find a cafe to relax and soak up the spirit over a pizza and a beer once all the admin was done!
We gathered with most of the SA riders later that evening too for a meal and group photo. Of course we ended up at the exact same cafe I'd been to earlier, but at least the pasta was as good as their pizza so I didn't have to eat the same. TBH – it was so good, I may even go back again today for a third helping. I am a creature of habit after all.
The last treat of the day was opening the first of four cards Yoli and Ben have prepared to keep me positive and motivated. Real damp in the corner of the eyes moment – no words of thanks would ever be enough for your support to get me here.