19:30, 16 Aug – Saint-Quentin en Yvellines, 0km
By the time Peter and I lined up at the start a couple of my plans had already gone astray in minor ways. Despite a comfy hotel room, I had lain awake for the afternoon unable to sleep. And misjudging what would be open on a Sunday in a Parisian suburb had killed off my idea of starting with a baguette or two in my bag. I was surprised to find myself rather unstressed by either of these though. The 36One and more recent 450km Audax had shown me that I could manage a 24 hour stint on the bike despite an evening start following a day of little sleep. Plus, in the absence of real food I had a couple of snack bars and my "emergency" Hammer energy chews. In fact even one of those bars had been generously donated by a Portsmouth based Randonneur (called Maisy I think?) who I'd met earlier in the pizza restaurant. At least skipping the organized meal had been a good call. A few other Audax UK riders were sat at nearby tables having given up when the promised (and paid for) velodrome meal failed to yield anything other than more queuing. Around an hour before my start time, I took my nicely stuffed belly over to the velodrome – rather glad of a waiter's premature removal of my plate, a mistake which had yielded a free tiramisu to top off the mostly eaten pizza.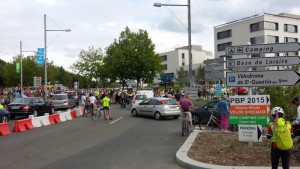 Almost as soon as I arrived I bumped into Peter Muller and Gerrit Pretorious, and we rolled down to our respective chutes. We stood there in the perfect evening weather – still nicely warm and with the slightest breeze. The clock slowly ticked away as we waited. The last minute decisions piled up on top of the mountain of plans made over the past months and years. They were no longer current – the endless TODO lists were closed, a now unchangeable history of preparations for the ride ahead. Good or bad, right or wrong, remembered or forgotten, whatever I had with me now would have to suffice one way or another. Around 15 minutes before our start slot, we shuffled out of the bike park and up the ramp towards the velodrome proper. Eventually, the seemingly endless babble from the announcer tailed off as he ran out of things to say, the last Mexican wave rolled overhead, the countdown hit zero, and the air all around was filled with the sound of wheels whirring into life and cleats clicking into pedals. A lump formed in my throat – this was it.
We swung right out of the velodrome and onto the dual carriageway heading back towards Saint-Quentin center. The early roads were closed, allowing Peter and I to ride two up. I remember making some comment on how unreal it seemed to finally be starting out on this adventure after our first discussion about it as we climbed Bainskloof all those years back on the Cape Monster. As we reached the main square I saw Daniel Webb, the LEL organizer, standing in the middle island of the road cheering riders on. I'm not sure if he actually recognised me or just the LEL jersey, but I vaguely thought I heard him call out "Rob!" as we rode past. The Garmin display may not have yet been showing even a single kilometer traveled, but this was all very real. This was our PBP, right here, and right now.
As predicted on YACF threads the pace was fast, way too fast really – something I'm sure Peter or I remarked on. We went with it though, there didn't seem much point riding intentionally slow and losing out on some early time gains whilst drafting large fast bunches. In fact, our entire start group was pretty much one huge bunch – the backs of riders clad in yellow hi-viz PBP gilets as far ahead as the eye could see. Aside from the crowds lining either side of the street cheering in French, and riding on the wrong side of the road, it felt a little like the start of a very long Cape Argus.
   BOLLARD!!!!
Holy crap, the forums had been spot on about the dangers of street furniture in the early stages too. I'd strayed ever so slightly left and come within centimeters of wiping out on a low concrete bollard placed in the middle of the road on a roundabout approach. Sure enough, as promised, none of the riders in front had bothered to indicate it. I dropped back a shade and resolved to be a lot more attentive to my path – ending my ride without even leaving Paris was unthinkable. Somewhere in the jostling and surging groups Peter and I got disconnected. It wasn't a big deal, some time back we'd agreed we each had to ride our own ride, but it was a bit of a shame to lose his company this early on. In one of the last stretches of the suburb I passed Maisy again, and soon after the road turned slightly downhill and the group's speed raced even higher. Alongside the road at the bottom of this stretch was a stark reminder of the risk of speed in tight groups – emergency crews were attending to a downed rider, presumably part of an earlier accident. Somewhere around this area a single emaciated horse was standing in a field – it looked to be on it's last legs. Rather more bizarrely, the name of the hamlet just along the road was Cheval Mort. Surely the locals weren't keeping an intentionally half starved animal just to match the name of the town? I did wonder if maybe it was the name of some odd local delicacy, but even in a country which gave us culinary delights such as snails, frogs legs and foie gras that seemed just as unlikely. Later in the ride, I'd have put this down as a hallucination, but so early on I'm pretty sure it was really there, just some random coincidence.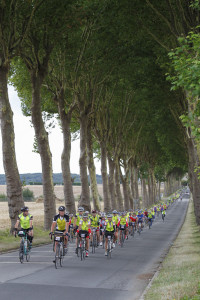 All of a sudden, the city was gone – our route became a country lane meandering across open farmland, dotted here and there with old, quaint buildings rather than high density housing. Just up ahead our bunch were taking a right angle bend and running down through a stunning avenue line with tall poplar trees. It was the first and last time our escort car was visible as it signed off and left us at the bottom of the avenue. I began to seriously question those who'd commented on the lack of scenery on our route – we were only just starting and already it was lovely. Just up ahead I spied Peter. It was a bit of a surprise as I'd thought he had dropped back, but a very welcome one at that. We exchanged words on how lovely the ride was becoming before settling into a steady riding rhythm. Whatever we'd thought of the scenery so far though it was about to become even more sublime as our route entered a heavily wooded section, the forest at Rambouillet, damp and wonderful smelling after recent rains. The terrain didn't hurt either – long fast downhills around sweeping bends. Somewhere in the middle of this section the woodland gave way to a gorgeous village before diving back into the trees again. We might have been going fast earlier, but now we were flying. At some stage this ride was sure to get harder, but for now it was rapid and effortless.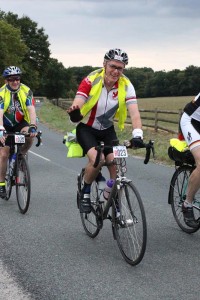 The last rays of sun gradually faded, and bike lights started to light up around us. We switched ours on just in time, literally one or two curves before we passed marshals checking and calling out to those not yet on. They didn't seem to be handing out penalties at this point – although a rumour quickly spread through the field about riders having been penalised for short cutting a roundabout in the wrong direction. Darkness brought on another scene much discussed on PBP forums – the endless stream of lights ahead. Again, this was completely accurate. Although riding bunches had now spread out, whenever the route ran straight (which it often did) all that could be seen ahead was a continuous snake of red tail lights, either rising up to the top of the next gradual incline, or descending into and out of a shallow dip. It was mesmerizing.
The countryside was now fairly open, which allowed a slight but troublesome breeze to hamper our progress slightly. I forget whether Peter or I commented that we should find a bunch to work with, but we both agreed it was a sound plan. Perhaps two hundred meters ahead a small group was swinging right off a roundabout. I commented that we looked to be gradually overhauling them and so without lifting our effort too much, we should be able to reach them and start sheltering from the wind in turns. In fact, by the time we reached the group it had already begun to splinter, but other fast riders were joining from behind and soon enough we were charging along again with a decent bunch of riders to share the effort against the wind. With tight and fast riding I didn't dare mess around looking at my Garmin, but the pace was high – I guessed it was well above 30km/h for much of the time. The exact makeup and lead riders changed as we wound through various small towns and villages, but there always seemed to be a group of some kind as we left each town for open countryside again, even if not the same one we had entered the urban stretch riding with. It was exhilaratingly quick riding – not something I was expecting from a long Audax, even though I'd been cautioned to expect a fast pace early on.
Around 22:30, Châteauneuf-en-Thymerais, 80km:
Marcus JB (amongst others) had promised a town with an open sports bar around the 80km mark, and sure enough up ahead in the main street riders were gathered filling water bottles and grabbing cans of coke from a table outside a cafe. Inside were more riders filling bottles, and a few drinking cups of coffee. Much as I fancied a coffee I didn't really want a long stop waiting for one this early in the ride. Peter and I agreed we'd top up bottles, visit the loo and get back under way keeping an eye out for a less busy coffee option on the next stretch.  A quick glance at the Garmin was both pleasing and a little worrying – 3 hours to cover 80km was definitely not Audax pace.
The events of the next section are something of a blur. I remember spying a roadside coffee stall, which looking back at my Garmin track seems to have been in a town called Senonches. I was both craving caffeine by now and also keen to indulge in another much fabled PBP experience. In the middle of the night, a family were out on their driveway with a little stall serving free coffees, soups, juices and cakes to any passing riding who needed them for no other reason that this was Paris-Brest-Paris, and these riders were a part of this historic event. All along the route we had been cheered on with cries of Bon Courage!, Bonne Route! and many other greetings but this was beyond all of that – the generosity and admiration shown to us was really rather humbling.
I'd tried to hail Peter to stop but must have missed him. I set off again at a high pace to try and catch him – which I did after a few kilometers. We rode together again for quite a way, drafting a couple of fast groups. Somewhere though we got split again for the last time. I did come across Nico just outside the food stop in Mortagne-au-Perche. He was not in great spirits. One tyre had managed to find the most bizarre of objects to puncture on – a fishing hook of all things. Rather more serious were the two broken spokes his rear wheel was now carrying. His knees were starting to get sore from all the seated climbing to preserve the wheel but it wasn't enough, just on the outskirts of town the sickening twang of a third spoke breaking rang out. His disappointment and anger were evident – I suspect he thought his PBP might be over before it even started. I did my best to re-assure him that the food control ahead would have a mechanic who should be able to either replace the spokes, or better still supply him with a new wheel or rim. On the last short steep incline to the stop I pulled into a space between two parked cars to check he was OK, but despite waiting for a few minutes I couldn't see him. Just before the climb he'd called out he was 10m off my wheel, but he must have stopped or passed me. Mounting up again I rode into the food control alone – I was worried for him but in truth there was little practical I could do. My spare spokes wouldn't fit his wheels and I really didn't have the skills to fit them anyway. He would definitely get to the mechanics station and hopefully they'd patch him up enough to keep his ride alive.
01:30, 17 Aug – Mortagne-au-Perche, 140km
One glance at the long line for hot food inside the control was enough to convince me it was likely to be a serious waste of time so I headed to a circular cabin outdoors dishing out sodas, beers and baguettes. It took me a while to suss out the counter with the shortest queue, and rather surprisingly I was leaving just a few minutes later with two ham baguettes and a coke. I figured the extra one would either save me queuing at another stall along the road, or else avoid Peter or Nico queuing if I saw either of them again in the bike park. Neither of them could be far behind, or ahead. The first baguette was really rather delicious – fresh cooked real ham, thick velvety butter and yeasty soft bread. At some point as I chewed, and in an order I now forget, I saw Gideon and Ernst and Salim. We didn't chat long, but all of them seemed to be having a good ride so far. Not having seen either Nico or Peter though, the extra baguette remained stashed in my jacket pocket as I prepared to start off again. Before doing so I had my first taste of PBP toilets. Already quite stinky even this early in the ride, and with a slippery floor made even more dangerous by the absence of any form of working lighting. I was glad I'd stuck to my guns and stayed with touring shoes – proper road cleats could have been lethal.
I'd managed to limit my time at the control to 30 minutes and get food and drink in the process. Not exactly fast, but by my usual standards it was a level of magnitude less faff than I usually manage. I'd even scored some extra supplies in the process. It may have been around 2am, but I was smiling as the wheels began to turn again. A nagging worry persisted over Nico though – it was a long way to come to have a mechanical end the dream so early. I hoped the wrenches at the control had got him sorted. It was a harsh wake-up call for my own ride. Despite much better preparations than LEL, and a lot more practice pacing myself, a finish was far from certain with so many factors outside my control. The only way to avoid failure was to make sure I savoured every moment and experience of the ride. Finish or not, I was riding my PBP and needed to make the journey everything it could possibly be.
I really remember very little about the next 80km section. A rider beside me in the queue for baguettes had warned me that it got much hillier and that was definitely true. The long and fast flowing straights for now were replaced with a solid procession of rolling hills, often quite sharp but short climbs and rapid descents. The legs were still quite fresh so it didn't become a problem, but it was a little concerning how much tougher it was going to feel in 1,000km time. My recollections of this stage are so hazy that it's only by checking my GPX file that I can see I didn't make any stops along this part, it was one straight blast to the first control. I do definitely recall hopping onto a  fast train being driven mostly by a handful of guys in Colombian club jerseys – although this bit could have also happened on the leg into Mortagne. Either way, the pace was simply mental – 35 to 40km/h at times. I even remember getting a guilt trip at sucking their wheels and taking at least a couple of long turns on the front, and holding that pace. It was a completely crazy thing to do so early in a long distance event, but heck it was fun too – a mad express train hurtling through the dark.
05:30, 17 Aug – Villaines-la-Juhel, 220km
My first proper control on PBP – something of a milestone. Wooden bike racks lined the narrow street through the control. I walked quite a way before finding a space but luckily it was close to the steps up to the brevet station. There was practically no queue to get my card stamped, but rather a long line at the cafe just beyond. I went off towards a restaurant sign I'd seen on the other side of the street.
I could see through the windows the line there was even longer, but a small sign to the right said "cafe" or "bar", I forget which. I headed in. The line was much shorter but having stood a while was not really moving. I realised everyone ahead was looking for sandwiches and the staff were waiting for bread. I jumped the line and grabbed two identical sized glass bowls – one containing coffee and the other soup. By the time I sat down I'd forgotten which was which, and it wasn't easy to tell without actually drinking them. Luckily neither tasted too bad, and I also ate about half of the spare baguette from the last stop. It was actually a pretty big hall, filled with lines of tables around half of which were full. Gradually more and more people were filtering in, clearly also running out of patience in other queues. After a short break, I packed up and wandered out again – at least a little refreshed.
Yet another unpleasant loo experience – this was a little cleaner, but no more pleasant smelling. Even more off-putting was that a hose attached to the sink was apparently the water station. I really wasn't sure this was a good idea with my well-known weak stomach, but I needed a refill. I sniffed and tasted the liquid delivered, and it was surprisingly free of bad odour or taste. I just hoped no bugs were lurking in it.
It was quite a long walk back to the bike – I'd been warned that controls could be quite spread out. Kitting up and rolling out I was dismayed to see that I'd wasted an hour achieving so little. I resolved that from now on, I'd only use controls to fill up my water bottles and get the essential card stamp. Food and everything else I'd try and find en-route to save time and hopefully get something a little more appetising.
Back on the road, a grey dawn crept in over the next hour. A damp heavy mist lay across the fields all around and it was also rather chilly. I was surprised at how many riders had chosen to sleep on the verge by the roadside – partly because of how damp and cold it was, but also because none of them could have much more time in hand than me. It had never occurred to me to sleep so soon in the ride but I guess if they were faster riders they'd now zoom off ahead and make up whatever time they needed. Many were in the stages of packing up and readying to head out – a few were quite well equipped with bivvy bags and even sleeping bags. Others had seemed to have just laid  where they fell, back lights left on to warn other riders to move on before taking a pee. One chap had found a dry and presumably warm cow shed to sleep in. None of us smelt great by now, but he would probably be somewhat riper than the rest of us.
The roads continued to roll, and somewhere around here at a T-junction in a small town I spied a popup stall, it's white tablecloths being spread with freshly baked croissants. Quite what possessed me to ride on I do not know – having just eaten I was thinking proper breakfast should wait a while. But I ought to have realised that the same scene was happening at the same time along the road, and riders ahead of me would be cleaning out the supplies before I got there. Sure enough, that was exactly what happened.
After a couple of failures I finally found a bakery in Gorron which had something left. It wasn't the pain-au-chocolat I was hoping for though. All I managed to score was two fancy fruit tarts – one strawberry, and one pear. They were sweet, sticky and delicious, but they didn't satisfy the craving for croissants. Each was gone in about one mouthful too – I did smile at the thought they might be the only thing close to fruit I'd eat on the whole ride.
The mist started to lift on the next section to the control – the hillside now long straight sections, mostly rising gradually but sometimes steeper. It was beginning to warm up as the route dived on a long downhill into the large town up ahead.
10:30, 17 Aug – Fougeres, 309km
15 hours elapsed to this point, with more than 2 hours of stops. It was still way above my endurance pace, but I was feeling OK and it was great to be making such good progress. If you worked on moving speed, Marcus' prediction that we'd do our fastest 300km was proving extremely accurate.
Around 20 minutes later I was leaving the control. I'd got my card stamped, filled up water, ditched my jacket and thermal now the day was warming up, filled up water bottles, and put some sun cream on. I was starting to get my level of faffing down to manageable levels.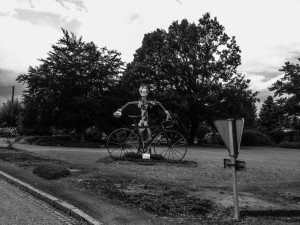 Somewhere along the next section I met up with fellow Cape Randonneur Gerhard Van Noordwyk. We rode together for quite a while. I remember him mentioning something was troubling him a little – chest I think – and that he was avoiding his big ring as a result. I think I replied with that I was going well but hungry and wanting some proper food. We passed through a number of villages together, many on this section were still wearing the decorations from the Tour de France, which had come along this part of the route a month back. A few of these had been re-purposed and had PBP banners added. Eventually we got separated, I think it was at a crossroads where our lane crossed a main road.
I stopped at a village shop a bit further on in a town which I now see from my Strava map was called Dinge. The shop was quite small, but I finally managed to score that pain-au-chocolat. It was a pleasure to sit outside in the shade of a now beautiful afternoon watching riders swing through the main street. I kept an eye out expecting to see Gerhard come past, but I guessed he was already ahead. I definitely ate and drank something else there too, but I forget what. A lady popped a head out of the house next to the bench I and a fellow rider were sitting on. I thought she was going to bend our ears about my bike leaning against her door, but instead she brought out a bucket to put our trash in. She smiled and sat it down next to us.
From here it was a fast and mostly downhill stretch to the next control.
13:50, 17 Aug – Tinteniac, 363km
I had to pinch myself at this stage. The next leg was a long one at just under 90km, but that was all which lay between me and my hotel and planned sleep stop. Thanks to our overnight speed I was so far ahead of even my most optimistic scheduled it was a little crazy. I'd figured getting there by 9:30pm would have been manageable, but barring mechanicals I looked set to be there hours earlier than that.
The control seemed fairly standard – the restaurant wasn't remotely close to the bike park so I didn't even bother to go and check the queue or what they had. Even with messing around having to go back to my bike to collect water bottles which I'd forgotten, I was through the control in 18 minutes. Plenty of time to stop somewhere on the next stretch to get a bite to eat before the next control.
Soon after leaving the control it became obvious that the slope I was riding up was actually going to be a fairly sizeable climb. I forget whether I saw a mast, water tower or possibly both – but it was obvious that they were somewhere near the top and it was a fairly long climb up from where I was now. Cresting the top it was clear this was far from the last – the landscape ahead was more than rolling, forested hills and in between deep shaded hollows that disappeared out of view. It wasn't far to the control, but it wasn't going to be easy riding either.
There was a food stop at Quédillac which I wasn't planning on using but by coincidence as I rolled through the town at the top of the hill above the stop I spied an open bar with tables outside and a few people eating and drinking. I pulled over, dashed inside and asked for a coffee and whatever was the quickest food they could make. This turned out to be a fairly standard ham and cheese sandwich made with white sliced bread – and some salad. Nothing special but tasty, and the coffee was excellent – dark and strong. With no fear over calories I tossed in a sugar for that extra punch. On the next table was an English couple plus female friend who, I learned, had her husband also riding PBP and expected through any moment. We chatted a bit, and the guy said he had decided he must do the ride someday having sat there taking in the festival. I did my best to dissuade him with tales of how tough it was but it was pointless – the bug had bitten him just as it did me 3.5 years back. He was hooked.
The next 70km odd to Loudéac were every bit as tough as the view had suggested, taking me close on 3 hours.
   18:08 – HOLY CRAP!
That is a time which was instantly and indelibly burnt into my brain. The next control was just up ahead – a decent result for me but at exactly this time I was served up a strong reminder of what a mediocre achievement it really was. For this was the precise moment when the lead peloton passed going the other way. Sure, they may have started a couple of hours before me, but they were now around 350km ahead and already on their way home. Their train was absolutely motoring and as if to hammer home the cycling talent they had on-board there was a chap close to the tail sitting upright, hands off his bars stretching out, and singing as they flew by. It was as if he was making no effort at all – which, quite possibly by his standards, was actually the case.
Nothing could disappoint me though. I was riding to my plan, within my own levels of fitness and ability. It was my fastest ever 450km, a full hour under the 24 I hadn't dared dream of making and 3 hours less than a time I'd have settled for. It was a great start. I imagined that guy on the back singing was probably also pretty pleased with how his ride was going.
18:30, 17 Aug – Loudéac, 448km
Even dithering around trying to find the bag drop area, and then locate my bag I was through and out of the control in 14 minutes – perhaps urged on by the lure of the hotel bed nearby. I was glad I'd programmed an extra waypoint and route into the Garmin to find my way there. It ended up much closer than I'd expected, taking just a few minutes to get there. Even the short rise up out of the town which I was expecting proved very slight. I rode past the hotel as intended and into the drive-thru lane of the McDonalds next door. The cashier looked amused to see a cyclist at her window – I'm guessing I may not have been the first to come through. I was soon wheeling off to reception to check in with bag of cheeseburger and fries in hand. The evening sky was gradually turning orange, and as I rolled through the parking lot more riders were beginning to arrive, and others were sitting on benches near the main hotel block. It was a wonderful calm escape from the madness of the main controls.
Checkin was quick and easy thanks to Nadine. She'd been super patient with all my dumb emails over reservations so it was nice to actually meet her all these months later. It was a huge relief that the booking had all worked out. Not quite as expected though, she explained reception closed at 9pm. I was glad I hadn't known that out on the road – the pressure of a deadline to get there would have been an unwanted stress. It was a bit of a stumbling block for Peter sharing my room though. I tried to call him but his phone was off so I sent a couple of messages and hoped he'd get them.
The room was small, clean and basic – just enough space to wheel the bike in, two comfortable looking single beds, and a decent looking shower. It was ideal. I scoffed the burger and dialed Yoli for a quick chat with her and Ben. As it turned out they'd also had a great day at Euro Disney, although the details of our conversation are now lost to me. I didn't have the energy to shower, and figured it would be better anyway as a way to wake up later. So I set the alarm for 11pm, a bit more than 3 hours ahead, ditched my contact lenses, cleaned my teeth and sank into the bed, somewhat dazed and utterly exhausted. I was a little worried about how I'd manage to get up and ride again in three hours. But the worry didn't last long, I soon drifted off into absolute unconsciousness.
Click here to continue to Part 2
Saint-Quentin en Yvelines, 78180 Montigny-le-Bretonneux, France