It's a strange feeling. For three and a half years barely an hour went by without some aspect of PBP occupying my thoughts. From the obsessive planning and re-planning, to wondering what it would be like and if I would be up to the challenge. And then, in a flash, it came and went. Not in the same way as LEL passed-by, in the aftermath of that I was so physically and mentally drained I doubted my passion to continue. The months since PBP have been more like basking in the glow of a long sunset after enjoying a much anticipated day – the memories remain vivid, but the light is fading and that question of "what next?" hangs unanswered on the night time breeze. My bike, and I, need direction.

This blog entry has been in my mind for a couple of weeks, but a couple of events over the last few days finally pushed me into applying the seat of my pants to the seat of my chair and actually writing it. On Wednesday I bailed on the regular club ride. I was already in a bit of a slump the night before, and when the alarm went off the motivation wasn't there and I rolled over and went back to sleep. It's always a bad sign when I look at blue sky pictures from a ride I've skipped and don't feel I've missed out in any way – even more so when they're of the stunning coast road, one of my favourite rides. But working at my desk as the photos popped up on phone and Facebook, I really had no sense of wishing I'd ridden. Not good! And then later that evening, the first of those events came along.
Just after 9pm Theunis called to ask if I wanted to do a short 50km ride in the morning. Still feeling the slump I almost said no, but Yoli lept in with an offer to do the school run and cajoled me into accepting. Meeting at just before 6am on Steynrust bridge, the morning still dark and our bike lights still on, it was like old times. Just a casual social ride with a mate, no pressure and no reason to ride beyond the simple joy of sharing a couple of hours out on our bikes. It was something we both needed – Theunis lost his son, Luan, to a motorbike accident 22 months previously to the day and it was weighing heavily on his mind.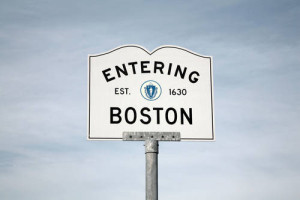 We both enjoyed the ride so much, we did another the next day – also 50km, albeit this time to the top of Helshoogte rather than Jonkershoek gate. In the course of those two rides, not only did I recoup the missed 100km of the club ride, but another possible answer cropped up to that "what next" question: Boston-Montreal-Boston. Once up there amongst the grand Randonnees, it's now an almost forgotten permanent, ridden rarely by a die-hard few who consider it amongst the classics of LEL & PBP. A couple of years back, I had the idea to ride all three and now BMB stands alone as unfinished business. I'm not sure how I'd forgotten it, but now remembered I can already feel it's gravity drawing me in.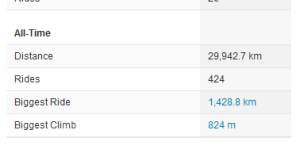 The other of those two events was much more low key – I noticed that at some point over the next week, quite probably on the Wednesday club ride, my Strava account will tick over the 30,000km mark of logged rides. It's not all that impressive a milestone really given the number of years I've been using the service, but it's still a heck of a long way to travel by bike – 20 times from Johannesburg to Capetown, or 20 LELs if you prefer. Almost two thirds of that distance (19,000km) will have been ridden on my trusty Burls, Jolly. Which is really rather appropriate. When Theunis called, that was the bike I chose for our rides – even though the Giant TCR was already prepared and ready for the missed club ride. But for a social ride with a friend the Burls was my first and only choice.
For some reason it wasn't in my mind to mention these distances for the blog entry. Sat around the camp fire over the weekend, it was my father-in-law who pointed out their relevance in the context of my actual subject – one of my only two definite goals for this year: to clock up 10,000km on Strava in 2016. It might not like seem much of a target – plenty of riders will log two, three, even five times that distance. But I don't believe in arbitrary goals – I'm only interested in those which inspire me, and achieve something useful. The inspiration aspect comes courtesy of fellow PBP riders Gideon and Ernst who, at the end of last year, realised they were close to that target and managed to rack up the remainder with just a couple of weeks to spare. I quite fancied the idea of following their achievement but, beyond that, it gives me a solid purpose to keep riding in a year when I've promised Yoli I'll back off from other long distance, family-time consuming rides. A quick calculation showed that counting 6 or 7 weeks off for work trips and holidays, I'd need around 222km for the remaining weeks. At the end of January I was about 13km short of this at 875km, and so far this month I'm tracking about 59km short overall if I complete two more club rides and the 300km Audax next weekend. That should be a closable gap with a couple of weeks left. See – purposeful goals – already this simplistic target has got me focusing on regularly riding and training despite my plans being somewhat undecided.
Of course that year-off I promised Yoli also included some wiggle-room to fit in the other specific goal for this year – the Cape 1,000km. More on that in a future entry though, for now I'll just point out a couple of things. Yoli was very relaxed about me doing it since it's not an overseas ride, and being held mid-week it doesn't encroach too much on family time which is the real ghist of our pact. She was rather less relaxed when she realised that our 10th anniversary, to the day, falls smack in the middle of the ride. The cost to me of that little oversight is still being assessed!
And then of course, we can't really close without contemplating those other rather more uncertain goals. RAAM and TCR have been mentioned in earlier posts. Both of those are still very much alive, albeit with caveats and concerns in both cases. BMB (as noted above) is a strong contender for sure, as would the epic sounding Length of Sweden Sverigetempot, a 2,000km Audax starting in the arctic circle in summer and riding by the light of the midnight sun. Sadly after this year, that stunning sounding adventure will not be held again until 2020 – it would have been a strong contender. The Sydney-Melbourne Alpine is on that list somewhere too – a 1,200km Audax across sometimes snow capped mountains in the early spring. Just the tales of riders being greeted by hot braziers at mountain controls are enough to make one want to share in the journey. And finally, despite the financial questions around RAAM itself, there is also the possibility that a company work meeting will put me in the right place and time for either the Silver State 508 or Natchez Trace 444. Both of them sound like superb rides even if I might never use the RAAM qualification aspects of them.
So there you have it – 2016 does at least have some direction after all, even if not every aspect of the route is yet decided.