My eyes opened to a faint light creeping around the edges of the blinds. I didn't recall the street lights outside being anywhere near that bright and then it dawned on me (quite literally). I rolled over to check on my phone what my eyes were already telling me. It read 05:00.
Crap!
Crap, crap, CRAP!
Another rookie mistake had cancelled out my forgetting to charge my lights. It was now fully daylight, so we wouldn't be needing them. I cursed Samsung, or Android, or whoever designed an alarm where you had to remember to tell it the day as well as the time. In my exhausted state the night before I had totally missed the crucial first part of the message that read "Alarm set for 1 day, 2 hours and 30 minutes". I jumped up and ran to Nico's room across the hall.
"We've both managed to sleep through our alarms, it's morning"
I said, stating the obvious. Nico was also only just waking up.
Returning to my own room, I stuck the kettle on. As I waited for it to boil, I gathered together my gear, kitted up the bike and wheeled it outside. At the very least I needed a cup of tea and some beskuit before we headed out, but we agreed we'd wait to grab breakfast and a shower until Oudtshoorn where Henri was waiting, 50km along the road. It would be a lovely, fresh ride in the cool morning air and the prospect of food, a wash, and clean clothes was the perfect incentive to get our butts in gear. I sat on the wall outside drinking my tea whilst Nico readied himself. It was a stunning bright blue morning, birds flitting around chirping, and a steady hum of bees from one of the trees in the garden. Over sleeping had set us hours behind the clock, but it was impossible to be downbeat on such a glorious day. We quietly slipped out of the side gate, dropped our keys off, wheeled our bikes down the short gravel road, and mounted up where it joined the tar side street. Rest had worked it's magic and I was really looking forward to riding out again – even if the legs and bum were a little sore and reluctant to get going again.
After a couple of standing turns of the cranks I tried to settle down into the saddle. Ouch! Too soon. It took three or four more attempts before I could position myself to avoid the sore patches from the day before and pedal whilst sitting down. Nico coined the term "LEGOing in" to describe the curious, blocky, square turns of the pedals as we tried to get going again. Such an accurate description, the phrase instantly stuck and became repeated after any stop long enough for endorphin levels to drop below the level needed to dull the pain from our backsides and legs.
We swung left at the corner by the town graveyard, legs slowly starting to get spinning again.
"Glad to see we're not burying another Cape 1,000 here"
Nico commented, or some words approximating this. It was a reference to the earlier attempt in April, which had ended for most riders around this spot. My mind couldn't escape the thought that we still had the monstrous rampart of Robinson Pass to cross today, twice! I wasn't sure I even had the legs to tackle it once, but that was a concern for later. For now, it was a beautiful Karoo morning, the riding was cool, and the road ahead finally kind to us. Nothing but gentle rollers and long flats in between – we rode easily, making good time. Traffic was light, an occasional car and a couple of Parmalat trucks but aside from that we had the road to ourselves. It seemed odd to see trucks rolling early on a Sunday morning but, as Nico pointed out, logistics is a  24×7 business these days. Transport that isn't moving isn't earning. At some point along this stretch we passed a touring cyclist, pushing his heavily loaded mountain bike. We greeted him and checked all was OK – he looked more than a little weary and dejected, perhaps regretting carrying so much weight across the same harsh terrain we had just traversed. He also sported that other hallmark of riders cycling across countries and continents – an impressively long and ragged beard. Surely in all that luggage there was room for a razor? Wouldn't a shave make him feel fresher and less hot? I guess after days on the road you eventually stop bothering.
As we alternated turns at the front our conversation turned to the growing sounds of complaint from Nico's drive train. We'd noticed them on and off the day before, and speculated on their origin. It sounded like a bottom bracket, but that had been replaced the week earlier when Nico's bike was serviced. I dropped behind and tried to see if I could pinpoint the noise – were my eyes deceiving me, or was Nico's rear cassette and derailleur oscillating ever so slightly?
"I'm wondering if it's your freehub Nico, or maybe wheel bearings, or perhaps just a dry chain. Shall we try giving it a lube?"
We pulled off the road and I rummaged in my frame bag for the little can of 50ml spray lube I'd grabbed before the ride. We gave it a good squirt and span it thoroughly for a few minutes. The noise definitely lessened, or rather changed. With the groans from the chain gone, the source of the rest of the grinding became clearer. Wheel bearings! As we rode on we contemplated whether the bike shop in Oudsthoorn might be open on a Sunday morning for a quick check and service. The good news was that Nico's rear wheel had a Shimano hub – cup and cone with loose bearings. Not as convenient maybe as cartridge bearings, but a lot more readily serviceable. Assuming the bearings weren't totally shot, it ought to be possible to get some grease in there to ease the problem. We were already passing De Hoop where the historic concrete road from Calitzdorp rejoins the R62. The church spire at Volmoed came into view on our right. Finally, we passed the giant Spur advertising board planted in the middle of a barren field on the left – we both commented that the old "Vleis Paleis" (meat palace) sign had been replaced, but the new one clearly was not as memorable as it escapes me now. We decided to go to the hotel first and catchup with Henri. He would be awake by now, and would have seen on the tracker that we were closing in on Oudsthoorn. From there we could make plans to find a bike shop and also, hopefully, a pharmacy to top up with painkillers. It was a little after 8am as we turned left at the Engen garage and into a side street lined with B&Bs both sides. A short way down we spotted ours on the corner – Miles Guest House. Sure enough, Henri and Andriette were waiting on the lush green lawns outside our rooms as we pulled in.
Oudtshoorn control, 433km – 08:20 Sunday 11th December 2016
The guys were a sight for sore eyes – and our room too, albeit twelve hours later than we had intended to arrive there. I scouted the room out for plug sockets to rectify my mistake of last night and put my light battery on charge. Or at least I thought I had. Unfortunately, I compounded the rookie mistake by failing to notice the wall socket was switched off. Andriette kindly directed me to a power block in their room so I could get my phone and extender battery on charge as well. In the few minutes this had taken me, Henri had retrieved a toolkit from their VW combi and was confidently dismantling Nico's hub, with a tub of grease at his feet. Apparently we wouldn't be needing that bike shop after all, amongst Henri's many talents he clearly knew how to service a Shimano hub. Not a moment too soon either – Henri reported that the bearings inside were so dry they had rust on them. Relieved that a possible disaster had been averted, I headed for a much needed shower and change into fresh jersey and shorts. When I re-emerged Nico was sat cross legged, enjoying the cool of the grass. I gratefully accepted a cup of tea from Andriette and grabbed a bowl of muesli. My legs couldn't quite manage sitting on the ground, so I dragged one of the chairs over and joined Nico in the shade to enjoy my breakfast.
As Nico took his turn in the shower, Henri gave my bike a bit of TLC as well, give my chain a much needed lube. As I readied my gear to depart, I noticed my mistake of earlier. Swearing at my stupidity, I switched the socket on. It barely got fifteen minutes of charge though as I sank a cup of coffee and Nico got himself some food. I was pretty sure I'd be on to my backup light at some point in the night section to come. For now though, the immediate concern was the heat of the day ahead. The prediction from the hotel manager was mid to high 30s. Fortunately we were heading up into the mountains and over to the coast. The air would be cooler and in all probability there'd be a breeze blowing up from the coast. It was a welcome thought, but it didn't cancel out the oppressive wall of heat that slammed into us as we we rolled out of the guest house gate and headed through town, retracing our route until we reached the left turn onto the R328, signposted to Mossel Bay.
The mountain tops ahead were cloaked in cloud but, for now, the gradient was downward, making for a fast run, and a pleasantly cooling breeze on our faces. We joked about being nine and a half hours behind schedule, and debated whether there was any chance we'd be able to claw any of the lost time back. On the plus side, we were now making good speed but there was a big climb ahead. Even though we should get a fast descent to the coast and the halfway control at Hartenbos, we'd then face a much stiffer climb back. We agreed that we'd be unlikely to make any significant gains until the return leg of the R62 home when, hopefully, we'd begin to enjoy some tailwinds. That was a long way down the road though – the task at hand was battling our first ascent of Robinson Pass for the day.
After a couple of short, early ramps, a quick glance at my Garmin confirmed that we were already at over 500m of elevation.  I recalled Chris' photo of the sign at the summit which he had sent us a full day earlier – it read 860m. I commented to Nico that from this side, our climb would barely be any worse the Helshoogte back home. It was a comforting thought, although try as I might I couldn't quite pick out the road's path up the hillside ahead. Rather less comforting was the level of traffic now passing us. Our timing could not have been worse. The first Sunday of the Christmas holidays, and Gauteng was heading for the coast en masse. A steady procession of bakkies towing caravans sped past – most giving us a decent amount of room but a handful showed us no courtesy at all, passing so close they almost brushed our sides. I shook fists and swore at an increasing number of them – especially those with bikes on the back. How on earth could a fellow cyclist be so stupid and inconsiderate? It was beyond comprehension.
Despite the traffic, the scenery was delightful – a long gradual incline through a shady tree lined valley, gradually giving way to open mountain side as the road swung more steeply upwards. A telecommunications mast sat on one of the outward bends up ahead. It was still some way above the section of hill I was labouring up but the route looked steady rather than daunting. I remembered from PBP that these masts were invariably pitched close to the top of a climb with a clear view of both sides of the hill. It seemed logical that this mast could mark the top of the pass. The scenery gave no clues though, and I was reluctant to get my hopes up falsely, so I pulled onto the  gravel shoulder to grab a snack and a drink. My progress against the gradient had become slow and distinctly wobbly, and I didn't want to risk veering into the path of some speeding, half alert camper. A short rest off the bike to eat and drink seemed infinitely preferable. It did have the disadvantage though of needing to get going again which, having not picked the easiest spots to stop, was also rather a wobbly affair as I struggled to clip in and get the bike up to speed against the slope. Luckily the morning rush seemed to have quietened down and few cars now passed by. I wouldn't have needed to stop at all if I'd had more confidence in my telecommunications mast theory. After a couple more twists in the road, I pulled alongside the mast and the road instantly leveled out across the summit. I pulled over again to snap a photo, and wait for Nico to reach the top.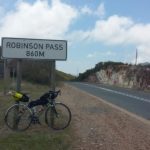 Standing there it was impossible not to remember Michelle's tale of being blown off her bike when attempting the ride back in April. No longer shielded by the mountain range, the cooling breeze from the coast had become a howling gale. After some more food and water, I decided Nico must now be close behind and rather than stand here shivering, I'd be better off starting on the descent. I'd barely got started before I stopped again to put my jacket on – exposed to the full force of the wind, I was freezing. The road was visible some distance ahead, rolling around rather than down the mountain for the first couple of kilometers. Eventually the descent proper began, steep and winding, requiring far more braking than was comfortable for hands which were mid way through their second day at the helm.
Somewhere around Eight Bells, or maybe a little before, Nico came flying past me – slowing a short way ahead so that we could descend together. For some reason I had imagined that the whole 35km down to Hartenbos from the summit would be one, long, glorious descent. It was predominantly downhill, but there were enough uphill stretches to be uncomfortable and to slow our progress to the halfway point. I was now impatient to get there, although I was definitely not looking forward to the return trip back up the wall we had just rocketed down. My last memory of this stretch of the ride was simultaneously seeing Hartenbos around 5km off in the distance, and being savaged by a vicious headwind which slowed our progress to a crawl. It was the cruelest of twists – we slogged along, barely seeming to make any progress towards the town ahead. And even when we did eventually reach the N2, instead of the road dipping gently under the highway to our stop as I was sure I'd read on the map, it forced us up and over a bridge before the town. It was a climb of probably no more than 10m, but at that precise moment it felt like Everest. I suffered a serious sense of humour failure and, in doing so, totally lost track of the direction Nico took up ahead of me.
Hartenbos control, 513km – 15:00 Sunday 11th December 2016
I peered into the Wimpy as I rolled slowly past. But I couldn't see Nico's bike outside, and knew he wanted painkillers, so figured he'd probably headed towards the Spar to find a pharmacy. I rolled around the car park looking for him for ten minutes or so before eventually giving up and turning back to the Wimpy. I needed food, and drink, and figured it would be easier for him to find me there than for me to cruise around looking for him.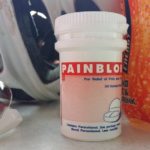 Very considerately, a zig-zag ramp had been provided to make it easy for cyclists to wheel their bikes up to the first floor restaurant. I carefully leant mine against a table near the entrance, slumped down at the table, and ordered a pot of tea from a passing waitress. I've no idea why that drink in particular appealed on such a hot day, but I've also long since given up worrying about where cravings on long distance rides come from. Easier just to assume the body knows what it needs, and go with the impulse. Nico arrived moments later, and immediately relocated us one of the much comfier booths with padded benches near the window. At last my appetite seemed to be returning and I ordered a savoury mince toastie. It hit the spot perfectly, even though the spiciness was more than a little sore on the raw lining of my mouth, now stripped bare of any protective mucus membrane and sprouting an burgeoning population of mouth ulcers.  The relief of being both hungry and able to eat cancelled out the discomfort though. Intrigued by the Coke Float which Nico was slurping down, I figured it'd be rude not to give one a try. I became so instantly hooked – that I messaged Yoli to break the news about my newly acquired habit.
We relaxed for a fair while. Nico's quest for painkillers had been semi-successful – he'd acquired some generic over the counter brew, which seemed to be loosely laced with a micro dosing of paracetamol. We debated waiting for the pharmacy to open at 5pm to get something a little more hard core, but in the end decided these would probably do. They might have been weak as dishwater, but there were 50 of them. By the time we'd kitted up and rolled out, it was close to 4:30pm – but at least we were moving, not waiting in a line to buy pills. The headwind riding into town had nearly broken me, so much so that before our break I was close to bailing for the third time. But fully refueled, with that same wind behind us, I was feeling upbeat again. Unusually for me, the halfway point had not proved to be the usual downer – I was actually looking forward to ticking off all of those kilometers for the second and final time.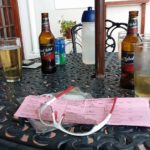 With the wind behind we positively flew up the first 27km and 300m of climbing back up to Eight Bells. It was just before 6pm as we pulled onto the gravel to check out a cafe that we'd remembered from the run down. Sadly it was closed, dashing our hopes of sharing a few tasty slices of pizza before tackling the serious section of the climb to the summit. Fortunately the Eight Bells Mountain Inn was open and, whilst it wasn't pizza, there cheese and tomato toasties were superb. More importantly they had beer to wash them down with too – or rather shandy, since we dosed each with a can of lemonade.  Nico joked about comfortable the trampoline in their garden looked for a quick nap. Sitting enjoying the last of the beers as afternoon slipped towards evening, we began to formulate a plan. Calitzdorp-Hartenbos-Caltizdorp started to feel like a decent target for the day- a respectable total of around 260km riding with two ascents of Robinson Pass in the mix.
"Maybe we should ring Colleen at the Calitz to see if she has a room for us tonight, and would leave us a key somewhere so we could rock up late?"
It seemed a bit of an imposition, especially since by rough calculation it would be around 2am by the time we showed up. But it seemed worth calling to check. We decided to call her once we reached the summit of the pass.
The remaining 10km or so of the pass climbed a further 550m, and it was every bit as brutal as those numbers suggest. I spent large parts of it standing grinding slowly in my granny gear (34 front, 28 rear). Traffic now was now very light, and almost exclusively local registration plates. A lot was fast moving though, and several of the cars cut uncomfortably close. Eventually though, as the light faded we had the road pretty much to ourselves. Glimpses of the road rising high above appeared briefly through gaps in the clouds scudding across the mountainside. In the dark on an unfamiliar road it was hard to pick landmarks, but a short downward stretch seemed like it may be the long traverse I'd seen from the summit earlier in the day. Sure enough, after a couple more twists and turns, my front light picked out the Low Gear truck sign which I knew was the top of the pass. I pulled over to wait for Nico. Before long I spotted his front light weaving to and fro up the last rise of the pass.
Nico grabbed a photo of the truck sign whilst I dialed Colleen. My phone reception was bad though, and we ended up using Nico's phone to check on the possibility of staying again tonight. Without hesitation she confirmed we could have the room, albeit with the request we be very quiet on arrival as she did have other guests staying. We agreed to message her as we left Oudsthoorn to give her an approximate time of arrival. Being the slower descender, I started off whilst Nico was still readying his kit. I was feeling lazy though, my hands were sore, and after the first couple of bends, the road down was a series of gentle curves. As a result, I ended up braking less than usual and carried much more speed than I normally would when descending. Fortunately, despite my failing to charge it, my front light was still working on full bright beam. Couple with the moonlight, it was easy to pick out lines through the sweeping corners, and spot potholes and bumps in the road. My wheels ran out of the steep part of the descent and I pulled over. Nico had not come past, and I was worried he may have punctured, or worse.
"Did you see the mannequin on the stoep of  that house"
He said as he pulled up. It had done it's job as a deterrent to intruders – looming eerily out of the dim glow of the porch lights, and scaring the heck out of both of us as we whizzed past.
Rather improbably, the rest of the route back to Oudtshoorn felt much more downhill than it had seemed uphill coming the other direction. I forget exactly what caused us to stop along the way, but as we did a Bantam bakkie coming towards us pulled over. It was all rather odd. At first the driver seemed to be checking me out, but said nothing. Then, once Nico put on his light so he'd notice there were two of us, he asked if we were OK. After we confirmed we were fine he continued a short way past us, but then U turned and head back past us and back the way he had come. Neither of us could figure what he had been doing, and why he had turned around.
"Maybe when he saw there were two of us he decided to go back and get some mates to help hijack us."
I joked, or maybe half joked. There was definitely something rather odd about his behaviour. Either way, I felt slightly uneasy as we raced along the remainder of the stretch back to Oudtshoorn – especially on the faster downhill sections where I dropped some way behind Nico. We did see a couple more cars on the way, but my fears proved groundless and before long the R62 came into sight. We rolled into town at around 10:30pm and promptly wasted half an hour trying to find somewhere open to eat. Steers, Mug and Bean, and Spur had all just closed. As had KFC although, after a little pleading, the said they might be able to heat up some spicy wings. It hardly sounded appetising though, and we ended up at the all-night garage shop we'd passed on the way into town.
Oudtshoorn control, 592km – 23:00 Sunday 11th December 2016
Nico wisely inquired on which of the large selection of pies and burgers were freshest. On a bold move, I ignored such fine details and went for the one which sounded tastiest – a Spare Rib Pie. In the end, neither of us chose especially well. Nico seemed distinctly unimpressed with his burger, and my pie, whilst tasty, was dry and devoid of anything which could reasonably be called "sauce". The machine coffees were passable though and, having downed them, we set our alarms for 45 minutes, stretched out on the benches either side of the table, and grabbed a precautionary nap to stave off the dozies.
Around midnight, we rolled out of town to cover the final 50km of the day. Far outside the cutoff times now, and with a room waiting for us in Caltizdorp, we rode without any sense of hurry or urgency. Instead we savoured the sublime riding conditions. The moon hung high and bright over us, lighting up the Karoo landscape all the way to the distant mountains either side of us. A subtle aroma of soil and herbaceous plants wafted by us on the cool night breeze. We had the road completely to ourselves – only the sounds of cranks, wheels, and breathing broke the perfect silence.
"I've finally found a proper answer to give to people who ask why we do this"
I commented to Nico.
Parts of the ride up to that point had felt like torture, but there and then, in those two perfect hours of riding was the answer. Instead of parading the worn-out phrase "because it's there", the next time I was asked I could give a much more satisfactory response.
What other reason would you have for cycling from Oudtshoorn to Calitzdorp at midnight, under a full moon, on a deserted road in the company of a great mate.
Both of us agreed that we really didn't want Calitzdorp to arrive any time soon. Sadly, of course, it did and the magic ended, at least for now.
Calitzdorp, 643km – 02:30 Monday 12th December 2016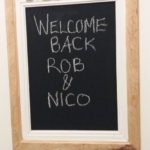 The keys were exactly where Colleen had described, and we slid quietly back into the B&B we had left 21 hours earlier. Not only was our room freshly made up, but there was a welcome message on the door, and the guys had put extra plug adapters in the room as we'd asked. Finally, I could get some charge into my front light – which was now showing glowing red on the back, a sure sign it was about to expire. I'd even used my backup light on the last run into town just in case, but the main light had held out to the end. Nico offered to take the sleeper couch and I didn't argue. I was out cold before my head even hit the pillow.