Honau, 640km – 6:25am (race clock 02D // 08H // 25M)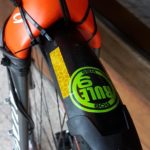 Much to my surprise the coffee was there, and it was darned good – properly strong, dark espresso in a cup just large enough to take a small shot of milk. It was the perfect accompaniment as I sat outside on a concrete step rigging all the gear back onto my bike. Before setting off., some extra cable ties are needed for my front mudguard fix – it's still rubbing occasionally on rough ground.
The air was cool and skies clear as I rolled out onto the fast run back down the hill, just the odd patch of damp still from the night before. I shouted "hi"  to the 10 or 15 riders who I passed making their way up to the control. Assuming they had chosen to climb the parcours after visiting the control, as I had, they were still three and a half hours inside the CP1 cutoff. I knew my pace was slow, but it was re-assuring to see further signs that I wasn't anywhere near dead last (apparently at this stage, I was holding a fairly consistent spot around 180th out of 282 riders).
Despite the hotel owner's scary warnings of 17% gradients, I wasn't at all worried about the hill ahead. I'm not a climber, my bike was heavy, and my legs weren't fresh – but from what I could recall, it wasn't an especially long climb and no more challenging vertically than some of our local Cape passes. Plus I was geared for climbing – compact crank, and a 36 tooth crawler cog on the back. A fresh green avenue of trees lined the climb, through the middle of which came occasional narrow glimpses of blue skies above. Even though it was a slow slog, it was impossible not to be in good spirits. My smile spread even wider at the sight of a "Go TCR" message chalked onto one of the road's many hairpins. For that moment, I could have been a solo breakaway of a grand tour battling it out with the giants. The exits from a few of the corners were covered with mud and gravel, washed out from the hillside by the heavy rain  – a couple of patches were deep enough to need careful negotiation. The route flattened out to cross a high meadow, and the worst of the climb was done – although debris continued to strew the road, limiting the speed with which I could safely ride. Finally up ahead, I reached a junction and swung left on the road for the last, fairly steep ramp up to the gates of Schloss Lichenstein itself.
Schloss Lichenstein, 647km – 7:30AM (race clock 02d // 09H // 30M)
One other rider was there – I forget which of us arrived first. During the time that we took the required selfies (in case proof of passage was needed) two or three female riders joined us. As they pulled up, I was sat on a wall downing some juice and eating breakfast – a thoroughly mangled raisin roll that I'd found squished in the bottom of one of my handlebar feed bags. I
remarked on them coming up the steep, crumbly footpath and they commented that's what their Garmin showed as the parcours. My brain was clearly a bit foggy, because the significance of this did not immediately strike me. I was just glad to have got CP1 done, and eager to crack on with the day. Flying down the first hundred or so meters of the descent, I did
notice the muddy gravel path which lead straight from the junction where I'd swung left. I carried on, heading down the opposite side of the hill instead of backtracking.
At the bottom of the long downhill run I was very glad I'd chosen to visit the checkpoint first. The road from there, although rolling, avoided the ugly climb up to the hotel and out of the valley. I would now have to tackle both of these if I'd chosen the parcours first. The first few sections of road were now quite busy with traffic. I knew that it wasn't far before I'd be heading back onto cycle paths and rural lanes again, but at this point, I was stopped, making a worried phone call first to ride coordinator Tom (but he's on voicemail) and then to Yoli. The significance of that possible parcours mistake had finally reached my brain, and I had to call it in or risk a penalty or even disqualification. There was no certainty reporting it myself would avoid that, but it was the correct course of action regardless and infinitely preferable to having someone else query my route. I'd made three stops trying to find cell signal to send an email before I heard my phone ringing – Tom had spotted the missed call. He logged my report and, whilst he couldn't comment on the outcome until later assessed, he did confirm I'd done the right thing. His feeling was that a mistake of literally a hundred meters of road which involved no time saving was unlikely to incur anything more severe than a time penalty.
My relief was enormous – it felt like someone had taken one of the bags off my bike for the next few kilometers. Even with this, the morning riding was hard – constantly rolling, and stiflingly hot. The heat forced a lot of stops for food, refreshment, rest and shade through the day. Added to this, the need to keep effort low to avoid over-heating pushed my already slow pace down further still. I was losing time, and barely inching across the map, but in a battle to survive simply keeping moving at all felt like a victory. My mind was obviously affected too as, although I have clear memories of specific moments, it's only by studying the GPS log that I'm able to string them into something approximating an actual sequence of events.
The route passed through many small villages, most of which are now a blur, but one of them in particular is crystal clear (even though I still can't place whether it was in the morning or afternoon).  The road curved steeply down into a small gathering of cottages, before crossing a small stream that flowed to the right, along a gradually descending, beautifully scenic valley. It would have been a wonderful, cool and easy stretch of riding – except that wasn't where I was going. The eTrex track pointed left – towards a wall of tar, that shimmered as waves of heat boiled from it's surface. The sign read 12% (or maybe it was 15) – actually less than several climbs I'd already slogged over – but that wasn't any consolation. I stood and thumped down through each pedal stroke to try and lift myself out of the cauldron. Smooth circular pedalling was a distant luxury – I was barely managing the rectangular stroke of a 2CV with a broken piston.
BIBERACH, 712km – 12:11PM (race clock 02d // 14H // 11M)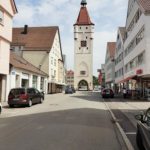 Biberach was a town I managed to completely erase from my memory until prompted by photos. This despite missing taking a wrong turn there, dropping my chain whilst turning around, and getting completely filthy putting it back on. I also made a snap decision for lunch, milled around town, lucked into a rapid pasta cafe for the exact food my stomach was craving, and stopped to take the memory jogging photo on the way back out of town. Probably close to an entire hour which the exertions of the race erased from mind. The absence of memory doesn't mean I was lacking in alertness at the time though. As the route out of town swung a bend and prepared to go over a railway that little map-memory alarm rang out to me again. Something about the station opposite or the curve of the road reminded me that I needed to cross over and take a cycle path which followed along the railway and under the bridge I had been heading onto.
It's amazing how such small details of such an enormous route can remain in your mind and yet, after that point I just have a hazy memory of riding along the railway and maybe across or along a river. I do remember it was a fairly long cycle path and, although I'd just eaten, I knew that somewhere nearby was a McDonalds too which I had marked with a Waypoint that never got used.
FÜrAMOOS, 730km – 2PM (race clock 02d // 16H // 00M)
A much fresher recollection is a sequence of ugly rolling hills that culminated in a wide sweeping bed around a field which a farmer on a mammoth tractor was busy ploughing. In the corner of the field was an inviting bench under the shade of a small tree, It was too good to pass up for a short nap to rest out some of the heat of the day. Although it turned out the shade was rather less than advertised, and I ended up sleeping on the grass beside the tree. This was an unwise decision for a couple of reasons. The first of these being that the small patch of shade was uncomfortably close to where I had just peed. I guess at least the smell of urine which filled my nostrils was my own. Secondly, every shape and size of insect the tractor had scared out of the field came to feast on me. In the 40 minutes my eyes were closed, an impressive array of humongous ithcy, yellowing bites bubbled up. In hindsight, any normal person would just have got up and ridden on to find a better place to snooze. But my brain could only compute that I was off the bike and already lying down, and that was something not to be messed with.
While readying to ride on, a couple of things I'd noticed before caught my eye again. First of these was an unopened, colourfully patterned can of some type of fizzy drink sat on the edge of the bench. An irrational urge came over me to drink it, and only the likely consequences of doing so helped me resist. Quite who left it there, when, and why remains a mystery. The other observation was the skyline. All day I'd been riding towards the distant outline of mountains, but the Alps were now a visible and large feature looming much closer at hand. My lack of worry over the climb to CP1 was matched in equal measure by an absolute fear of how on earth my weary frame was going to get me and the bike over them, especially in this heat. It was a fear that was now no more than a few hours off becoming reality.
AICHSTETTEN, 750km – 4PM (race clock 02d // 18H // 00M)
In one village I clearly remember the route swinging left, but spotting a bakery right. It was already that point in the afternoon where, under several EU laws, consuming Ice Cream of some kind is mandatory. I also ended up with some home-made, chocolate looking milk shake. My German was clearly rusty because only as I reached the table did I manage to decode the last part of what the lady serving had said to me. The glass bottle was the old fashioned kind, and she'd asked whether I was drinking it here or would come back for the deposit. I also bought water, and some kind of mixed berry/grape juice that I diluted into my smaller, down tube bottle. This, it turned out, was some kind of Gummiberry Juice that energised and refreshed me like nothing I'd ever tried. Clearly it was also local, because despite trying many other similar looking mixtures I never found anything quite like it again.
As the Alps drew ever closer, the riding immediately in front of me actually became somewhat easier. It seemed I'd ridden out of the rolling farmlands and was travelling along more gradual and easier terrain lying in front of the mountains themselves. By late afternoon, I knew I was heading into the very south-east corner of Germany and would soon be crossing over into Austria to start the first proper climb. The time is much much later than I'd anticipated. It seems unlikely I'll get across the Alps now to reach my planned next sleep stop just inside Italy, so decide to stop and fuel up with the hope of perhaps completing one of the two major passes ahead in the cooler night time air.
Kempten, 783km – 6:08PM (race clock 02d // 20H // 08M)
On the outskirts of Kempton, I passed through a non-descript strip mall of factory outlets, furniture stores, multiplexes and bowling alleys. It seems impossibly unlikely now, and perhaps I did imagine it, but I have a vivid recollection of seeing a TCR racer emerging from what looked like either a Casino or a Lap Dancing bar (or maybe both!). Neither of these delightful sins were anywhere close to what was on my mind. I was being drawn towards the inevitable Burger King across the road, but decided to hold out for a McDonalds, which was my real craving. Much to my dismay, this turned out to be far less inevitable – a mistake I wasn't alone in making.  As we rode out of town across a wide expanse of river, another racer remarked he was also on the hunt for one or more burgers. The hope of finding one on the tree-lined lane along the far bank of the river seemed slim, so instead I headed for a riverside cafe.
The cafe may have been lacking the requisite junk food, but in every other respect it proved a delightful stop. Toasted sandwiches, some kind of juice, and coffee with ice cream all disappeared with ease whilst I relaxed and enjoyed the wonderful view. It was actually quite a swanky spot – smartly attired guests at several other tables enjoying sundowners, more than a few of them with bottles of Champagne in ice buckets. Meanwhile, my rotting feet were up on a chair again, and along with the road grime, my shirt had now acquired some spots of balsamic vinegar and stains of tomato from the salad that accompanied the sandwich. No part of me was becoming more pleasant as the ride progressed, but at least Yoli back home still seemed to appreciate my messages and calls (she couldn't smell me of course).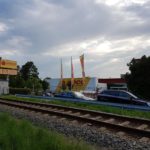 The single track of a railway ran along the road as I headed directly in towards the mountains. There was something vaguely Alpine in the appearance of the few short, four car trains I saw traveling alongside. It made me think I'd already entered Austria (in fact, I was close but the border was still up ahead).  The road became more major, but largely free of traffic thankfully. It also began to head upward, albeit with a steady and mostly manageable gradient. I'd chosen one of the easier and more obvious ways to cross the Alps so it was no surprise to be seeing other racers around me again. A chap passed me on a gradual incline, or maybe I passed him. A somewhat steeper stretch lead up to the small town of Oy-Mittelberg (my memory of it was just being called "Oy"). The old houses lining the road had that unmistakeable alpine character – overhanging roofs, carved wooden shutters and balconies, all decorated with
dozens of colourful flower baskets.  Crossing the main square I saw Isobel Jobling (who I recognised from the start). We exchanged greetings and she mentioned something about finding her hotel. At the top of a long downhill leading out of Oy, I stopped to snap a picture of the now massive mountains.
WANK, 805km – 8:40PM (race clock 02d // 22H // 40M)
I knew this town name was coming up, and when I saw the sign lit up large, I just had to snap a photo. There's really not a lot more to say about this spot on the ride – it wasn't a stop other than to amuse my occasionally juvenile sense of humour. At this stage I was still planning on riding through the night, in fact in Nesselwang a few minutes earlier I'd stopped at a garage to stock up on drinks and snacks for a night time leg. But the town name of Nesselwang really doesn't come close on the Snigger-Scale to merit it's own heading.
Maybe it was the imposing rock fortress ahead, or the 800km behind me, but all of a sudden, my whole body started to feel enormous fatigue. I've been hit by the 3rd day bonk, something apparently very common on TCR. The road has now begun to twist and wind, rock walls rising up steeply at some of the corners, at others little bridges cross rushing mountain streams. Gradually the daylight fades, and the natural scenery is replaced with the man made – a succession of quaint village streets, brightly lit restaurants, the glow from shop windows, most of them now closed. As broken as I was feeling, it was impossible to be in bad spirits. I took the only sensible course of action and looked for a hotel. I hadn't covered anywhere near the distance I'd hoped, but I'd be faster and safer with a few hours sleep.
HEITLERN, 813km – 9PM (race clock 02d // 23H // 00M)
The first hotel I tried had a packed restaurant with a seemingly endless warren of inside rooms, and outdoor dining areas. Waiters buzzed around me, but none of them seemed remotely interested in helping, or had any idea whether there were even rooms available. After maybe ten or fifteen minutes I gave up and rode on. I'd barely gone another two or three turns of the main street before I spotted another, very upmarket looking, hotel. I wasn't optimistic as I propped my bike in the smart, minimalist lobby. I did my best to hobble in a manner that minimised the sound of tap dancing from my cleats, down the long hallway towards the front desk. The receptionists face seemed to answer my assumption almost before I'd even spoken. I was about to turn away when it sinks in that is not the reason why she looks so vexed. The problem is not that she doesn't have a room, the problem is that the only room she has is the best one in the hotel. Some kind of penthouse suite apparently. I'm surprised she's even considering renting it to a vagrant like me – or that, at 200 Euros, I'm considering taking it. But I'm almost laughing at the mad coincidence of it. Before TCR I joked to Yoli that I wanted to spend at least one night in an obscenely luxurious suite, and get a photo of my bike propped against it's ornately styled furniture. I may have lost the battle to get my bike into the room, but in every other respect this seems to be that night. Swallowing hard, I handed over my credit card – after haggling to at least get a packed breakfast included in the price, which the lady kindly agreed they'd leave out on the side for me at silly o'clock the next morning.
The receptionist very carefully explained exactly how access to the underground garage worked. But I can't recall any of it as I stand in front of the big white door trying to figure out how (and where) the key I'm holding fits into the lock in front of me. Only as I turned to head back up the ramp did I spot the goose neck pillar with the garage remote panel. It was exactly where I was told, and the odd square key operated it exactly as described. Rolling down the ramp, motion sensors immediately spotted me and triggered a series of harsh, white fluorescent tubes to light up the entire space. In a corner to my left stood a sturdy bike rack anchored to heavy concrete blocks. I've never liked the back wheel taking the strain of the entire bike, especially when it's this heavy, so I propped the bike against the wall but sufficiently close that I could chain it to the frame.
Trudging across the garage to the hotel entry door, I glanced back to check all is OK and am annoyed to see blinking LEDs. I've left the tracker on. I know it uses very little battery, but the lights are a pretty glaring advertisement that here is a machine with technology all over it worth plundering. I'm too tired and lazy to go back, and it also strikes me that the idea of someone stealing a tracker is rather self defeating. It wouldn't be exactly hard to find the hapless thief.
A sleek glass elevator whisks me up to the the 2nd floor – a floor which is divided into precisely two rooms, or suites would be a more correct description. The first thing I saw when the door to 2B swung open was a small walk in closet to my right. Although small here is of course a relative term, since it's bigger than my entire room at the checkpoint – as are the bathroom, the lounge, and the bedroom. In fact the whole floor area is probably about the same as the flat in Putney which Yoli and I lived in for our first year together. I immediately do what every self respecting traveller should do when faced with such luxury – I take all my clothes off and dance around naked in the vast expanse of space whilst I wait for Skype to connect Yoli and I. Rather awkwardly, she's at her parents – and I've inadvertently pressed Video Call, forcing a hasty retreat to the bathroom to don one of the complimentary robes.
Call home made, it's sleep routine time. The large bathroom, and numerous towels make for the quickest and easiest laundry yet. The force of the shower is like an all over body massage, but when I crawl into the massive bed the body pains hit a whole new level. Reluctantly, I fumble for the lights and dose myself with painkillers – there is simply no way I'll get any sleep without them. Just about everywhere from my feet through my glutes to my lower and upper back are screaming at me, but worst by far are my knees. It's hard to understand how they are giving me no trouble at all when riding, but soon after stopping it's as if each is being crushed by an ever tightening vice. Eventually, when the anti-inflammatories kick in I manage to drift off for my 200 Euros worth of sleep.