There's a build-up of nervous excitement over the final days and hours towards before the start of a big event. Anticipation steadily grows as the list of final preparations gradually gets ticked off. For me, and I think many riders, it's an essential part of the experience – but if you'd rather just skip the preamble, then feel free to dive in and go straight to Day 1.
BRUSSELS – 27 Jul, 8am (RACE clock -1D // 12H // 0M)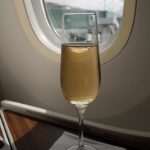 Thanks to Qatar Airways and a ridiculously good-value Business Class flight, I landed in Brussels feeling fresh and rested. After a short wait by the baggage carousel the nagging doubts were at last silenced. A porter arrived with my bike box looking exactly as it had in Cape Town a few hours before – no signs of any form of distress. What a relief! My taxi was a little delayed reaching Arrivals, but eventually we were underway. The beginning of my TCR adventure was now just down the road towards Geraardsbergen.
I was hoping to check out the N8 as a riding option on our way, but quickly realised neither the driver's English nor my Flemish were good enough to communicate this. As luck would have it though, it happened to be the route he took anyway – although driving along it raised more questions than it answered. It was a busy two lane main road that only had a couple of short sections of rather scrappy looking cycle path. Peering as far as I could see, the turn-off at Itterbeek in towards Brussels did at least seem more promising, with a proper looking cycle lane.  Countering this though, were two sections of road-works further along – the road reduced to a narrow single-lane in either direction. I honestly wasn't sure I wanted this to be my opening few kilometers of TCR – but, around midnight on Friday, how busy would it really be? I left it as a decision to worry over later, preferring instead to enjoy the passing scenery – a lush rolling patchwork of green fields and woodland. Before long  the unmistakable sight of the Kapel Muur came into view – perched high up on the right, this iconic climb would mark the official start of our TCR tomorrow evening. As if further confirmation were needed that we were in Flanders, the taxi then lurched down a steep section of cobbled road. It was a little daunting to see the sign reading only 10% – less than half of the steepest section we'd be tackling on the Muur. Soon after a sign left indicated we were nearly at my B&B – the rather aptly Hakuna Matata.
As anticipated, I'd arrived too early for my room to be ready, but as a cyclist himself the owner Franky totally understood my needs – coffee, and a quiet spot to assemble my bike. In between patches of sun, dark ominous clouds rolled across the sky, but my worry about also needing shelter proved unfounded. No rain fell as I pottered  about – enjoying a peaceful and very pleasant hour unpacking the enormous cardboard bike box and re-assembling my steed. In truth, had I been pushed for time I could probably have completed the job in 15 minutes. So little was needed compared to previous trips: put the front wheel on (rear wheel stayed on in the box); reattach stem to steerer tube; pedals and saddle back on; bolt on the front mudguard; and line everything up. I must confess, I did also call William's just to double check I'd mounted and tightened the step up correctly. Over a second cup of coffee I checked everything over and dug int
o my holdall for my cycling gear. With the bike all together it was time for me to kit up too.
A test ride beckoned, and with midday approaching, an orientation ride into Geraardsbergen for lunch seemed an ideal opportunity to also check out my navigation skills and equipment. The ride was short but delightful – weaving through Atembeke village centre (really not much more than one shop),  along a narrow but quiet country lane, and one final short sharp rise saw me on the outskirts of town.  The eTrex and Wahoo indicated right, onto a cycle path running downhill alongside the road. I found myself feathering the brakes as my wheels rapidly picked up speed. Whether it was nerves, or some lingering fatigue from the journey, my riding was beyond tentative – I felt decidedly cautious and off balance. I hardly dare take my eyes of the path to glance down at the screens. When I did I realised I'd passed my turn. Not yet knowing the area, I crossed the road and swung back up to my plotted route – which turned out to be another cycle path.
Passing a large supermarket, the path soon exited onto a twisting maze of cobbled streets, descending down into the main town square. Exactly the point I had been aiming for – at least my orienteering was in better shape than my riding skills. Pulling over at a promising looking cafe, lunch was soon and it was time for a quick call home. Yoli wasn't exactly surprised at my choice of cuisine – toasted cheese and ham, and my first Belgian beer to wash it down.  And there I sat – savouring the excellent brew, surrounded by buildings familiar from photos and videos of the start in previous years, other riders milling around. It was a tranquil but rather surreal moment – I was actually here.
Tempted as I was for another beer, I opted instead to conclude my exploration of town – rolling down yet more cobbles, I swung right along the river to check out where registration and the pre-race briefing would be the next day. A rider was coming the other way on a blue and yellow Focus cyclocross bike – unmistakably rigged up for TCR. We greeted each other with a nod and a hello as we passed. Just across the next street, a handful of riders and presumably volunteers were gathered around the registration entrance. With no real need of anything, I rode past to the end of the street. The road swung sharp right away from the river bank but the Dender Cycle Path carried on along the river bank. It had been on one of my early route drafts and I hadn't totally ruled it out as an option, although I didn't have it loaded as a track.
Fed and watered I made my way back to the B&B, and up the same road I had wobbled unsteadily down earlier. One beer later and I charged back up it with considerably more zeal. I really could have just kept going down into the town, rather than U-turning . Oh well, that was pretty much the point of an orientation ride – to get my head around the layout of the town. So I guess it was mission accomplished. Back at the B&B, no one was around but my room was made up and the the door was open. So I let myself in and settled myself down to try and finish the book I'd bought for the flight out (Hitman Anders And The Meaning Of It All, Jonas Jonasson). One of the rather obvious things about the journey ahead was you either had to carry everything with you, or leave it behind.  Which made for an ideal afternoon enjoying a book that, although good, I had no desire to lug across Europe.  I hadn't got far though before I heard the unmistakable sound of a freehub ratcheting across the yard outside.
As expected, it was my room-mate for the evening – Kurt Edmonds. We hadn't met before, only swapped messages by Facebook. Or more accurately, I should say we hadn't knowingly met. For wheeling across the paving stones towards me was a blue and yellow Focus cyclocross bike – unmistakably rigged up for TCR. We both laughed at the coincidence, Kurt commenting that I must have figured the more direct route having got back so much quicker. The remainder of the afternoon was spent rigging the rest of my setup – the full complement of bags, and everything that could possibly be crammed into them. The rest would suffer the same fate as the book, my holdall, the old pair of travel jeans and T-shirt etc – casualties of the one-way nature of TCR. Finally, there was nothing more to do than put all of the devices on charge, and go enjoy some dinner and a few more local beers courtesy of Franky's excellent hospitality. At some stage Kurt said something along the lines of it being one of the best B&Bs he'd stayed in – a sentiment which I fully shared.
GERAARDSBERGEN – 28 Jul, 10am (RACE clock -0D // 12H // 0M)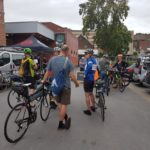 I could almost hear Yoli laughing as I messaged her from the registration queue – she knows me too well to ever take the original plan seriously (sleep late, relaxed breakfast, roll in to register late morning, then lunch after).  Sure enough, Kurt and I were there a few minutes before it opened at 10am, maybe 10 or 15 riders back from the front.  We flew through the process, so it was probably a good call – the few steps took us maybe 45 minutes in total, whereas later in the day seemed to involve rather more waiting.
Kurt's bike was up on the bike check as I hopped nervously behind wondering if I'd bolted everything  on properly. Quick as they were, the checks seemed pretty thorough.
"Money well spent saving weight on Ultegra" the bike mechanic quipped with a smile as he battled to haul my ridiculously heavy rig up onto the bike stand.  Unusually for me I had no witty retort – he had a point! His final words were rather more haunting as I returned the bike to me.
"Slight wobble on your front disc, but it's not rubbing so you should be fine." Just the words I needed to hear from an experienced mechanic ahead of a 4,000km ride …. "should be fine". At least my form was signed off, and there were just a couple of steps left to complete. The most exciting of which was the final one – getting that all important individually numbered ca
p. Putting it on and flipping the peak up for the first time put the most ridiculous grin on my face. A Facebook post after the race postulated the question whether anyone on TCR cheats. One of the responses summed up perfectly my feeling at that moment "What would be the point, they give you the thing you desire most before the race even starts."
With the formalities done there really was only one thing needed – yep, a beer. A quick peruse of the extensive beer menu saw us opting for Westmalle, a strong trappist beer. Stepping back from our table, a look of horror spread across the waiter's face as I started to raise the bottle towards my lips. Kurt explained to me that every beer not only has a distinctive bottle but also it's own unique glass (or mug). My crass South African acquired ways were somewhere close to heresy towards such time honoured traditions. Quickly I remedied my error, and the smile returned to our host's face.
Before returning to the B&B, we partook of one remaining TCR tradition – enormous helpings of steaming flavourful pasta sat alongside the river at Al Dente. I was so stuffed as we rode back it was all I could do to turn the pedals. A couple of hours sleep would set me up perfectly now for the task ahead. They didn't really though – I drifted in and out for maybe an hour or so of actual sleep. It was better than nothing though.
I've no idea how many times I checked and re-checked my bags, or went back into the room for one last look around, but it was way more than necessary. None of the later visits uncovered anything I'd missed, but the knowledge that once we rolled out we were not coming back was enormously unnerving. Anything forgotten or left behind was gone. In the end I just had to close the door, and walk away. Before departing we launched a quick raid on Franky's kitchen to provision us with some sandwiches for the night time leg. Franky himself was outside arranging a photographer friend to come and shoot a last photo of us all together. And then, with nothing more to do, it was time. We wheeled across the courtyard, down the drive and left the B&B behind.
GERAARDSBERGEN – 28 Jul, 5PM (RACE clock -0D // 5H // 0M)
The Jeugdcentrum hall was packed to overflowing – bodies and bicycles everywhere. On the way into the briefing I bumped into friend Shusanah Pillinger – the first, and currently only British woman to complete a solo RAAM attempt. She was one of a number of serious female endurance athletes taking part in TCR No. 5. It was a little daunting to be in the same race as such talent.
I wasn't exactly sure what we were going to hear in the briefing that would take two hours. Surely the race manual had covered it all? There was a
lot of extra material though, especially in the videos recorded of Mike where he explained how the ethos underpinning the race was what allowed the race to operate with just the 10 rules printed on the brevet. It's hard to remember it all now, but "Don't be a dick" and "If you need to wonder if it's allowed, it probably isn't" stuck in my mind and stayed there.
Also communicated to us by both Juliana and Tom was the need to put safety above all, and if we did slip up the need to call ourselves in to the race organisers rather than wait or hope no one else found out. I looked around me and didn't for a second doubt that everyone of the 282 riders present would do just that – exactly as I would. No one wanted to reach the end of 4,000km with even a hint in mind that they'd done so without properly observing  the spirit of the race.
Beyond all of the essential information conveyed to us though, for some reason one phrase in particular from Juliana's presentation spoke directly to me.
"If you find yourself on a road you feel is dangerous, even if it isn't banned, find another way."
The last three words in particular left such a lasting imprint in my brain that I can still hear her saying them today … "find another way". I had no idea at the time how those words would come back to me at a crucial moment in my race, influencing the whole outcome.
With the briefing over we lined up to collect that all important, irreplaceable brevet card. Handily, it was delivered in a protective Lezyne Caddy Shack wallet – as long as we didn't lose it somewhere, it should survive whatever battering we and the weather threw at it.
GERAARDSBERGEN – 28 Jul, 8PM (RACE clock -0D // 2H // 0M)
What an earth was I doing! Kurt and I sat at a cafe watching the square slowly fill up with riders. And in front of me is a beer which says 9% on the label, and absolutely no food whatsoever. At this rate I'll be lucky to stay awake long enough for the start, not to mention a whole night and day of riding beyond.  But the atmosphere is electric, and I'm enjoying the experience way too much not to celebrate it properly. Eventually though I do suggest we scout out some food. Kurt needs some cash for the journey too – so we make our way to a bank opposite, which just happens to be next to a fast food joint. With even more luck we score a table under an awning just moments before the laden skies that have hung around all day finally burst in a full scale downpour. Kurt finally battles his way through the mother of all queues and emerges with two massive paper plates of chips. The rain lashes down and riders scurry for umbrellas and shelter as we stoke up on carbs. My worst fear seems to be manifesting itself – starting out in the pouring rain, with a steep and slippery cobbled climb. But the rain passes almost as quickly as it arrived. In need of the loo, and wary of the onset of beer induced dozies, I head inside to grab a couple of cokes. Cheekily, I queue jump and pay for them rapidly on the way out.
I'm not sure if I forgot the cokes, but just moments later as we headed across the square to meet up with my club-mate from back home, Michel de Clippel, I also ended up ordering us shots of espresso too. At least there was no chance now of drifting off the wrong side of anytime soon. The rain had passed over and the skies cleared in perfect timing for the start. Franky from the B&B joined our little gathering as we exchanged nervous banter. The light was slowly fading – an alluring orange glow spread from the top side of the square, drawing riders towards it like hundreds of moths.  Kurt and I bade farewell to Michel, Franky and their friends and merged into the swarm. Standing shoulder-to-shoulder with fellow ra
cers, all proudly wearing our uniquely numbered caps. This was it. Aside from wishing the riders around us well, the talking was all done. In a few moments time it would be our turn to become dots, slowly tracking across a map of Europe.