Ajdovščina
,

1439km – 05:45AM (race clock 06d // 07H // 45M)

The receptionist wants me to wait for 6am when the restaurant opens for breakfast, but I'm keen to get moving and eventually talk her into a cup of coffee and some change for the vending machine. The little torpedo shaped croissant packets it dispenses are not the infamous 7Days brand – I still haven't spotted those in shops. But my guess is they're pretty much the same thing. They're considerably better than I'm expecting, and of the three or four I buy, two disappear immediately, washed down by the first of the coffees – the receptionist is already on her way with the second! The remaining packets take some cramming into my bags, puffed up as their air filled wrappers are. Only later on do I realise the obvious – piercing the packaging allows them to squash down much more easily.

The hotel is quiet, and the receptionist lingers outside with me to chat a while as I finish off the very welcome extra cup of coffee. She comments that it's nearly 6 and I could have had a proper breakfast. I guess she wasn't wrong but I'm fueled up and ready now. When she learns I'm headed to Ljubljana, she also tosses in one other remark which will become something of a commentary theme for the day:
"It's very hilly on the way to there"
Words that would have probably been the final nail in the coffin for my TCR had I heard them last night. But it's a stunning morning, and I'm feeling massively revived after some proper sleep. Oddly, it's almost a motivating thought rather than a downer – although I do wonder exactly what her definition of "hilly" might be.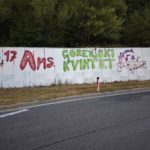 It doesn't take long to find out. That ramp up out of the town from which I called Yoli last night wasn't just some little bump, it was the start of a full blown climb which just keeps on rising.  It's a steady, manageable gradient though and it does one thing that I don't remember many passes doing – it only goes up. There are no false dips, depriving one of altitude only to force the legs to win it back again. I find myself liking the way Slovenians build their mountain roads, although to be fair, they were probably blessed with local geography which permitted such a path. It is also, almost deserted of traffic, and blissfully scenic – all around, the main vista I can see is mountainside, a few patches of pasture, and swathes of thick forest. There are surprisingly few developments of any kind to break up or spoil the view – just the very occasional house, or log cabin. It feels like I've ridden into some alternative, smaller and lower version of the Alps which everyone has agreed not to build on. Even the graffiti on a wall in one of the bends seems more like an advert for a local band than meaningless scrawl. Maybe they were one of the groups performing at LAKENESS.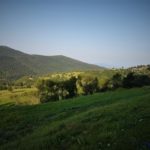 A long, flattish section winds me deep into the forest – it turns out to be the top of the pass. Once it begins to pitch down, there is no more climbing, just another gift from Slovenia's road builders to cyclists like me. One of the longest, most perfect descents I have ever experienced. The tar is smooth, the curves sculpted to a degree that absolutely no braking is required. I'm not sure I've freewheeled at such speed without needing to touch anything on the bike. It becomes mesmeric and could, I guess, have been quite dangerous – except there's nothing to hit, and no need to stop or slow down. Eventually, the woodland fades behind me and the road levels out again and rolls into a small town at the foot. I pull into an open garage just to top up supplies, and check in with Yoli. She's bound to be concerned after last night's melt down (although I have of course messaged here en-route).
Logatec, 1473km – 8:41am (race clock 06d // 10H // 41M)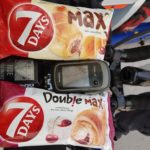 I have some very clear memories of this pleasant little stop: top of which are finding my first actual, authentic 7Days croissants; and being greeted by name as I emerged from the garage shop loaded down with supplies. It transpires that my new Slovenian friend, Felix, is a keen cyclist and has been following rider's trackers and turning out to meet those that ride through this way. He's also, apparently, friends with Marko Balo – a name I know well from my obsession with RAAM. We chat at some length, as I stuff down copious quantities of food and coffee.  He laughs at my obsession with 7Days, and my need to photograph them for Yoli back home. And then reveals something which makes me even more glad I didn't ride through this way last night. Apparently, a little known local fact is that the mountain woodland I've just ridden through is home to one of Slovenia's largest population of wild bears. It's not a total surprise given how dense and unpopulated parts of it felt
and, although I'd have probably shat myself, I am a little disappointed not to have seen one. The final part of our conversation covers my route from here – at which point, with raised eyebrows, Felix heads straight back to the topic of the day.
"It's flat from here to Ljubljana, but the route you've chosen gets quite hilly from there."
I'm rather more concerned now. A random hotel receptionist's definition of hilly didn't bother me, but from a serious cyclist with local knowledge I wonder how on earth I've overlooked it. This section of the route took me several attempts at planning though, and I'm not about to improvise and risk mixing it with traffic on busy highways. I'll just have to put my big girl panties on and deal with whatever "quite hilly" actually turns out to be in reality. At least there was the flat part to enjoy first.
Ljubljana itself felt bustling and looked charming – although I did little more than skim through it, glancing at the buildings as I threaded my way through. Very briefly, I ended up in the middle of a busy three lane arterial road, but it was short and I managed to get myself off it quickly. The prominent memory of the day from this point on is the raging heat. Italy had been hot, but this was beyond anything I'd ever tried to cycle in. I hadn't got far beyond the city before I was forced to stop at a garage to top up on my rapidly diminishing fluids.
DOMZALE, 1517km – 11:33am (race clock 06d // 13H // 33M)
An Asian racer (perhaps from Singapore, I forget) who had joined Felix and I at the previous stop pulled in, and I remember us sitting on the kerb of the forecourt sweating buckets and swearing about the ridiculous temperatures. Clearly this part of Slovenia was home to some pretty hard core agriculture because as we sat there the biggest tractor I have ever seen pulled in to refuel. Honestly, it was so tall it seemed as if it would scrape the roof of the extra high canopy constructed to cater for articulated trucks. I'd had no real expectations of Slovenia, and as a result, it was all proving delightfully unexpected.
During our brief refuge from cycling in the cauldron, a local motorist struck up a conversation with us about who we were, why our caps had numbers on them, and where we were going. He also turned out to be a keen cyclist, so it was more than a little worrying to see his eyebrows lift skywards when he learn of my planned route. The phrase was now so familiar, I could have plugged my ears and lip-read the next words which came out of his mouth:
"Oh! That's quite hilly from here."
I was beginning to wish that Slovenians did not speak quite such perfect English, or that I could somehow rapidly unlearn the language of my birth.
It turned out that nothing had got lost in translation. Things did get more hilly from there. Gradually at first, but very definitely more hilly. I knew there was only really one climb on the way to Celje, the point I'd hoped to reach last night. Aside from a few short stretches, it wasn't an especially steep one either. It did carry a couple of remarkably familiar echoes from Brenner Pass in Austria though. First of these was following an old road alongside a newer, occasionally elevated highway, The second was the "river flowing the wrong way" phenomenon. Now of course, it was a familiar sign and a useful marker that the pass top was still some way up ahead. It definitely helped with my pacing, and at some point I began looking for a scrap of shade to sleep out an hour or so of the worst of the afternoon heat. I looked at a couple of benches, and the pillars under one of the elevated spans, but none felt in any way cooling. And then I spied a tumble down ruin of an old farmhouse right beside the road. Creeping plants covered the dilapidated exterior, and there was a concrete bench set right under the shadow of the eves. It was ideal.
Blagovica, 1536km – 1:32Pm (race clock 06d // 15H // 32M)
A concrete bench might seem the very opposite of ideal to someone looking for a nap, but it has several essential qualities. It's not so comfortable you will sleep for hours. But stretching out on a hard surface is surprisingly therapeutic to a body battered after days on the bike. I scoffed some snacks, downed half a bottle of luke warm coke, and set my alarm for an hour's time. Coke might seem an odd choice also, but it's actually also pretty good (an espresso with no sugar is even better). The caffeine takes a while to work, and the time it takes is just about right for the point you need to be waking up. Also, there has been research to show (and explain why) caffeine drunk shortly before a nap actually has a longer lasting effect than just after. Anyhow, true or not, for me it works. I drifted off into  a lovely, if rather hot,  afternoon slumber.
I vaguely recall seeing another racer pass just before drifting off, but the part I most recall from here aside from the delightful scenery was my failed toilet break. Waking from my nap, I decide to take a leak before riding on. I stroll around the back of the ruin to relieve myself, and have my equipment in hand when I spot an immaculately neat garden at the rear, complete with little old lady tending to her plants. Luckily I manage to get everything stowed and zipped back up before she looks my way, and take my exit with a friendly wave. Clearly the rear of the abode is rather more lived in and less run down than it's street frontage suggested. As I ride off, still in need of a pee, I'm just glad I hadn't decided to drop my shorts and take an actual dump – the thought had crossed my mind, the rear being nicely secluded from the road.
The crest of the long steady climb provides a turn off to take a leak, and a rather strange reference to Trojans. My sense of history or geography have never been that strong, but I'm still fairly sure that Troy was closer to our final destination than this land-locked part of middle Europe. Anyhow, I shoot a photo just in case. I also have to adjust my toilet stop again by a few meters, it seems I've uncovered some secret internal compass for finding war memorials at just the wrong moments.
A short way down the descent which follows, some part of the mystery is revealed as I pass by the town of Trojane  – although I'm still lost on how this connects to the famous wooden horse. It does look a truly lovely little old town though, and I've been kicking myself since that I didn't stop for a photo. It's late afternoon as I roll down the last of the descent and the route heads straight and flat across a river plain. It's a relief to know Celje is not far up ahead and, in addition to admiring the scenery, my mind begins to wander off. Food is a pretty common theme of my mental journeys – and it's definitely on my mind as I roll along enjoying the easy riding. Another common theme is what my plan is – the heat has definitely left me fatigued, but it'll cool down over night and I really could do to make up some ground. An overnight leg seems a good idea, even though I've been unusually bad at executing these so far.
I'm so pre-occupied inside my own head that I barely notice passing an optional detour I'd plotted around Žalec. When mapping things out, Komoot had desperately tried to prevent me from riding straight down the main road. Inspecting Street View closely it did look to have the potential to be busy and unpleasant, but either that wasn't the case or the SS13 in Italy had built up my tolerance for riding with traffic. One thing I did notice was that passing distances had shrunk although speeds hadn't. But there really wasn't enough of these to be overly troubling. Aside from the odd improvisation taking quieter town streets rather than the main bypass around, I mostly just kept it simple and barrelled along aiming directly at the city outline growing up in front of me, and the prospect of something delicious.
Delicious was very definitely not what came to mind at the first garage cafe I pulled into. Actually, I'm sure all of what they served was lovely – but it was mostly sandwiches and toasties. My appetite was for something more substantial, and also definitely not bread based – my mouth and throat wanted soft and easy to swallow. I rode straight out and carried further on into town. I became so distracted scanning for a restaurant that I failed to take notice of the road ahead, causing my second crash of the race. Although it was really more of a 'bike drop' than a crash. Not looking properly, I attempted to turn onto a bike path without noticing an innocuous little kerb separating us. The slightest pop of my front wheel would have overcome it, but instead my wheel locked sideways onto it and shot ahead. Luckily my reactions were quick enough to uncleat and jump off to the side, but my trusty steed was dumped hard for the second time in three days.  Ben had named her Toughie when she first arrived – and fortunately she lived up to the name, shrugging off this latest abuse with as little issue as the previous incident.
After rolling through suburbs for a while I came out onto a main junction. Left was a broad boulevard, one side of which was lined with an imposing wall of glass offices, shops, multiplexes and other modern buildings. It looked more promising, although I wasn't really feeling for a burger or pizza joint which the array of brightly coloured logos suggested might be the likely fare. On the opposite side of the road, tucked away next to a parking lot, was what looked to be an actual, rather quaint restaurant.
CELJE, 1581km – 4:51Pm (race clock 06d // 18H // 51M)
I lugged myself and my bike through the small gap between the fencing and the row of potted trees and slumped down at one of the tables on the covered deck outside. A waiter appeared almost instantly, and the menu he produced could not have been more ideal. In fact so much so, I had troubling choosing. I've no idea what prompted the choice I did make – Sushi aside, I almost never order fish. But something about pasta with salmon, fennel cream, and almonds just spoke to me. It was probably the tastiest and most memorable dish I ate on the whole of TCR, and it slid down without the slightest disturbance to my over sensitive mouth. I also recall drinking a Radler, a coke, a coffee, and eating an enormous bowl of ice cream. This was a stop I properly savoured, despite the urban rather than scenic landscape.
I also, and please excuse the detail here, sat on the loo for an enormously long and satisfying time. It's hard to describe the pleasure of being able to relax properly when going about one's daily business. Although in truth, it possibly was a rather false sense of security. I'd just left my bike, and all my possessions apart from my passport, brevet card and credit card, in the charge of some random, busy waiter who probably didn't look once in its direction after I went off to ablute. I think I may have used the lock chain Steve Lindley made me, although that wouldn't have protected all the electronics gear, and the contents of my bags. Ultimately, I guess you just end up trusting to your judgement, and that whatever is meant to be will happen. Finally, after the usual calls home, I was ready to roll out again. Ahead, I knew, lay the most significant part of that "quite hilly" stretch. Despite, or perhaps because of all the warnings I was quietly looking forward to it. I mean how bad could it be?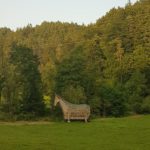 The boulevard gradually narrowed to a normal urban street, and then a country lane as it left the city of Celje behind. I took at least two photo stops along here – first of these was an actual wooden horse, stood in the corner of a field. It was some way from Trojane, but there really was no doubting the connection here. The second was a failed attempt at capturing the view ahead of me – what came out on film was a few hills, and a handful of buildings. But that wasn't close to the expanse of simple beauty my mind saw. Sure, in the foreground there was a cluster of buildings. But behind was rampart upon rampart of mountains, rising up ahead. In the distance on a small peak to the left, the rounded dome of a small chapel glinted in the twilight. Once again, I had the feeling of heading into a smaller, but just as beautiful and less populated version of the Alps. And there was no doubt from the view that this was going to be significantly more than quite hilly.
The problem with trying to describe the next section is that night fell and my world shrank back once more to just the light beam ahead of me. The first significant ramp up into the hills I do remember. Somewhere a cycle path reminiscent of those in Germany headed off across a field and I wondered if it would have been an interesting option that maybe I'd missed. The light then faded on me though, and the road took on a strangely rhythmic pattern. A very steep, generally quite short climb would lead up out of the darkness into the lights of a village or small town perched on top. Once through the town, the road would pitch down steeply into blackness again. Some of those gradients were ferocious – I recall seeing 15%, 19%, and somehow think I even saw 22% on one part. The downhills were lightning fast, scarily so even with full lighting on. They were also cold, forcing me back into a gilet and then later a jacket. The uphills though were where the punishment was. Eventually, I succumbed and just walked them – none were long enough for this to be a significant erosion of time or traveling pace. After all the warnings though, I'd expected something worse – the sharp rises did hurt, but after three hours of slog I ran out of them and tracked a flatter stretch alongside a highway heading towards the town of Maribor.
At this point, I should have been well placed for a push through the night into Hungary, and the much awaited long, flat, and hopefully fast stretch northwards towards Slovakia. But nature had other plans. The orange glow of Maribor up ahead was outshone by a much brighter and more impressive light show taking place on the horizon. A massive thunder storm was brewing, and a fresh chill wind was forcing it directly towards me. Riding through the night was one thing, but doing so in a huge electrical storm, and the rain that it would bring really did not appeal. As the first drops of rain started to fall and I began to think of finding somewhere to sleep, a small bar with a sign indicating available rooms appeared as if by magic in a side road on my left. A bleach blonde, tattooed waitress in calf length, silver gladiator sandals was cleaning up and stacking chairs. She confirmed that for around 50 euros she could provide me with a room, and the decision was made. We'd only been taking a few moments, but  as she led me across a yard at the back to the accommodation the drops of rain had become a full blown downpour . Her attempts to have me leave my bike propped outside against a wall met with immediate protest and, after a lengthy discussion, she gave in and allowed me to take my bike to the room. I suspect, had we not been stood getting slowly drenched, I may not have got so lucky – but she clearly didn't fancy standing arguing outside in the rain. It was something of a mixed success though – the three steep flights of narrow stairs were extremely tricky to negotiate without destroying the furniture and awkwardly placed ornaments.
MARIBOR, 1638km – 10:14Pm (race clock 07d // 00H // 14M)
The bar had felt a little dinghy and run down from the outside, which made the room something of a surprise. It was clean, and modern, and with a new laminate floor and a smartly tiled bathroom. The rather odd arrangement of multiple  single and double beds could have slept a small cycle team and felt complete overkill for just me, but my prime concern was not completely messing up the place with filth from my dirty, dripping bike. I did my best to keep the worst of the grime away, although I was too buggered for any laundry. It was an easy decision given that there was just one meager somewhat grey towel.  As I was drifting off to another comfortable sleep in place of what was meant to be a night of riding, somewhere out in the gathering storm a fellow TCR racer was busy being struck by lightning. Apparently, he woke up next to his bike with a ringing in his ears wondering what an earth had happened. A few of my decisions not to ride through the night may have been questionable but, although I didn't know it at the time, this was one of the better calls.