The hotel breakfast room was dark and deserted, apart from myself and the lone member of overnight staff who was busy fetching me some coffee.. He'd offered the full cooked spread, but I was still way too full from last night's feast. Instead, I opted to squeeze just a few more carbs on top in the shape of yoghurt, cereal and toast, and stuff my pockets with fruit from the buffet counter. In the few minutes I was there it was pleasing to reflect on the previous day, which had turned out to me much more than the sum of its parts. A section of journey that could easily have ended up as a transit slog to get from Inverness to the start of the ride proper, had proved to be a bona fide first day of the tour in its own right, and a perfect appetizer for the remaining 900 miles.
193km – 16 Aug, 06:25 – Norseman Hotel, Wick
Whether they had already gone, or never arrived, the expected cyclists seemed to have thinned down to the singular. An orange Boardman, stripped of its luggage, stood alone in the overnight store as I manoeuvred my bike out. On the off chance our paths might cross later, I snapped a photo before leaving. Sat writing this now surrounded by urban bustle, it sounds improbable – but there really aren't that many roads in the far north in Scotland.
A damp, grey misty view alongside a river estuary. Apart from being a day later, the scene was near identical to the morning before in Inverness. But within moments of starting to pedal that all changed. Just outside Wick, in the village of Reiss, my route swung right. In theory it was still the main A99, but you'd be forgiven for mistaking it for a country lane. The landscape was one of of gently undulating coastal pastures with just the occasional tree, stood here and there amidst a maze of dry stone walls. The road felt smaller and was empty of traffic (although the early hour probably had a lot to do with that). Sitting exposed on the tidal mudflats of the river I was crossing, stood a huge yellow contraption of some kind – square, with what seemed like large flotation pipes on all sides. It was obviously some kind of sea based equipment, but my initial thoughts that it was related to the oil industry changed when I saw an entrance marked Subsea 7 on my right. I guessed it was probably associated with cable laying or maintenance, perhaps to the windfarm from yesterday, or maybe internet communications.
A sneaky little breeze blew across the exposed countryside from a little north of east – completely contrary to the popular wisdom of what is the prevailing wind at this time of year. In less than 30km, once I swung east, it promised some easy riding – but for the immediate road ahead it blew directly at me, tugging at my jacket in a vain attempt to lure me southwards again. It's onslaught was joined by a light, but steady rain as the road rose up through the town of Keiss (clearly towns followed a strict naming pattern in these parts). The NC500 is a very popular route for campervans, and the hotel at the crossroads in the middle of town was clearly setup to take advantage of this. Their parking lot across the street had been laid out with designated overnight spots, and a sign advertising them for the price of ten pounds (although I may have mis-remembered this figure). A white VW kombi, and a larger full scale campervan had both availed themselves of the facilities.
Neither the wind nor rain were fierce enough to slow my progress. A short stretch of manageable gradient led me to the top of a band of moorland that I'd been looking up at for the last few minutes, as it spread across my path. Once on this higher ground I could see a scattering of houses, which I assumed were the outskirts of John O'Groats. To the right of these, under a veil of cloud and rain, a rising spur of land away in the right direction to be Duncansby Head. My assessment from afar proved spot on, except for one detail – John O'Groats had no outskirts, the scattering was the town. It had a distinct "remote outpost" feel – wide spaces between properties, with sagging power (or maybe communication) cables strung from poles that seemed to define the town structure almost more than the actual roads. Or maybe it was all just a trick of my mind, wrapped up in the romance of the quiet emptiness of a far distant place. Even in the middle of summer it was easy to imagine what a harsh place it could be to live once the winter darkness and storms closed in.
Keen to tick off one of the big landmarks of the day, if not the whole trip, I opted for the turn out to the lighthouse, with a look around town and possibly a coffee once back. It was just a handful of kilometres, all of which turned out to be either up, or down. The lighthouse came into view at the top of the first ramp, with a large dip and rise back up in between. These were properly rural lanes, almost more sheep shit on the road than actual tarmac – either side the animals that produced this stood eyeing me up as they lazily filling up on the grass which fuelled their efforts. According to my instruments, the slog out of the dip maxed out at a 6% gradient. On fresh legs, it was neither long or steep enough to be any bother, but the weight of my rig had me spinning in a low gear. I'd noticed it from my earlier vantage point, but now it was unavoidable – a piercing alarm rang out from the building, and the light was unlit. Perhaps the two were connected, but it overwhelmed what should be have been a serene and peaceful spot. I couldn't imagine how any of the car park full of campers had managed to sleep a wink with that blaring out, and it certainly discouraged me from staying any longer than it took to grab a quick photo and admire the view across the sea from the UK's most North-Easterly point. I guess I knew that the Orkney islands were not far off the mainland, but standing looking at them across a narrow stretch of water brought it home just how close they actually were. The nearest of them (the now abandoned Island of Stroma), you could probably sail too in a small boat, although not today – a tanker labouring up the coast was visibly pitching in the choppy conditions.
225km – 16 Aug, 08:30 – John O'Groats
Back in town, I stood between a closed general store, and an open hotel. The latter was definitely serving guests, but it seemed more like a place for a long refuelling stop than a quick coffee and a snack. I decided to press on until I was hungry enough to warrant the time for a proper sit down. Before managing to leave though a swarm of road cyclists buzzed by, clad in pink tops (some of them ill fitting and flapping in the breeze), with a support van crawling at their tail. I called out a "hello" to them, which was greeted with a 10 second summary rattled off to me from a group towards the back. They were a JOGLE charity ride (Kelly's Heros) – just getting started, and their details were on the van should I wish to donate. Funnily enough, I recognised the van as one that had passed me on the ride up from Inverness the day before – clearly the guys travelling up to the start. The irony of a group of fully supported long distance riders asking a clearly unsupported long distance rider for donations was not lost on me in that moment. It was also clear that these guys were, justifiably, brimming with the pent up excitement that goes with the first day of a big adventure, and hence probably didn't even notice that my bike was loaded up for it's own tour. I wished them well, my eyes following down the road briefly as I contemplated how each of our fortunes and moods would change over the next few days on the road.
The road hugged the contours of the sheltered Gills Bay. At the far end of which a car ferry from the islands was just pulling in to dock, and in the middle of the channel was a cable laying vessel, which seemed to add credence to my earlier assessment on the coast activity around here. With the wind at my back, I rolled easily along. The effortless extra pace, combined with long summer daylight hours, and shorter daily distances all added up to something precious: time! An idea started to form in my mind as a line of high ragged cliffs, topped with purple moorland, came into view on my right, leading directly north out into the sea. By ignoring my Garmin, and staying on the main road (still largely free of traffic) I could take a detour out to Dunnet Head – the UK mainland's most northerly point. It had been a waypoint on some of my early route plans. But those had been based on reaching Castletown up ahead for last night's stop. The time pressure this caused, meant it had got dropped in subsequent iterations. Now, freed from that pressure, it seemed a shame not too – so once past the very picturesque Castle May, I turned off at a road sign pointing out to the headland.
I was clearly not alone in this thought. Somehow, strangely, there seemed to be more cars, campers, and motorcycles on the narrow stretch of single track road leading out from Brough than there had been on the main road. I guess it was just a factor of scale – a two lane road swallowed them up, whereas here they had to stop and find places to pass each other, making them all the more noticeable. Here and there, in parking places, people who had camped for the night were still busy packing up. It was another up and down slog out across the peaty smelling moor, along a small natural lake (with the accurate, if unimaginative name of Long Loch), and finally onto the rocky outcrop at the far end where the lighthouse stood. By the time I got there, Henri Meier had been first to answer the WhatsApp question I had posed at my last lighthouse stop, to see if they could guess where I was going next and why. It was an amusing reminder of the immediacy of modern technology – even when we are trying to get ourselves "lost", friends and relatives back home can be there in spirit during the experience. Dot-watching has truly become a phenomenon of recent times.
The similarities were immediate – another exposed, windswept point, surrounded by a grey, brooding sea, stood watch over by a lighthouse, and a car park full of campers and day trippers (like me) who had come to gawk at the spot. For the second time that day I found myself associating the words "Scapa Flow" with the breathtaking views before me. My limited knowledge of naval history recalled this as a treacherous section of water that had been used to hide from chasing ships, and also had caused the scuppering of many such vessels. I wasn't really sure if the expanse of dangerous looking water beyond the headland was actually anywhere near that infamous spot, but it felt entirely possible.
The absence of an ear-splitting siren, prompted me to stay a little longer and enjoy the moment. OK, it would have been nice if I had been the only one there, but it was also nice to have a few fellow travellers to exchange some banter with, and who could take my picture by the sign (and just about show the lighthouse itself). One of the campers had an array of sporting gear – including bikes, along with kayaks and various other things. It turned out one of the tents being packed down also belonged to their group. They were properly geared up for a holiday, although I forget the exact conversation we shared whilst I ate the last of the fruit from the hotel buffet. I do remember one of the road bikes had a very classic look to it – yellow, with a leather saddle, rim brakes, and matching chrome bars and rims. Definitely something of a connoisseurs model.
By now I was busting for a pee, although this was too public a spot for that, so I headed back in hope of an open café once the route diverged from the way I had come. One hotel was closed, the next few were marked "Residents Only". I toyed with the idea of pulling into the Dunnet Bay camping site, but it was busy and not obvious how far in, or awkwardly placed, the toilets may be. So I pushed on to Castletown, sure that I'd be able to find a spot there.
260km – 16 Aug, 10:35 – Castletown
The scenery on the outskirts of town was lovely – a mix of coastal countryside, woodland, and ancient buildings. My coffee-stop luck changed with a vengeance once I got into the middle of town. The random stranger I accosted outside the Spar to inquire about a café turned out to be the breakfast chef of the main hotel just across the road. He confirmed that it was open, and they would definitely be able to get me coffee, and maybe a bacon roll if the remaining kitchen staff hadn't finished up and left. Amazingly, it worked out exactly as he had said – in fact even better, since no one seemed to mind me parking the bike inside the lobby whilst I sat and was served. How (and how much) to pay proved an interesting discussion, since those left were clearly not usually in charge of guest's bills. In the end, we settled on cash transaction of about the right proportion which may or may not have gone in the till, but definitely did reach those who had provided me with the hospitality. As I was readying to leave, one of them, a young waiter, was heading off to work his second job rounding up sheep. He commented that he hoped today would be cooler than yesterday, although the forecast was for another "scorcher". This seemed unlikely, as I kitted back up in the still grey, damp, and slightly chilly conditions.
The town of Thurso was sufficiently close that it's house banked up along the river were coming into view before I had managed to untangle something else the shepherd-slash-waiter had said. While discussing where I was going, he'd mentioned a hill being so steep he had struggled to get up it in a tractor, but added that I'd be fine as I would be going down it. For the life of me, I couldn't figure where that would be. If it were on the road to Cape Wrath, then I'd be doing it in both directions anyway. And before that, around Durness, I didn't recall seeing anything particularly ferocious in the way of steeps. It was a mildly troubling thought which I ended up just pushing back in my mind so I could concentrate on what lay in front of me. Which at this point was a steady ramp up and out of the town, but veering inland for a short way. The NC500 has a reputation for congested main roads, and this short section was one of very few options to take a quieter back road. The sea views were replaced with something just as scenic – another shift in the landscape to green meadows which rolled up and down significantly more, and a backdrop of higher ground behind. I paused briefly to try and catch some of that in a photo, but ended up doing no justice to its beauty. A little further along, the first of the shepherd-slash-waiter's did come true. As I began a long, flowing, and utterly delightful descent down into a valley the skies cleared and the sun came out. The climb out of Thurso already had already begun to steam me nicely inside my damp weather gear. As my route re-joined the main road, with the next ramp up ahead, it was clearly time to switch to lose some layers.
The hamlet of Reay provide a garden wall for my bike, and a pleasant view of the village church to get undressed in front of. Not completely of course, but by the time I was down to just my shorts I did feel a little self-conscious stood by the road. It was uncomfortable enough getting odd stares from passengers in the few cars which passed, but when one of them pulled into the same turning it did make me wonder. I'm fairly sure there are very few impulses or urgencies that would make me pull off the highway into a turnoff occupied by a semi naked man, just so that my family could get a better view. None of them were obviously taking photos at least. At this point I should mention my least favourite thing about the whole large windsock shaped saddle bags, They are light, they can be cinched up to have very little sway, and ones with a separate removable dry bag are very convenient to take into a hotel room or tent. But they are an absolute faff for daytime clothing changes – needing to be restuffed, rolled, and retightened every time. I don't think the bulk of panniers or trunk bags will lure me away, but for a sufficiently light, strong, and streamlined setup I could be tempted (and yes, I know those exist, at a price).
Mentally, the terrain in front of me could have become a real battle on any normal distance ride. But with less than 100km of riding to go, and sunny blue skies to do it under, it became a completely different exercise. The usual pressure to keep pushing on was replaced with one where I could drop a couple of gears, slow my pace, and look up from the bike to enjoy the jaw dropping scenery I was riding through. The road ahead of me set a pattern which was to become repeated many times throughout the afternoon – but which at no point became stale, or arduous. A long, steady grind would lead me slowly up to a section of open moor – with a gradient that never became unmanageable, although often saw me in my granny gear purely for ease and comfort. Once on top, there would be a view across an expanse of valley and along a stretch of coastline until the top of the next wrinkle in the land. The road would snake downhill, cross over a bridge of some kind in the bottom, and then snake back up again to the next ridge. The views would be anywhere from mind blowing to indescribable. The only way now I have to separate these repetitions now in my mind is by looking at the photos I took at the top of each one – although I only did that for the first few, out of around eight or nine in total. Looking at number four now, I can see it was longer and higher than those before it – which is probably why I pulled into a parking place at the top for a breather with the photo. In doing so I immediately struck up conversation with a group of other cyclists stopped there. They were also riding the NC500, although with a support van meaning one of them had to sit out each day. I didn't inquire which of them was unlucky enough to be stuck behind a steering wheel on this peach of a riding day. At least a couple of them seemed genuinely curious by the idea that this whole thing could be done solo, and without support – especially when they heard about the full ambitions for my ride. It was pleasing to think as I left that our conversation might have inspired some future adventure for them.
316km- 16 Aug, 14:30 – FBI (Farr Bay Inn) Cafe
A useful titbit I learned from the group of riding buddies was that at the bottom of the next valley there was a café, although I very nearly got side-tracked by a coffee truck half way down which had the orange Boardman from the hotel this morning propped in it. In some ways, I was glad I pushed on the extra 500m or so to the actual café, but in other ways I wasn't. The place was delightful, with great coffee and staff who kept the kitchen open long enough to make me a tasty wrap. There were also a few other caffeine addicts to chat too as they waited for their brew – although none of them were cyclists. I even got to enjoy a bit of gravel riding up the track to get there. The only problem was I overshot the signpost, and the U-turn I attempted failed to take account of the weight of my bike and it's handling at low speed. The resulting fall was both painful and embarassing – not least because it was done at almost a standstill, and prompted a couple of cars to stop and check I was OK (none of whom had played any part in the incident). I had a very sore elbow and a knee that was still bleeding profusely as I finished up the food. The only consolations I could draw from it was that I'd got what is becoming my mandatory "tour accident" out of the way without more significant damage to me or the bike, and the coffee had been worth the stop, if not the fall. Oh, and the sun was still shining. So I guess overall, things could have been worse.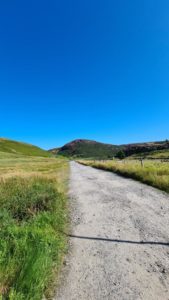 By virtue of the 17km prologue into Inverness, and the unplanned detour to Dunnet Head, I'd lost track a bit of my remaining distance for the day at this stage. I guessed it was around 40km or 50km, and judging by the next section, it seemed it would be a continuation of the repeatedly lumpy pattern. It never stopped being scenic, but each rise did gradually sap more and more from the legs. There was a lovely, albeit short break from this going down into the unusually named town of Tongue. Although I missed pretty much the whole of the actual town by taking a narrow lane I had spotted on Google Maps which ran down to and along the loch. I was glad I had – it was almost car free and utterly delightful. So too was the causeway across the Kyle of Tongue itself (or I guessed that's what the expanse of water was called). Part way across the causeway I chatted with a couple sat outside there kombi, as I grabbed a quick photo. They were the first people actually on the trip who mentioned the dreaded Scottish midges which so many had warned me about. Perhaps due to the still fresh breeze, I had yet to really encounter anything more than the odd candidate though.
The biggest of all the ridges was to follow. It's size wasn't obvious on the first climbs away from the loch, but part way up, staring at two triangles far off in the distance which were part hidden roof apexes of some building, the full scale of what was ahead became apparent. It was a slow and hard slog but also, although I didn't yet know it, the last full scale lump of the day. A monumental hiking/climbing peak (Ben Hope) towered a little inland of where the road went – technically I think these are referred to as Munros. I knew it meant I was closing in on my destination. If the main road along the north coast had proved too busy or unpleasant, I had plotted a gravel option inland along the river at this point to get away from the traffic. I spotted the turn even before the different coloured track option made it clear on the GPS screen, but no part of me was tempted by it. The riding today had been sublime, and taking this detour would also mean giving up tomorrow's goal to reach Cape Wrath. I still wasn't sure I had the time, weather, or energy for it, but I wasn't going to abandon it before trying.
Just two days into a ten day ride seemed way too early to be in such a calm, contemplative state – but that was exactly my mood as I dropped down toward Loch Eriboll and began to ride along the long sweeping inlet towards today's destination. The sun had steadily dipped since Tongue, and the first orange glow of evening was spreading around the water – shadow's lengthening as it did. Short, sharp ramps replaced the long slow drags of earlier in the day. That last half hour of riding was utterly sublime – near perfect conditions in idyllic surroundings. Dotted around the loch were what looked like salmon fisheries, and far off a was boat chugging across which looked like a ferry (although I didn't recall reading anything about one in my research). It was a welcome distraction from the subtle weariness in my legs. By the time I drew level with the large island in the loch and the entrance gate for my B&B, I was relieved for the tailwind that had lessened some of the burden. William's words came to mind as I dismounted "May the wind be at your back, and the road rise up to meet you". Both had been true, the road part especially – that had definitely risen up.
369km – 16 Aug, 18:25 – Glenaladale B&B, Loch Eriboll
I'd completely failed to stop for a proper evening meal, and my hope that the owners of the B&B might offer something were quickly dashed. To be fair, my host (Katie) did very kindly offer to drive me into town, but I really wanted to get showered and had no real desire for a possibly lengthy wait for food. I was just beginning to resign myself to a meal of snack bars when the possibility of a cheese and tomato toastie was offered up. Washed down with hot chocolate in the room, it was almost bang on what I fancied anyway. Quick, tasty, full of calories – and enjoyed with an incredible uninterrupted view across the loch from my bedroom window. Tomorrow's ferry times meant I'd have plenty of time in the morning to top it up with a hearty Scottish breakfast without any need to rush. Just one small issue came to light after showering. For some strange reason, T seemed to have bequeathed me his affliction of an overly sensitive behind when he departed our world. An ugly protrusion that felt to be about the size of the tip of my thumb was the largest of several sore patches and spots on my backside. It didn't have a face and eyes, but I could feel it mocking me as a "softie" nevertheless. It's not completely unheard of for me to suffer some tenderness, but these were of a scale I'd never before experienced. I wondered if somewhere up above T was having a good laugh at my expense – enjoying the fact that after all those rides together, I could now fully grasp his level of pain. I lathered exuberant amounts of Sudocrem on every inch of raw flesh I could find before turning in for a sleep that I hoped would repair some of the damage.