1338km – 23 Aug 20, 07:15 – Nantwich
I looked at my watch before rolling out. If I waited another hour and a quarter I could set my day up with a solid breakfast before riding – one which was probably included in the room price as well. But adding the time it took to arrive and savour, I'd be two hours later leaving this spot. At touring speed that was around a sixth of the distance I wanted to cover today. As I rode slowly back past the entrance I could almost taste the delicious food I was missing. It took a massive act of will to resist and keep pedalling along what seemed like the high street of the lovely old town, and out into the countryside beyond. I knew the road ahead would offer up some kind of breakfast, but I had no idea of when. The instant coffee and biscuits were only going to keep me in good spirits for so long.
Although now south of Liverpool and Manchester, this part of the UK still has some sizeable cities. Riding through Glasgow had been a nice change, but my route from here pushed slightly west to stay in open country rather than get caught up in the urban sprawl of Stoke, Wolverhampton or Birmingham. I'd also managed to map along mostly lanes or lesser A roads, and keep clear of too much heavy traffic. I crossed a few along the way though – and a short stretch where I needed to join the A53 to link up with lanes again proved to me that I'd done the right thing. It was still early morning, and a beautiful sunny blue day again, but that short piece was head down trying to hide from a procession of fast moving cars and trucks which blasted past, spraying me from the puddles of standing water left after the overnight storms. There was a very pleasant, if short, diversion onto scenic, green country lanes again through the village of Wollerton. But it was only when I turned off onto the A442 that I could relax and breathe easily again. The busy road had in total, probably been less than a kilometre, but it had set my nerves on edge to an unwelcome degree. Fortunately, not only was the A442 less busy (although technically still a main road), it also led to something far more rewarding.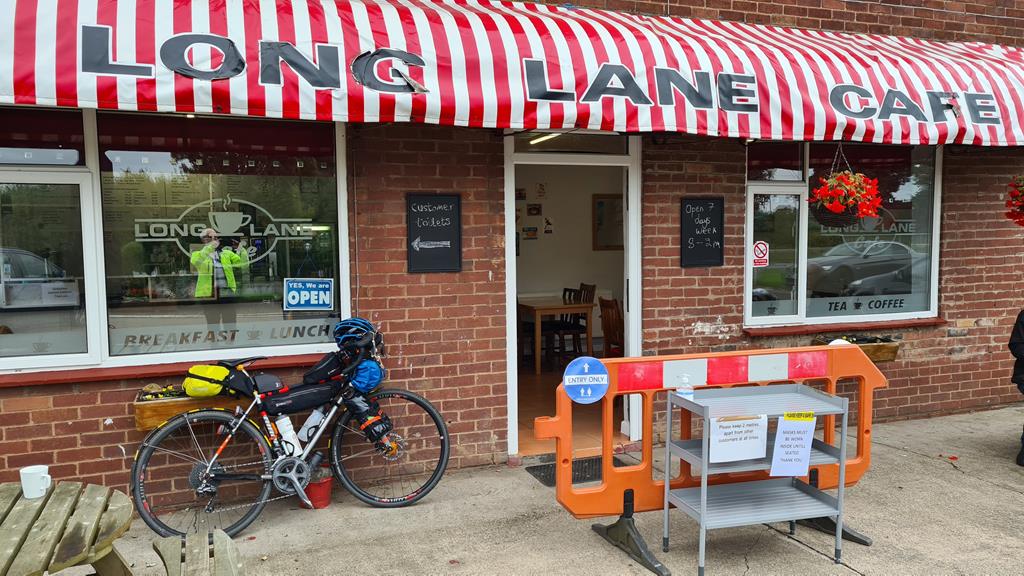 1384km – 23 Aug, 09:45 – Breakfast! (nr. Sleapford)
It's interesting how, aside from one pretty village and one busy road, this roadside café is my dominant memory of two hours of riding since Nantwich. As rides grow in distance, you really do become a pedalling stomach – riding from one meal to the next with, hopefully, some interesting views to help pass the time in between. On this occasion that meal, and the coffee that came with it was just right – by which I mean plentiful, and tasty. It had taken a while to find a good spot, so I didn't take any chances and had a second coffee whilst here just in case. I struck up conversation with a lone motorcyclist who was sat on the other table outside the café. Also out for a Sunday ride, he commented that the 100 miles he planned for today felt a long way even with an engine. I guess distance is all really just perspective – after 8 days on the road, this felt like just another day of unhurried riding to me.
Soon after starting again, I passed Wellington (a suburb of Telford). It was notable to me purely because it added to the list Nico was collating of towns with South African counterparts that we'd ridden through on Cape Audaxes. Nearby was also Worcestor, and a second Wellington tomorrow – plus too many others to mention. A little beyond the track log shows an odd stop of 5 or 10 minutes in a little village called Wrockwardine, although I have absolutely no recollection of what it was for. There is no obvious shop there, and it's way too public for me to have been taking a pee. I'd already lubed my chain and check tyres outside the hotel in Nantwich, so I can only assume it was a change of batteries in the Garmin, since clothing and calls home would have happened at breakfast just before.
There's a couple of junctions a little further along that I do remember well. Somewhere near the town of Cressage I passed a large group of cyclists decked out in yellow club jerseys – Wolverhampton Wheelers. They seemed like a friendly bunch, stopped by the road waiting for clubmate perhaps, although I vaguely recall they may have been sorting a puncture. We exchanged some banter as I passed – one of the guys commenting how loaded and heavy my rig looked. I replied something along the lines that the hills we could see ahead would be much easier on one of their steeds.
Soon after came a turn I also remember well – an almost 180 degree switch back just before Harley and, somewhat sadly, meaning I missed out on returning to another holiday location remembered from childhood – the wonderfully named "Much Wenlock". That memory also conjured images of steep hills although, judging by the banking forest at the end of the lovely green (and currently fairly flat) lane, it didn't seem my route was going to be much easier in that respect. The landscape didn't lie – it wasn't. The road crossed a babbling stream, dipped into the canopy of trees and immediately rose up a ferocious gradient – easily double digits, sending me spinning down into granny gears.
Sadly my second encounter with club cyclists for the morning was not nearly so pleasant as the first. An impatient, buzzing mob of red white and green jerseys jostled past me on that hill, the lane being so narrow by this point that they were literally shoulder barging me out of their path. In the melee I lost so much momentum, I was nearly stopped and walking. The problem though, I am sure, was not the majority of the riders. Individually they were probably just as sociable as the previous group. But the dickhead leader who was barking orders at them seemed to have stirred them up into an anti-social, over competitive mob. Funnily enough, a few kilometers later they passed me the other way, I guess coming back from their turn around point. Maybe it was my imagination but, as they sped past, it was really just the leader (still barking) and a couple of his henchmen at the front who seemed to be having any fun. From about fifth or sixth wheel back, everyone else just wore a resigned expression of misery and pain. Instead of a pleasant Sunday ride, it conjured up a vision of a train of horses being mercilessly whipped on to pull their coach ever faster. Like I say, it was probably all in my head.
This section of route went through the very heart of the Shropshire Hills. For some reason, my mind had me convinced that I would be crossing the Malvern Hills – but I was some way west of that. Instead of the one, significant, ridge I'd expected to be climbing over, I slogged across a succession of short, sharp, and at times painfully steep hills. In fact my normally sound inner compass was so far off, that as I was riding down and out of the hills I was still sure the ridge running along to my left was the last part of the Malverns.
1437km – 23 Aug 20, 13:45 – Ludlow
I had no such doubts about the next town which I started to see signs for – Ludlow. I had very strong childhood memories of the old, Tudor buildings with their dark wood frames and whitewashed walls. I was looking forward to seeing the town again but, unfortunately, before I could there was another section of the hateful A49 to be negotiated – no less busy and no more pleasant than the encounters the day before. I almost made matters worse by missing my exit, although when I doubled back there was no exit. During planning, in some parts I had borrowed sections of an Audax LEJOG route. On this spot, the idea of reversing the route simply did not work. The downward curving ramp leading off the A49 I was stood opposite was an entry not an exit. I could see the urban street I was headed for no more than a hundred meters beyond the unfriendly red and white NO ENTRY sign. Aside from being dangerous, I would never break road laws by riding the wrong way down the ramp. Luckily, being on a gravel bike, I didn't have too. I hopped onto the wide verge and rode safely down the grass to the bottom – infinitely preferable than staying on the main road any further.
The centre of Ludlow was just as quaint as I remembered, and I snapped a few photos to send to the WhatsApp group as I rode through. A light shower had just begun to fall though, and as inviting as the pub across the river looked, it was also busy and I was still fairly full from breakfast. So I slogged up the hill out of the river valley and headed back into the open country again. I was sure there'd be another equally inviting stop along the road for food but I hadn't properly accounted for a couple of factors. My route was on quiet country lanes, meaning I didn't pass many pubs directly. And a surprising number of those I did looked closed up – probably not able or wishing to re-open under the COVID restrictions. And, even more frustratingly, the one I chose that looked a sure bet, wasn't serving food – also a seemingly odd choice on a Sunday, although I do seem to vaguely recall it may have been that their chef was indisposed.
1450km – 23 Aug 20, 14:30 – Balance Inn, Luston
I'd already invested the time in dismounting and going in, so I decided to make the best of it and fell back on basic long distance provisions i.e. crisps, several packets of peanuts, and shandy. The crisps and peanuts were purely for the salt of course, the real energy was all in the beer and lemonade. I also got an interesting history lesson from an old chap at one of the other tables outside. The town name was an abbreviation of its original, less attractive name of "Louse Town". Surrounded by sheep farms, it had once been a centre for the fleece trade – although I forget whether the "louse" reference was due to insects in the wool, or the inevitable low life that congregates around bustling towns with wealth (I have a feeling it was the latter). The name of the pub was also, I think, derived from this – "Balance" being a reference to the weighing scales used. And, apparently, it was the only pub with that name in the country. The chap also reeled off a long list of battles through the ages containing tales of kings and royalists, and with plenty of blood, gore, and betrayal – although sadly I cannot remember any of the specifics now.
Another town I was looking forward to seeing again was Leominster, but as I rode through it felt quiet and and closed up. To be fair, by now it was Sunday afternoon, and COVID on top of the loathed austerity measures haven't been kind on many high streets. Again, of course, a lot of this could also be false impressions from the fleeting glimpses seen as I rolled through. Soon after came another, albeit thankfully very short, encounter with the A49 – followed by t he A417, which wasn't great either. But it's hard to navigate this part of Britain without main roads and I did manage to get back onto quieter lanes in towards Hereford within a kilometre or two.
It was heading towards late afternoon by now – the town was also fairly quiet but there were groups of people wandering around between the cafes and pubs. Over the last hour the cycling had become pleasantly relaxing. Yoli had me booked into a hotel at Coleford, which would leave a very managed 185km or so for the final day of riding tomorrow. Having already broken the back of the distance to my overnight stop, I was really in no hurry. I'd be there well before dark, and in good time to stoke up on a proper meal to make up for today's patchy fuel stops. Hereford was also where my route would start to follow the path of the River Wye down towards the Forest of Dean. If I'd been in a hurry, this would have been painful riding but, with plenty of time, I could enjoy the scenery and take each of the many hills at a leisurely spin.
After crossing the Wye in Hereford, I next met it's meandering path at the wonderfully named Hoarwithy. The river and I kept each other company for a couple of kilometres before it diverted on one of its many oxbows. The road just carried on straight, rising up and over the hills the river had carved out a path to avoid. Although not long, it was a slog of a climb, but the forests it rose through more than made up for the effort. At one point in particular, I had the sense of being surrounded by nothing but fields and trees – something the photo I took does show, but also completely fails to actually capture. Once over the top, ahead lay the lovely old town of Ross-on-Wye. It's medieval buildings and ramparts were in view up on a hill far off in the distance as I dropped down to the river plain, and crossed over again before climbing up into the town.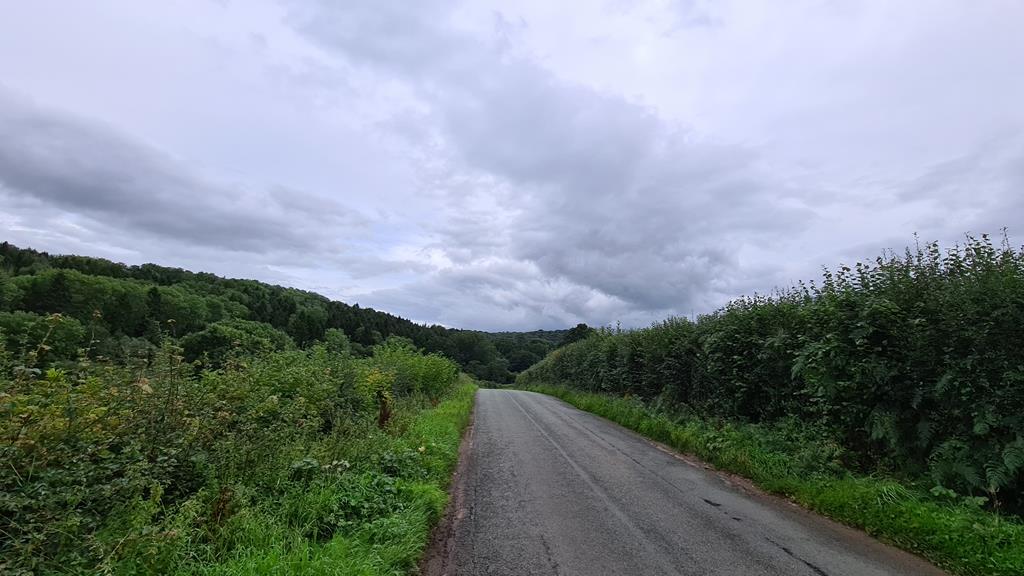 1500km – 23 Aug 20, 18:00 – Ross-on-Wye
As I wound through the town streets, I did contemplate stopping for food – but with my overnight stop so nearby, it felt better just to push on and eat well at the end of the day. So instead, I just snapped a quick picture of the church I passed at the very top of the hill – also, sadly, closed and boarded up presumably due to COVID restrictions.
It was a fairly unremarkable, although scenic B road once through the town – although at a junction alongside the Wye again, I was stopped by a navigation conundrum. The Wye valley at this point was narrow, and scarily steep – I'd been looking at houses high up on hillsides for the last few minutes. At the junction, my purple GPS track indicated I should turn right across the river. This was signposted Goodrich, which meant little to me, but the other indication on the sign was Symonds Yat, which concerned me somewhat. I had memories of this being on top of a very steep hill and, for the life of me, I couldn't think why I had mapped my track this way. Especially when, Coleford was signposted ahead if I stayed on the B4234. Checking on my phone, I could see it was a slightly more winding and less direct route but, since it followed the river, it felt as if it should also be easier. A town with "ford" in the name was going to be beside the river, so maybe this path avoided any climbing altogether. How wrong I was. Not only was it longer, but soon after the junction it turned into a relentless uphill drag. Visiting the area since with Yoli and Ben, I've seen the Symonds Yat climb I had plotted is indeed steeper, but much much shorter.
Fortunately being surrounded by the stunning scenery of the Forest of Dean made up for the effort, and by the time I reach the village of English Bicknor, the work was pretty much done. Town names all along this ride had highlighted how closely I was tracking the border with Wales (Welshpool being a prime example, which I had seen many signs for). This small collection of houses was no exception, having a counterpart just across the river from where I was riding, called Welsh Bicknor. At Berry Hill, I picked up my planned route again as the Symonds Yat road joined from the right. After a couple of fairly fast rolling kilometres I was in Coleford itself – named presumably after the presence of local coal mines, and a ford across the river. More significant to my needs, was my room for the night, which Google Maps and my phone led me to by the old marketplace in the very center of town.
1519km – 23 Aug 20, 19:20 – Angel Hotel, Coleford
The hotel itself wasn't serving dinner, but it didn't matter. I'd spotted several restaurants riding through town and, better still the one which the helpful receptionist recommended was not only the closest, but also the one my taste buds most fancied – the Chinese takeaway opposite. I really didn't fancy sitting stinking up some fancy establishment – the option to take some tasty food, and a beer from the hotel bar appealed much more. I did not waste any time, lugging my bike quickly up to the room and then hurrying back down to get my order in. I didn't hold back on quantity, but somehow managed to polish off pretty much the whole mountain of delicious satay, chicken and black bean, and rice.
It was a somewhat unusual phone call home before bed. For the first time in many days, we didn't have to discuss where I'd be aiming to stay the next night. The end of the tour was now just one day's riding down the road. A bittersweet moment having enjoyed such incredible riding, but I was also more than ready for home, clean clothes, and most important of all seeing Yoli and Ben again.