I need to add a note here on the nature of this entry. The views expressed in the account of parcours #1 are purely my own. They are authentic to my experiences at the time, but it must be understood these reflect as much on my mental and physical state as they do the actual route. I know some riders at the tail shared similar feelings but I'm sure many other riders did not, and enjoyed the challenge of the parcours. I do comment on the nature of the parcours in terms of how I felt as I rode it. But none of what is written here is intended as a criticism towards the organizers of TCR No. 8 in any way.
It's hard to be sure exactly how much I slept, but as I drag myself up off the floor I'm doubtful it was more than three hours. It wasn't nothing though, and the CP1 cutoff is ticking. I'd rather rest longer with that first checkpoint stamp in the bag. Thanks to my makeshift sleeping spot there's not much kitting up to be done – I'm still dressed, and it's chilly enough outside still to need the extra layers. I don't recall exactly what my 'breakfast' consisted of, but one the packs of peanuts definitely got eaten, and probably a snack bar of some kind, plus of course some Haribos for that little hit of immediate energy. It's not sumptuous, but there's a few calories there for what lies ahead. Glancing at the little cue card confirms what I already know. The full parcours is around 125km and 2,500m of vertical ascent. The control may only be 29.6km away but it's around 600m of climbing, 400m of which will start the moment I leave the streets of Litvinov. I have plenty of time, but it's going to sap some energy getting that prized first brevet stamp.
0km – Litvinov – 04:09, 28 July 2022 (857KM total)
The more immediate problem as I leave the building is that lack of a loo. I check all the doors inside once more but to no avail. A resident is leaving the apartment section at the same time but definitely does not seem interested in engaging with me as I ask if there is a toilet nearby. In hindsight, I'm probably not the most appealing of strangers, and in all likelihood they have no idea what I'm asking for. Or, possibly worse, they do. I mean what would be most people's reaction to a smelly tramp who has clearly slept in the entrance to their building and who now needs a toilet. Pretty sure I'd have got as far away from them as fast possible, which is exactly what this chap does.
I do a quick check along the front of the building, but nothing looks open so I roll back out and up to the main road. I'm contemplating how far I need to get out of town before a squat in the bushes would be undetected and acceptable. But the pedalling motion settles things down to the extent I'm fairly sure I'll survive to CP1. I scan the GPS and road ahead repeatedly for the left turn onto the climb, but it's a couple of Km further than I'd realised – a distance which seems to be flowing past very slowly this morning. Looking at the profile now I can see it was uphill, which probably accounts for some of my lack of speed. On my track there I can see a small kink, which I recall as a me ducking into a large bus stop and parking lot to investigate what seems to be a restaurant or hotel at the back, but my hopes of an early coffee are dashed. It's closed.
As expected, the left turn immediately leads to the start of the climb, a sequence of snaking dogleg turns and switchbacks up through damp, sweet smelling forest. I wonder if it rained after my night stop or if this is just from showers the day before. It's not raining now though, which is a relief. Part way up the climb the trees thin out and the forest gives way to open rolling hillside with occasional stands of trees. I pull over at a gate for a snack and sip of water, but more importantly to ease a little pressure by taking a pee. I do mount up again afterwards but at some point before the stop I given in to the legs screaming at me and walk a short stretch. The comfortable gradienst of the initial twisting turns have become a double digit slog as the road takes a straighter, more direct assault on the hill.
To my surprise I crest the the hill some way before the right turn I know will take me onto a gravel forest track of some kind. In fact there's an enjoyable, short section of freewheeling down before I spot the familiar (from Street View) looking wooden fence at the start of the track and the GPS beeps at me to turn right. This is not bad gravel though, it's smooth and well packed without ruts or potholes. And it's almost entirely flat or downhill. In the first rays of the morning sun I'm belting along the most sublime cycle trail through the forest. Strangely, this is the point I notice a useful facet of the TCR caps which has completely eluded until now. Riding directly East into the low morning sun at speed is a somewhat risky challenge. But with a simple flip of the cap's peak from it's usual 'number up' orientation to peak down it perfectly shades the blinding rays. Who knew! I don't wear my TCR cap at all times on the hottest days as the previous one was not totally UV proof, but I do put it on around control points for recognition. I'm very glad of that this morning.
As I roll swiftly along the morning could hardly get more lovely. Until it does. Firstly, on rounding a bend I startle a large herd of deer standing in the path and grazing on the bushes. I can see at least a dozen, but there are many more in the undergrowth. Some of the smaller outlines are clearly this year's young. On spotting me they quickly dissolve back into the forest. Their hooves make no sound as they do so, but several of them bark and snort in alarm, unimpresed by my intrusion on their feast. The second magical sight stops me in my tracks and demands a photo – those morning rays breaking through a perfect arch of branches ahead. It's one of those 'right place right time' moments which is there and gone in instant. Another similarly fleeting picture moment occurs a few minutes later as the route leaves the forest and opens out onto fields, the morning light perfectly silhouetting the small windfarm which sits on the peak.
Soon after this the trail joins a small road again, I forget whether this was before or after the cycle bridge across a mor major road. I do recall the bridge though – it's bright blue frame is suspended under a concrete arch that resembles the giant whale jaw bones you see hanging in the Natural History Museum. Riding up and over this ramp requires a spinning gear, or at least it does for me this morning. There's a short sharp descent after this which I do recall as being on tarmac road, after which the route snakes around until the outline of the CP1 becomes clearly visible on the hillside ahead. The route crosses the road we'll be taking after the checkpoint and climbs a short but steep brick paved ramp up to the hotel and the checkpoint. Initially I ride past the entrance, backtracking until I spot the path leading to the balcony. Several bikes are propped against the tables on the balcony. This is clearly the right spot, and I head inside.
32km – CP1: Horní Krupka – 07:20, 28 July 2022 (889KM total)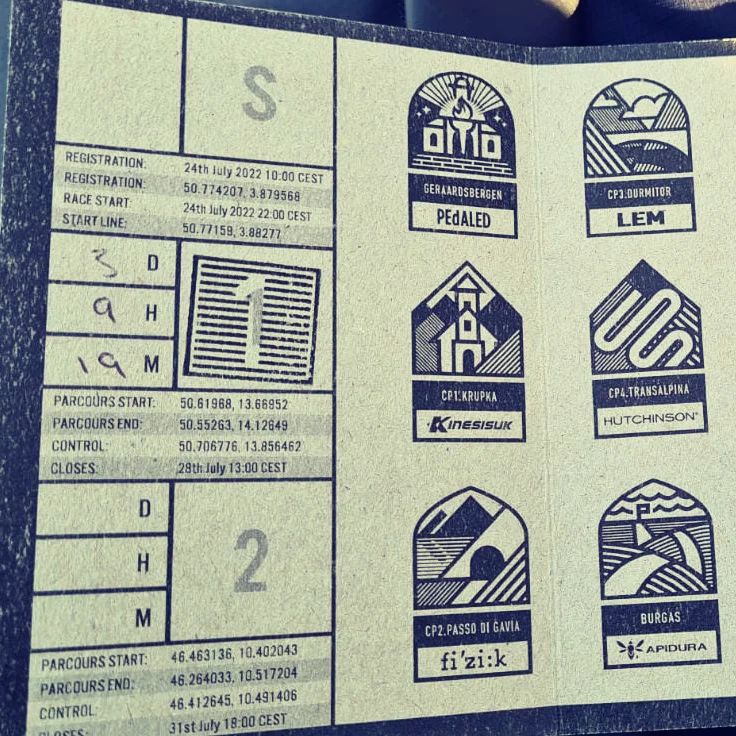 I'm 6.5 hours inside cutoff. That's less than my margin at CP1 on TCR No.5 but I'm pretty pleased. I've ridden steadily to this point and made it in time. With steady, careful riding it's possible I might be able to make CP2 with a similar margin. I've never held much belief I could make all of the controls of TCR No.8 inside cutoff, and not does it matter for a 'Finish' (versus a GC place). But it'd be nice to bag a few of them.
I head inside to get that all important stamp – which the volunteer kindly does (I have a vague recollection his name was Colin, or maybe Chris). We exchange a few words, as we do so I'm very aware of the organizers request to be polite and respectful. Although it hardly needs saying, these guys are literally here for our benefit, manning the desk around at all hours of the day or night for no more reward than being a part of TCR. A smile, a thank you, and some pleasant banter is the very least we can offer. The volunteer also confirms Nico's message, the tap water is rain water and probably not safe to drink untreated. He also mentions that breakfast will start around 8:30am, but that it;s a fairly minimal affair. I'm not sure I want to lose an hour of the margin I've fought to build up waiting for that, so this will be a bathroom break and short snack stop before riding on. A fellow rider is filling his bottles from the bathroom taps – he's packed purification tablets which I'd considered but decided not to bring this time. There's not many aspects of my TCR preparation I've overlooked, but this is one I hadn't thought would be needed.
Yoli and I manage a brief interrupted call and chat as I sit briefly at one of the picnic tables on the deck outside. The view from this vantage point is stunning, but oddly the cell coverage is erratic. The signal drops several times in the process. I fiddle with some phone settings but without much effect. Yoli has had a distressing morning – none of my texts got through, and the tracker updates have been spotty.
Pixie: Well done sweets
(Missed voice call)
Robw: Signal is all over the place
Robw: Doing OK- bit tired. Gonna spin on and hope for brekkie somewhere
Pixie: Just one thing, please please always let me know when you leave your sleep place
Pixie: Been up since 4.30
Robw: Slept in disused hotel lobby - warm and dry tho
Pixie: Stressing about you
Pixie: Fiona got mugged yesterday
Robw: I tried sweets but signal has been awful
Pixie: So when i woke up I didn't know if you were okay
Robw: Sorry
Pixie: Okay thats fine but please
Robw: I saw about Fiona - nasty
Pixie: It still a fuck long time and I hate worrying about you
Robw: Trackers can be bad I guess
Pixie: But I love you and very happy you got there safe
Pixie: So it's all good
Pixie: Hope there is some food nearby
The few hotels I've passed to here have also been closed, but I figure maybe 8:30 is a normal opening time around here so as I roll back down the brick path I'm optimistic I'll find somewhere along the road soon. Back at the crossroads I swing right, and briefly downhill. In the near distance I spot a farm track leaving the road to the right. Part way up it is another rider labouring up the hill. This must be the continuation of the parcours and, sure enough, moments later I'm winding through the farmyard and beginning the same climb. It's not a significant hill – and somewhere on the short ramp I catch up with the rider,. He's stopped under a tree fettling with something at the rear of his rag, and comments that he's paying the price for not fixing his bags sooner when I ask if he's OK. The short incline is soon done. In fact for the most part we seem to be descending off the high grassy plain.
After the first of the drops I pass a hotel, quickly double back through their parking lot and heading inside. There are tables laid out with a promising looking breakfast but noone around. I call out a couple of times, and eventually as I poke my nose into the kitchen area a girl appears. But she's not happy. She shoos me hurredly out of the hotel with a firm "no" when I ask about getting some food. It felt oddly unfriendly in the moment but afterwards it occurs to me she may have had a steady stream of us racers randomly dropping in and be fed up with repeating herself.
For the next hour the few cafes or hotels I pass are all resolutely closed. Eventually, I pull up in a small town (Krasny Les) and ask a chap in his garden if he knows of a shop or cafe. We struggle a bit to communicate but he seems to get my gist and understand the word "hotel". My spirits sink with the initial shake of his head (I'm down to dregs in each bottle). But he then points and utters a word twice which I realise is the name of a town: 'Pe-trow-vich-eh'. With huge relief, I can see from zooming out on the Wahoo screen that it is just a handful of kilometers further. I drink the last drops of the water, and spend a few momnts shedding all my warm layers and stuffinf them back into my saddle bag. The day is now becoming properly warm. The route descends lazily across farmland, dropping down towards a highway sunk into a cutting. Once across the bridge the road continues to dip until I run into the outskirts of the town the chap had mentioned. At first it doesn't look promising but then I come to a junction with a large car park and shops dotted around, including something which is clearly a supermarket. Relief!
49km – Petrovice – 9:09, 28 July 2022 (906KM total)
The rider I passed earlier is sat outside (our paths must have crossed whilst I was checking out the hotel). He offers to watch my bike whilst I go inside. It's a sizeable store, but my 'radar' isn't tuned into to Czech shops and supplies yet so it takes me a while to find everything I want. There was definitely a chocolate milk, coke, water, sandwiches and snack bars. I forget what else. Most of this gets consumed immediately when I am back outside, but the coke and snacks go in my pockets and bags for later in the day. The other rider departs at some point – I forget if it's before or after I go and defile the supermarket toilet in a truly unfriendly but necessary manner.
Robw: Just spotted a loo - you don't want to know
Robw: 5000 calories
Robw: Ride on in comfort now
Robw: 😂😂😂
Pixie: 🤣🤣🤣🤣
Pixie: Just glad you are eating your way through Europe
The little area of shops is unfamiliar to me – some part of it is called the 'Travel FREE' shop. Which seems like it should be a reference to something like duty free. I guess that's possible, we've looped back to being relatively close to the German border again. Across the other side of the parking lot are also some tarpaulin covered market stalls selling what look like tourist souvenirs. My tired brain doesn't manage to fully decode the place, although I'm hugely grateful for it's presence.
I can see that fairly soon after I get rolling again I stopped briefly at a junction in the road just beyond the town of Tisa. But I have no recollection what that was for. It's just before dropping back down into the valley, so perhaps it was to check or adjust something on my bike or with my clothing. I do remember starting to get a bad bout of the dozies as the day wore on, so perhaps I needed a swig of coke and some sweets to wake me up a little. I do recall the long, delightful descent which followed though. It's fast flowing road, but I also recall it needing some concentration through the corners and possibly the odd section of broken up surface. My mind battles to keep focus on the task at hand – the effects of being short on sleep from the night before are starting to poke holes in my mental composure. I'm beginning to think I may need a break when the hill runs out and I'm riding up onto a bridge across the river Elbe and into the city of Děčín beyond.
73km – Děčín – 11:09, 28 July 2022 (930KM total)
The heat is oppressive as I cross through the city. I know this section of the route well. At some stage the organizers published a set of GPX files with a minor error in them, which a couple of us spotted and pointed out. As a consequence of studying these so thoroughly, it feels like I know every twist and turn through the railway marshalling yards, along the short section of path beside the river and back out onto the road beyond. If the heat was bad in the city, it's worse reflected up off the fresh black, recently laid tar of the main road. There are several sections of roadworks and the traffic is heavy, trucks and cars passing uncomfortably close at times. I wonder why we've been routed onto such a busy road, but the answer becomes clear a little further along. We're connecting across onto a quieter road, which a left turn and a bridge across the river we've been following lead too. It's a relief to be out of the stream of traffic but what lies ahead looks daunting. We're at the foot of a steeply rising hillside and there's only one way to go. The road quite clearly snakes up to a pass out of the valley high in the mountains above. In this heat it is going to be tortuous going. And slow too. Progress has not exactly been rapid to this point today already, but it's about to drop to a snail's pace.
The road climbs around 320m over the next few kilometers, alternating between gradients of 6% and 7% up to tought ramps of 13%+. The rider I've been swapping places with all morning passes me, or I pass him. I forget which because it's a process we repeat many times throughout the afternoon. I'm going quite steadily at first, on the more gradual slopes of the switchbacks. But at some point well before the top the legs scream for mercy on the steeper ramps, and I begin alternating walking and riding depending on the gradient.
It's a relief to crest the top of this first ramp, but the 'gradient' chart on the Wahoo shows that I am far from out of the woods (metaphorically, in physical terms I am out of the woods at points on the climbs). Zooming out the gradient chart shows that this hill range has another 4 peaks of varying degrees of difficulty. And beyond it, after a descent lies another hill range with 2.5 peaks to get over. It may seem defeatest, but I instantly sense what this all means. It's probably going to take me all afternoon to get across these punishing hill repeats. In the process, I'm going to be losing so much time that my chances of making CP2 within cutoff are going to slip from my grasp. From the start I've fully expected to be outside cutoff at one of the later controls (probably by CP3, and if not there then almost certainly by CP4). But to be facing that reality for CP2 so soon after getting my card stamped at CP1 is a kick in the guts. And, as I slog resolutely across the next few peaks, it feels like it's for no particularly good reason. Parcours on TCRs to me have all been about iconic passes or stretches of road, or amazing locations from bond movies or the sites of eastern bloc relics. The first part of this parcours until Děčín seems to fit that bill well. But this last section just seems to be a random sequence of climbs through fairly featureless fields and woodlands. Don't get me wrong, it's scenic enough. And as a testing club ride it'd be a great afternoon out. But with 900km+ in the legs it doesn't seem to fit – it's just a demoralising beating, especially for tail enders like me. I wonder how many others also realise this will be putting them outside of time on CP2. And how many have been broken by that thought, or the oppresive afternoion heat. I guess one thing TCR is not meant to be is easy. But this particular brutal beating seems out of place and misjudged. Tough as it is, I doubt it troubled the leaders enough to separate them. But it's punishing enough to potentially have broken the tail.
At some stage I swapped messages with Yoli – I have a recollection even that I called her in one of the sections where I was pushing uphill, my phone perched in hand as I trudged on. Her words help greatly. My goal has always been a 'finish', and never realistically a GC place. Missing CP2 cutoff doesn't change that at all. I just need to get this wretched section behind me, regroup, recover and ride on towards what was always my goal. As well as interminable climbs (the worst hitting 18%, which I later overheard that someone had joked that not even the TCR cars could drive up), the afternoon features a couple of things which my mind clearly recalls. First is some severe attacks of the dozies: the most amusing of them is me quite clearly seeing a Rhino stood in a field beside the road. Only on shaking my head several times does the hallucination fade into the clear shape of an oval water tank (the body) mounted on a trailer (the legs) with a towhook (the bowed head of the beast). Second is passing through very few villages and none where I managed to spot a store of any kind. This is probably my lack of looking properly. I do spy kids with ice lollies, but on looking around cannot see any shop. I experienced something similar in Hungary last time and realise it may be that I'm just not 'seeing' yet what rural stores look like, or where they are are to be found.
One part of the route is along the marked off edge of a field – it's a rocky, rutted track that in parts is barely rideable, or rather would be more rideable on a mountain bike. My gravel tyres just about cope across the battering few hundred meters. Exiting back onto the road at the end I think was the last time I saw the rider who I had been swapping places with. He's mounting up and beginning on the next ramp, looking considerably fresher than I am as he spins away out of earshot – not hearing the 'fuck me, what next' that I utter once the rocky field is done. Somewhere around this point I think was where another rider passed me – one of the South African contingent, Calvin O'Keefe. He's doing better than me at that point and still riding rather than walking. He comments on my bike mentioning he'd ridden a similar rider on his previous TCR. He's a rep for Trek now which, not surprisingly is what he is riding. A pair also pass me somewhere around this stage, the rear of the two swearing and commenting how hard it is to keep up. I have a vague recollection these may be the same riders I saw way back on Day 1, and possibly also the guys I saw yesterday at the gas station near Gera. I comment that I think in some ways keeping up the pace in a pair is actually tougher – he replies with a thank you, he's glad someone else thinks the same!
Finally, the last couple of coloured segments on the gradient graph come into view, grey and green which I know is more rideable than the orange, red and brown steeps. Sailing across them with huge relief, I begin the final descent of the parcours to it's end in Litoměřice. The route ends on the outskirts of the city at the official end of the parcours. I stop and restart my GPS track at this point also – for some reason it seems important to have a single track segment for the parcours.
125km – end parcours, Litoměřice suburbs – 16:15, 28 July 2022 (982KM total)
The heat seems to build with every meter I roll downwards through the city. Left and right I spot a few open cafes, and one sign for a hotel (the Apollon). I really don't want to sit outside in the sun though, and I'm not sure I can stomach hot food. I continue on downwards until I'm beside a river (the Elbe again) and turning left onto a broad bridge which spans it. Across the other side it feels like I have left the city and into the semi-urban sprawl beyond. But there's immediately some good news on the left, a large retail park with a supermarket. Although across the busy traffic takes a few moments and involves a couple of cars hooting at me as I cut across. If it was hot riding it is twice as bad not riding. I'm roasting as I lean my bike up against the wall and go inside for supplies. You know the form by now – water, sandwiches, snacks, coke. I dither around a bit outside eating them, at some point also visiting the ice cream stall outside for a cone. Which requires me to draw cash at the ATM as the girl behind doesn't have a card machine. There's a couple of drunks loitering near my bike throughout the whole process eyeing my bike. I'm not really sure if they're watching it for me or considering stealing it. I'm not really sure if I care which of them it is.
Once done I'm fed and somewhat less dehydrated but I can't honestly say I feel much better. I'm exhausted, a little dejected, and I have no spark to ride on today. Despite the paltry distance I've covered today I know the only smart move is to find a hotel, recover, and start fresh early tomorrow when it's cooler and I'm rested. Yoli agrees with my logic so I begin the hunt for a hotel. Which is not going well. One answers but is full. Several more don't answer. A promising looking one a few kilometers away but on route doesn't speak any English. But luckily they do prove resourceful and keen on my business. Moments after we fail to communicate verbally, I get an SMS. In perfect English it reads along the following lines:
We spoke just now. I have a room for you
I waste no time replying, and within minutes my afternoon has turned around. I mount up and spin back out onto the main road and ride the short distance to the suburb of Terezin and the waiting hotel room.
132km – Hotel Memorial, Terezin – 17:50, 28 July 2022 (989KM total)
A young girl behind the counter greets me as I enter and park my bike inside. She asks if I want a drink and I get her to pour me a beer and a lemonade, which she finds amusing – clearly a Shandy is not a common drink in these parts. I sit at a table drinking it for a few moments before an older woman I assume is her mother appears and greets me. The mystery of her rapid transition to fluent English becomes clear. This lady is an absolute master of Google Translate. Over the next few minutes we alternate speaking our respective languages into her phone, and achieve a remarkable level of understanding. She is happy to let me take the bike to the room, but the stairs are steep. They can make me some dinner, and they can do some packed rolls for tomorrow (ham and cheese). And I can leave whatever time I like in the morning. Just leave my room key inside and slam the front door.
She wasn'y exaggerating about the stairs. I need to use the brakes to stop me slipping back, and am out of breath by the top. But the room is just there – a big comfy bed waiting for my weary bones. With profuse thanks I wheel in. I pop downstairs to order the food – for some reason what is described as 'Serbian Risotto' appeals (with pork and rice). It feels like it will be both tasty and easy to eat. It proves to be exactly that, washed down with the last of the Shandy which the girl thoughtfully brings up on the tray.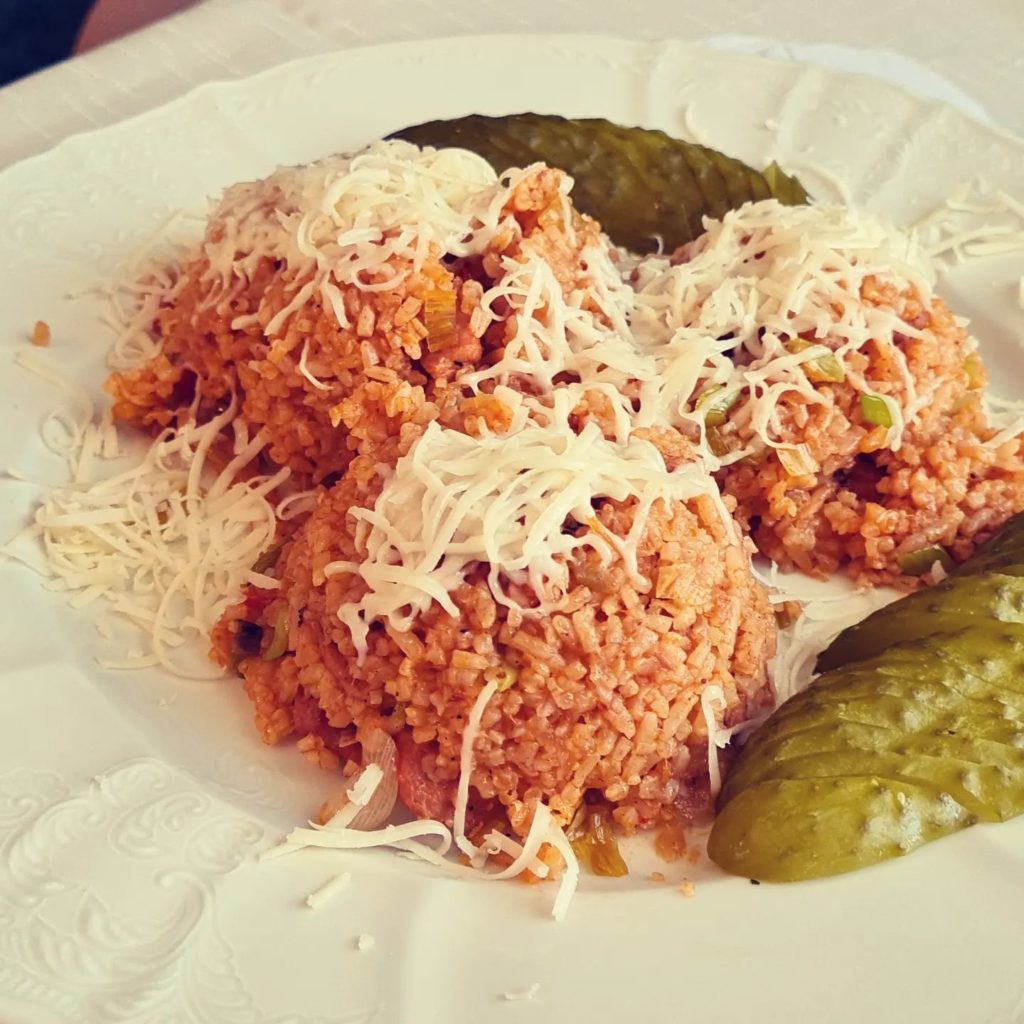 As I eat, Yoli and I swap messages.
Robw: Just under 1000km in 4 days - it's short for gc but enough for < 20 days
Pixie: So 250 a day 😁
Robw: Yep - it's survivable
Robw: Fuck I never expected to just do the parcors today. I'm broken like I rode 300km
Pixie: Ah sweets
Pixie: Well tomorrow is another day
Pixie: Get some rest
I am pretty sure I had no energy for laundry and just shower and hit the bed and am almost instantly in a deep slumber. Today was brutal but it's done, and I'm still here and able to ride on. Parcours #1 battered me – maybe that was what was intended. But I'm not broken.
Happy Birthday Mum … miss you!