There is just one thought in my mind as I shower and kit up:
Tomorrow's behind, Today lies ahead
Actually there's possibly an extra thought – "don't fall getting the bike down those steep stairs".
I managed to get down safely and retrieve the packed breakfast from exactly where the lady had promised in the cold cabinet next to the counter. Outside I need to give the bike some TLC – the chain is beginning to run dry, and the tyres could do with a little air. Once done I realise I haven't returned the room key. I'm about to look for a letter box, but on testing the door it hasn't fully close to I slip back inside and drop the key on the counter, giving the door that proper slam when I exit for the final time.
0km – Terezin – 2:56, 29 July 2022 (989KM total)
I'm already part way around the square when the Wahoo figures itself out and plots me back towards the route. It's a couple more turns than I remember. I'm sure I'd have figured it out but am grateful that the 'idiot assist' feature means I don't have too. Soon enough I roll back up to the roundabout from last evening and swing left to rejoin my original route. I know that once back in Germany I have some long and flat riding, but before then it's a fairly long and lumpy remaining stretch in Czechia. As well as the fatigue I'm no doubt still carrying from yesterday I'm probably also a little under fuelled and possibly slightly dehydrated still. As a precaution to the latter one of my water bottles has electrolytes in it. The other aspects need to pace myself careful and eat well during the day. Starting with the breakfast rolls, one of which gets eaten as I ease myself into the riding.
The road weaves through alternating zones of rural, village, and light industry – each time shifting from darkness lighting, through yellow sodium street glow, to glaring white floodlights, and back end into darkness. The road's are empty and the morning air is refreshingly cool – a welcome change to yesterday evening's cauldron. And at this point, although the tarmac is occasionally broken up, the riding is completely flat – I guess we're still in the flood plain of the Elbe. At the 10km mark I swing back out on the main road – the smooth fast is very welcome but less ideal is the rolling countryside which follows once through the village of Budyně nad Ohří. After an initial ramp the countryside rolls, much easier undulations than yesterday but still energy sapping on tired legs. I catch breath while grabbing a pic of the lovely village church at Zlonice, and then a slightly longer break around 20 minutes later to eat the rest of my breakfast and snap the firey sunrise spreading across the fields.
Shortly after the stop I pass through the town of Slany, bigger than those I've passed today but it's too early still for anything to be open. This marks the start of the next uphill stretch, although around halfway up I start to recognize where I am. I've studied this section at length looking for the best options across. I know I'm heading up towards the city of Kladno. If I drop left there's a McDonalds not far off route, but it's not time for a break. The route navigates a section of roadworks, the shattered paving and wire barriers cause me to nearly miss my turn, which is onto a cycle path that had been partially blocked off. I hop the bike up the bank and onto the path. It's still rising up, but I couldn't care. It's delightful. I pass a few runners and a couple walking their dog as the path climbs up through the woodlands. It's enjoyable riding as the path skirts around the city. The woodland path exits onto a maze of urban paths with more broken paving stones, and one completely dug up intersection. As I pick my way across the gravel something about the entrance town stadium grabs my attention. I share the picture later on Insta under the caption "Go Sletiste?" – I'm still not sure what sport they played there though, football I'm guessing.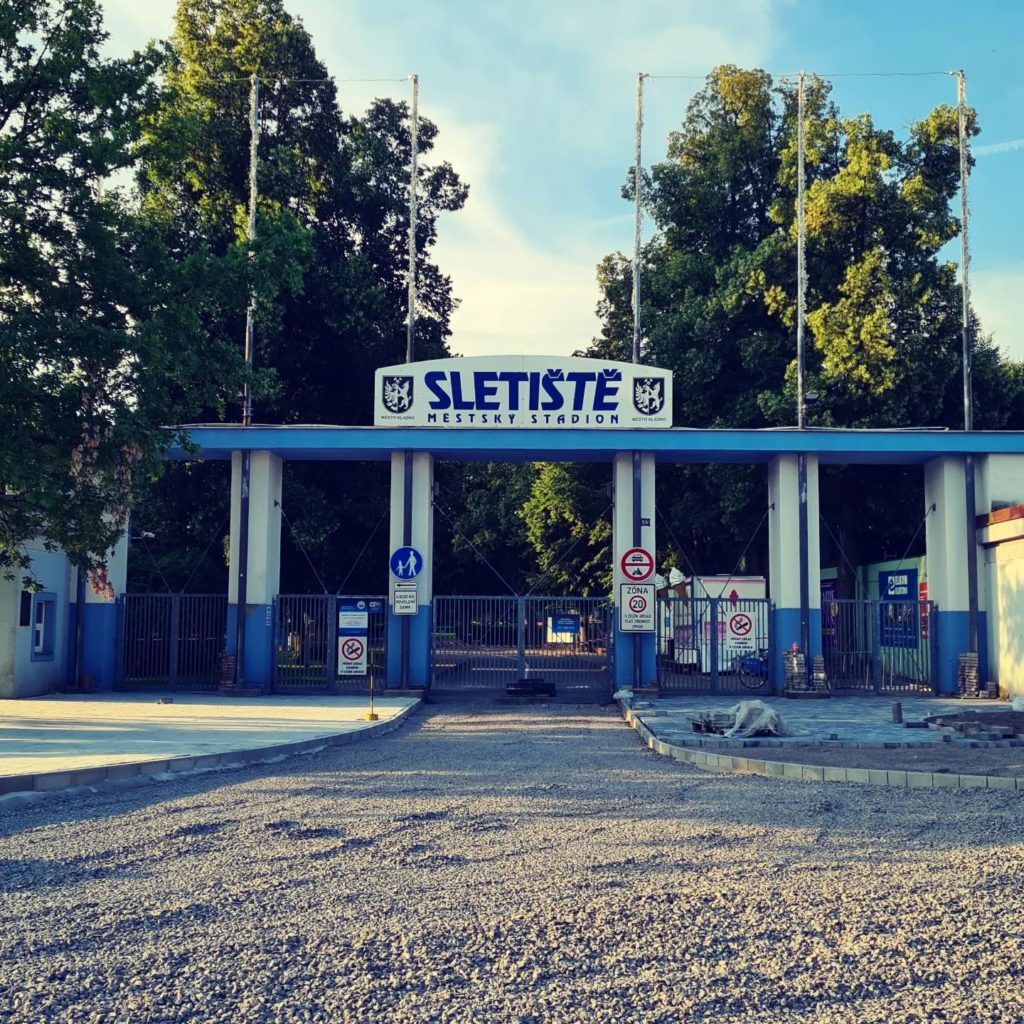 Occasional rough surfaces aside though, I'm smugly pleased with myself at the routing I came up with. Beyond the staidum I criss-cross a series of delightful forest paths on good, fast gravel. Popular with runners and other cyclists, but not at all busy in the still early morning. It becomes even nicer as the hill runs out near the local airport and I begin to run rapidly downhill again, although the dip bottoms out with another short incline that pitches briefly up around the 8% mark. The gas station just over the top doesn't need me to thinkg twice though. I need fuel.
70km – Benzinka Libečov – 07:45, 29 July 2022 (1,059KM total)
I'm rapidly sorted with some TCR classic fare, and an unsual but tasty iced coffee – to which William comments something along the lines of 'no preservatives there'. His sarcasm isn't misplaced. The food is tasty and full of easy quick burn energy, but it probably has zero in the way of real sustenance. As I eat I catchup on messages including a thread on our TCR group I'd missed from yesterday – the last line of which has me sputtering coffee and crumbs across the forecourt as I burst out laughing.
Chris Van Zyl: Ryders bypassing Stelvio via Umbrailpass.
Nico Coetzee: Ah
Nico Coetzee: I wondered what the split will be
Nico Coetzee: Percentage wise
Chris Van Zyl: Not one rider over Stelvio yet.
Nico Coetzee: 🤦‍♂️
Nico Coetzee: When in Rome
Chris Van Zyl: Riders are afraid to face their demons…
Nico Coetzee: I deposited my demon in a pristine loo after the parcours this morning. Much lighter now.
The Stelvio question has been decided for each of us long ago. I need the easiest route possible, which is Umbrail. I'll come back some other time on an unloaded bike to enjoy the classic switchbacks of Stelvio proper. But for Nico, it's a long way back from Stellenbosch – this will be an opportunity that won't come along again to soon.
I realise now as I write this how rapidly my mood had improved during the morning. At the earlier sandwich stop I was downbeat and struggling. Now I'm in great spirits and enjoying the unfamiliar countryside and experiences. Czechia and I got off to a faltering start, as I skirt the edge of Prague and head southward it's really growing on me now. Before leaving the gas station another possible photo grabs my attention – it's a far from original subject, but something about the composition caught my eye. (it goes on Insta under the title 'Fuel').
I revisited the next section a number of times during planning. My earlier iterations plotted various different routes through a hilly section of terrain that appeared to be part of a national park. But at some stage I noticed I could drop down to the city of Beroun and from there pick up a sequence of cycle paths and minor roads along the river valley to the south of the hillier terrain. As I speed down through the steep, distinctive snaking turns into the suburbs of Beroun I am massively thankful that I spotted this final version – it's going to be way kinder on my still tired legs.
Urban landscapes may not be as immediately scenic as the countryside but, for me, they carry their own fascination. In this case, after an initial footbridge across a river (the Berounka) I seem to be alternating between riverside and railside cycle paths. The surfaces at times are a little cruddy, but it's nothing the Niner can't cope with. The rail yards are extensive – I get the sense the Beroun is a centre of some form of major industry. That feeling is amplified by large, strangely shaped containers which are literally everywhere – stacked in yards, in lines on rail trucks. They are an unusual circular shape – like two giant cones, stuck together on their circular bases. They look vaguely UFO like, only fatter rather than thin saucers. At first it looks like they are stood on tripods, making them look even more alien (like rows of space invaders), but I realise what look like legs are some kind of overflow or filling pipe. Sadly, I'm winding out of the city and leaving the marshalling yards behind without every really finding out what they were.
The profile after Beroun may be kinder than my early planning attempts but it's still gradually uphill. By the time it tops out just beyond Kařez it's been gradually climbing for 25km to just shy of 500m of elevation. The legs are definitely in need of a break and the body needs fuel. Part way into the next downhill I roll into the town of Rokycany and am spoilt for choice.
124km – Rokycany – 11:00, 29 July 2022 (1,113KM total)
I briefly entertain the idea of an enticing looking Thai restaurant, but am put off by a potential hike of the bike to it's upstairs balcony. A little further through the cobbled town square is a ground level and very open Pizza restaurant. They don't even seem fazed about me wheeling the bike inside and propping it against the table I'll sit at. There's a definite familial resemblance between all of the guys serving (two older, and one younger lad) and the lady who I take to be their Mother. I approach the pizza counter (they also sell kebabs) and order two massive slices (each pretty much half a pizza). They do not last long, and I head back for two more. It's a shame we can't converse better because they are clearly amused by this slightly built bloke who seems to be able to have a bottomless stomach. There's a few other things I distinctly remember. One of which is that pizza seems to be the second favourite food in this part of town. The donner kebab counter is getting way more attention, in fact the queue grows out of the door in the time I am sat there. The other thing I recall is a disproportionate number of very beautiful woman joining that queue, all of whom receive much more attentive service from the guys. Such is the way of things I guess. I finish up and discretely remove my disheveled (and out of place) husk from the restaurant cum local matchmaking store.
If I'd held out a little longer for my stop I could have had an authentic Pils. In the In 15km or so, I'm bumping across the last of a series of farm tracks and out into the suburbs of the city from where it gets it's name (Pilsen). Although I never really see anything of the city itself. It sits in a bowl down to the north which I circumnavigate, staying in the hills to the south. I do cross a dam across one of it's water sources (I presume). And somewhere, which I think was around here, I found my wheels sploshing through the yard of what I assume was a clayworks judging by the thick white slurry my wheels skid and slip around in. I'm just glad that somehow I avoid dumping myself and all my gear into it.
The landscape becomes progressively more rural as I leave Pilsen behind. As if to emphasize this I come across the delightful sight of a couple with their horse cart crossing a field on the outskirts of a town I'm heading into. They are very happy to oblige my request for a photo.
156km – Dobřany – 13:30, 29 July 2022 (1,145KM total)
It was interesting to see the way the foal trotted alongside the horses towing the cart as they headed off (I assume one was the mother).
Sadly this is just a brief interesting interlude from what is a gruelling couple of hours. The route pitches up and down continously. It's made worse by how visible it all is. At the top of every rise I'm not just looking down into the next drip, but out across an endless sea of rippling countryside. Rather worse, there's an ominously high escarpment just slightly right of my heading. It's hard to tell whether I'm going over it – it seems a little far to the north. But scanning left along the high bank doesn't show an obvious valley around it. I'm pretty sure that at some stage I'll have to climb at least some lesser ramp on the way back into Germany, which is close now. Before then though, it's time for rest and snack stop. Most of the few places I pass seem to be closed but I've marked a gas station just off route which I turn up too.
184km – EuroOil, Koloveč – 15:15, 29 July 2022 (1,173KM total)
All of the town restaurants seem closed but the gas station does indeed have a small shop. The selection isn't huge, but they have enough: a refreshing Green Tea drink; an enormous bag of chips; snack bars water; ice cream; and coke. The bill comes to 199 Koruna. Which would have perfectly user up the last of my local currency (a 200 Koruna note) – had I thought of it. But with my 'incapable of much more than just pedalling' mental condition I charge it to my card and that note is now part of my TCR No.8 souvenir collection. Oblivious to all of this, I sit on the kerb and hide from the oppresive heat in a scrap of shade cast by the little shop.
There's a couple of very distinctive memories I have of the last parts of my riding in Czechia. The first comes in the village Kout na Šumavě at almost bang on the 200km mark for the day. I optimistically stay left on the road I am on before realising the left turn is my route, up and out of the valley. Thankfully it's a short haul, albeit with some steep pitches, which I can see now take me up to the highest point of the day (501m). It isn't flat beyond this point, but it's more downhill than up. The other thing I remember is a right turn at a crossroads onto a pretty awful gravel farm track – lumpy, rutted and not especially pleasant. It seems like a bad route choice, but from the map I can see it was a direct and flatter shortcut to the border town rather than staying on the tarmac lane. I really must have studied this section hard to have spotted that in planning.
210km – Germany – 17:36, 29 July 2022 (1,199KM total)
As if to mark the border, the route immediately begins to roll downward. Although I can see on the Wahoo profile there are two lumps before I will it the truly flat section. It's a little early to stop but I spy an Italian restaurant in the dip. The owner explains it's just a takeaway but is happy for me to sit and eat outside. He mentions though that Furth-im-Wald is very nearby and has plenty of restaurants. I thank him and immediately mount up an follow his drections. As I ride, I'm relieved to see this is also saving me an ugly looking ramp up into the town of Grasmannsdorf. Instead, I tear downhill and pull up at the first place I see – an open and very friendly Pasta joint who has me seated and served with a huge plate of Penne Something (my favourite) in no time.
225km – Furth-im-Wald – 18:50, 29 July 2022 (1,214KM total)
Catching up on messages I spot Nico has had a bit of a routing mare – his route dumped him on an impassable autobahn. I don't see any further details on how it panned out – I guess he was too busy re-planning and getting back on track. Scanning ahead on my route I look for possible hotel – there isn't much. I can rejoin my original route via a short and nicely flat loop of lanes and riverside path. But I can only find one hotel in each of the two towns (Chamerau & Miltach) I'll pass and neither is answering their phone. After Miltach is a long climb through a final hill range which seems to be all countryside and devoid of anything. I'm just talking through my day and my thought on a call to Yoli when the heavens open and a huge storm breaks outside. After quickly checking my bike is under shelter, I head back in and let Yoli know my plan – find a hotel, finish my food, and sleep this out. I'm 50km shorter than I'd have liked, but it's been a tough day and I've done decently. It feels like my fuel and energy levels have recovered a bit. Plus I've no desire to rid on into a wet night with no clue whether I'll find somewhere dry to sleep. As if to confirm my decision, the very first hotel I ring in town can accomodate me.
The Hotel Gasthof Fellner is sufficiently close that I barely get wet on the way there – just a loop through the town and under the railway. With a lovely coincidence the owners are Czech not German. I guess being so close to the border that isn't surprising. The lady who checks me on confirms the important stuff. Yes I can leave early, the side exit door will let me out but not back in. Yes they can make me a packed breakfast. And, best of all, Yes I can take the bike to the room. Well, almost best of all – the stairs to the first floor are a straight run, but the steep spiral stairs to the 2nd floor are a battle. But I manage it somehow. With time and energy to spare, I get my overlooked laundry done. Lather my bum, hands and feet with Sudocream and prepare for the army of hammer wielding dwarves to batter my knees before allowing me to get some sleep.