As I wake I'm looking forward to a day of much flatter riding. Although it's interesting to note after the fact a big discrepancy between Strava (1,075m) and RideWithGPS (1,870m) in the amount of elevation. Having ridden it (and also because it's distance & elevation data always seems more accurate to me), I'm inclined to trust the latter. Before we get there though there's a couple of small matters to deal with: those spiral stairs down; and one last climb out of this valley.
Bollocks
Make that three small matters to deal with.
The zipper on my jacket decides to give way before I even leave the room. It's one of my favoured jackets (an Enduro FS260 Pro) but it's had a hard life (including a previous TCR and any number of Audaxes). I guess this is the end. I toss the broken zipper in the bin, but even without the zip it's the only rainproof outer layer I have so it stays in my back pocket for now. At a pinch, if the weather turns wet I can probably fashion something with duct tape and zip ties. And then comes those spiral stairs …
Actually I'm dramatising, they're no worse going down than up. Easier maybe, thanks to gravity. I do carefully position myself on the wide outside of the spiral though. If the bike weight overcomes me I can dump it, but I don't fancy risking losing my footing on the narrow slivers of stair on the inside. In no time I'm down though and double checking all my kit before taking the no-turning-back exit.
0km – Furth-im-Wald – 03:52, 30 July 2022 (1,214KM total)
The last sweeps of the river path are a delight. In no time I'm pulling into Miltach and reloading the Wahoo with my proper route from here. At first I'm a little confused, I know I must cross the river but the route takes me across the main road rather than turning onto the bridge. And then I spot it, a much older wooden bridge beyond which is just for pedestrians and cyclists. The wet planks are a tad slippy causing me to take it very slowly as I spin across. Even so the front wheel skates around nervously a couple of times.
The rain has gone, but not by long judging how wet the streets are. I load up the Garmin with the short new route I planned last night on RideWithGps. It's just a little 28km segment that will rejoin my main route at Miltach. And, by virtue of winding along the river, it's flatter than the way I would have travelled last night on the original route. With the jacket, stairs and usual morning faffing I am a little later getting underway than I'd intended. By the time I reach Chamerau it's already beginning to get light. I take a few minutes pause by the station to grab a breath and eat the remains of the first of the breakfast rolls. The route suggested some of the paths were offroad, but it's been a pleasant mix of tarmac and decent gravel so far. My spirits are good as I gaze across the deserted streets of the pretty little town. In not very far I'll be back on route and ready to tackle that last hill over to the flatter riding beyond.
The reason for the separate bridge is immediately obvious once across though – I'm navigating onto a custom built route signed as the Donau-Regen-Randweg. My mood may have been good moments ago but now it lifts to another level. I'd been mentally prepared for a slog of a climb. But what I find is a sublime, completely empty cycle path that rises up into the hills so gradually I'm not even sure I'm actually climbing. As if the lovely path and sweet smelling damp forest weren't enough, up ahead a large mammal springs onto the path, stops, and skitters back into the undergrowth. It's way too big for a polecat – it's more otter size, possibly even a pine marten (although something in the tail immediately made me think 'otter').
I keep expecting the magic to end and to be dumped out onto a main road. But throughout the ascent it never does. Occasionally I see or hear the main road to my right. But I remain on cycle path or short stretches of empty rural road. I remember one long broad sweep of curve running around a bank of hillside and completely taming the gradient as it does so – no sharp, steep switchbacks. The entire 10km up to the crest at around 526m remains on the cycle path. Over the top the path and rural roads continue downhill for another 9km before we reach the main road. I could have stayed on further too had I chosen, but I've routed myself along the main road for a couple of reasons: it's downhill, and hence fast; it's through towns and hence the possibility of stops. Which is exactly what I'm in need for, and arrives in the form of an open supermarket with a small cafe.
52km – Dorfbäck Dietl, Mitterfels – 07:00, 30 July 2022 (1,266KM total)
Just when you think a morning can't get better you find yourself sitting at the one solitary round table beside the bakery counter experiencing a strange form of double vision: two cups of coffee; two plates with large pastries. I should add at this point my breakfast was a more balanced meal than that. I also ate the remaining meat and chees roll from the packed breakfast, and discovered this amazing thing called 'fruit' (5 a day has never been my strong suit). To be fair, several of the previous hotels have packed bananas, but they don't really count in my book – a bit like chicken isn't really meat. But the hotel from last night has gone off piste and included an orange which will not be making my jersey pocket bulge for any further today.
It's warm enough to shed some layers by the time I head back outside. The zipperless jack is first to go (I'm not sure it's a fashion which will catch on), although the clouds in the distance definitely have a hint of cumulus to them, so it's only going to be ditched once I have a replacement, which will hopefully be soon just in case the storm builds quickly. A couple of kilometers after the cafe stop I exit the main road to the right, heading back onto side roads that run almost straight down the remaining hill apart from a couple of long curves – the sort of arcing turns that flow so wonderfully at speed you want to cry 'whoop whoop' (or something like that) out as you whiz around them.
I have very little recollection of crossing the river at the bottom of the valley (or that it was actually the Danube, which features prominently later in TCR). I kind of vageuly remember the town (city?) of Straubing beyond, but only as another mix of urban streets and shopping areas that I passed through. The one aspect I remember clearly was pulling off the road into an area of strip mall covering the island in the middle of the river to check out a sign pointing to a bike shop. Through the windows it looked large and well stocked, but the notice on the door showed it wouldn't open for another hour or more (I forget the exact time). The rain doesn't look especially close and there are other big towns I'll pass today, so waiting here to get a new jacket doesn't seem a great plan. I'll just keep an eye out as I ride for other places.
My sense of terrain was clearly a bit over optimistic. Coming down the descent I could see that sitting in front of the flat lands in the distance was one remaining stretch of forested hills. As I exit the town, this is what I start to ride up into. But my recollection is very much of green leafy lanes and nothing overly serious in the way of climbs. They're pretty too – something of a quintessential German countryside feel to the small villages which I stop to try and capture in pictures.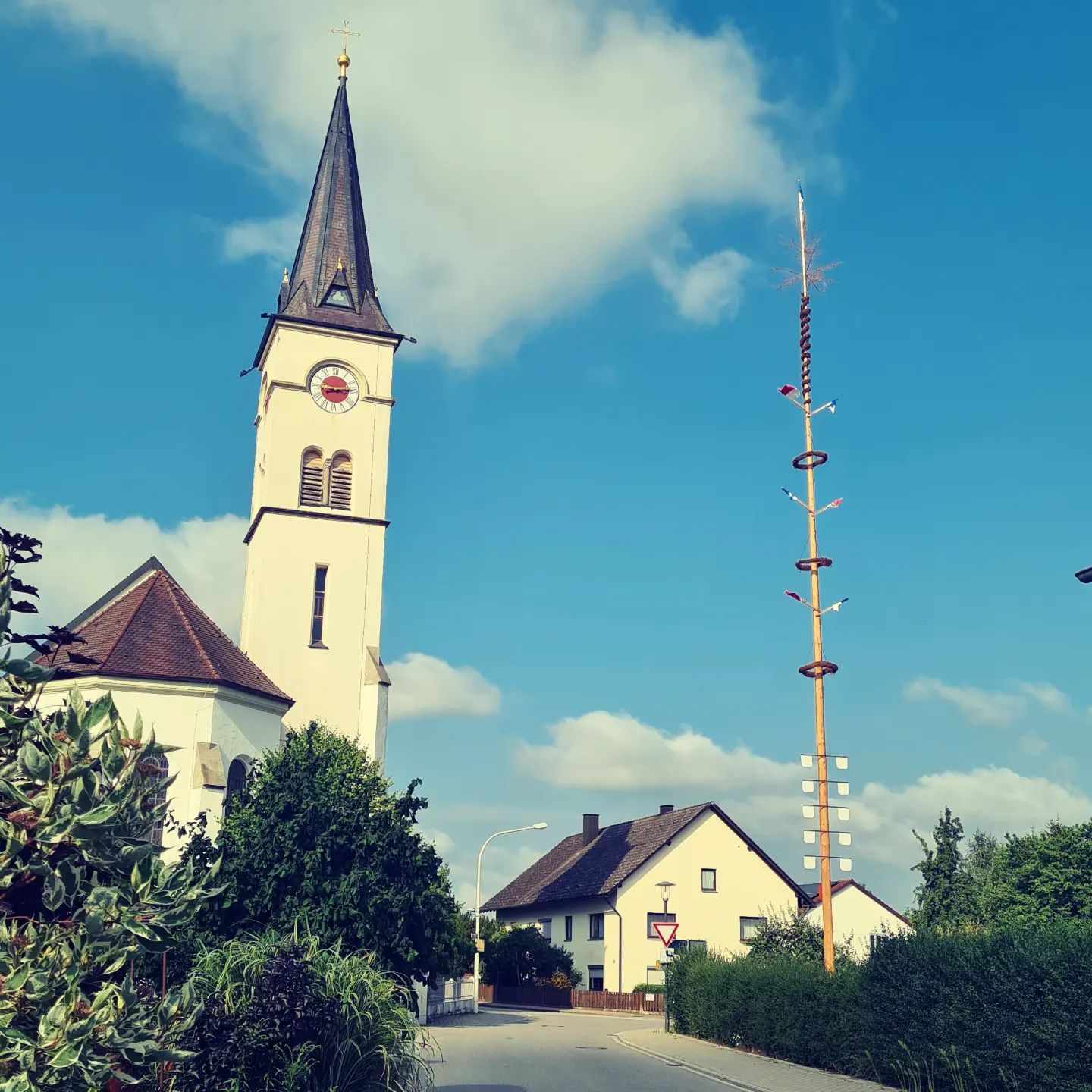 My routing seems to have been carefully plotted too. Where I turn off right I remember spotting another TCR rider peeling off left on the main road as it rises upwards. The minor road I am on does also rise, but very gradually. It seems to skirt a large dip that I presume the main road dropped into. Instead, we retain our elevation leaving just one small ramp to the crest of the final hill. At the top we're not much lower than the hills we've just left behind – so I guess it was two hills this morning not one! Under a broad green canopy of woodland I drop down what is now the last hill of the morning and roll out into the Isar valley. The first village I pass through has a McDs sign beside the road, although I'm through the village before I locate it, and need to take a short loop away from my route out to the highway to find it.
112km – McDs, Wörth an der Isar – 10:40, 30 July 2022 (1,266KM total)
I'm stood exactly where Google Street View says I should be and still can't see it. It takes me a few moments to locate the official 'best hidden McDs on the planet' award winner for 2022 – lurking around the back of the gas station, shoehorned in a scruffy patch of ground behind the truck stop. But they have breakfast. Kind of. It seems the days of the good old 'Sausage McMuffin without egg' are gone, leaving me the strange breakfast choice of a chicken burger. But comes with hash browns, and does have lettuce. So there is that. I'm skeptical it will be enough though so I add a cookie … and another hash brown … and a cold caramel latte to go with the juice. I have to physically stop myself randomly pressing the screen to order more at this point.
A server arrives at my table outside almost before I've got back to sit down. Say what you like about the nutritional qualities of McDs but it is the ultimate TCR stop in terms of rapid convenience, especially now they do table service as well. As I sit and munch my way through the pile I start scanning for bike shops. There's one right in the village I just rode through, and the owner speaks perfect English. But only to say sorry he doesn't carry any clothing line – it's just not cost effective these days for a small shop. I get it and immediately tell him no apology is needed. It's a common story everywhere for the small LBS – you just can't afford to carry a wide enough range of choices and sizes and hope to sell them all. A shop I ring in Landshut speaks no English and hurredly hangs up on me. There closing time is listed at 1pm. It's close enough that I reckon I can get there in time – in person will be much easier to show what I need. Plus there's a shop showing on Google Maps (Strasser Sport) just the other side of the river which is open all afternoon. So I stuff down the rest of the food and drink and make my way rapidly back to rejoin the route.
The only problem with flatter riding is wind. I hadn't noticed it earlier but, perhaps due to my increased pace to reach the shop before it closed, I do now. It's not howling, but it's strong enough to make it challenging (and tiring) to keep up a good tempo. I'm on decent tar roads though, so grinding down the distance doesn't take long. At some stage around here (or maybe earlier) I exchange words with another TCR rider – although I forget his cap number. I do recall him sounding unhappy and complaining about something. Maybe the wind. I forget exactly, but he's definitely not enjoying his day as much as I am.
On the outskirts of town I take a wrong turn – having to double back before I spot another left turn, lurking a few meters beyond along a short dusty section of road under the shadow of a bridge. It leads me through a housing estate and down to the riverside trail into the city. The city centre itself straddles a large island in the river, which I cross over onto, taking another wrong turn in the process. But eventually I'm running out alongside the houses and shops which hug the south bank of the island. At the end of these I turn right to locate the bike shop which I'd phoned. I'm there in plenty of time, but the front of the shop looks closed. I wheel through an archway into a small yard at the back of the shop. A stack of what look like rental e-bikes are propped up against the nearest wall. The back of the yard seems to be somewhere in between bike musuem and junk yard. Old classic frames and parts piled up everywhere. I poke my head inside possibly the leats Germanic workshop I have ever seen. It's dusty and dingy – lit by a couple of bare bulbs. Everything about it feels old school, including the two guys sat inside smoking up a storm. Face to face language is no barrier, but they don't sell clothing. I imagine if I had an old steel frame classic I'd have been in luck. Every nook and cranny is crammed with ancient looking parts and tools, all covered in the same layer of grime. As I leave I remember hoping they put thei cigarettes out carefully. One spark amidst those decades of layered grease and oil could burn down the whole neighbourhood.
131km – Strasser Sport, Landshut – 12:20, 30 July 2022 (1,345KM total)
I hadn't really noticed how hot the day had become until this point. But as I wheel across the bridge to the far side of the river in search of Strasser Sport I'm hit by a wave of heat reflecting off the tarmac and cobbles. The shop looks immediately more promising – sunglasses and sports clothing of all sorts hanging both outside and in. I quickly prop up the bike and head inside. I'm a little nervous not to lock it in such a busy place, but I don't really want to waste much time. The assistant (Flo) is extremely helpful. The first rack we try are workable all around shells, but the sizing is about off. At some point his eyes light up and he clearly recalls some other option elsewhere. Moments later he returns with a couple of Vaude jackets that seem way better – and one of them fits perfectly. They're more hiking than cycling specific, but he mentions they also come with a little stuff sack too. Once packed it's smaller than the zipperless jacket I ditch with him in the shop. He even takes my water bottles to the back room and fills them up as I stash my new gear and ready to leave. Result!
The route out of the city starts out on tarmac paths along the river and then the main road but before long turns right towards a long stretch of riverside hiking and cycling trails. They're gravel, but hard packed and reasonably quick to ride along. Although the surface adds that tiny bit of rolling resistance which make it fractionally harder to maintain a decent speed than on effortless free rolling tarmac. I'm picking holes here though – it's still serenly beautiful riding through glades of trees and across fields – the bubbling waters of the Isar constantly beside me as it surged along it's rocky bed. At one point I cross a bridge over one of the many channels which, judging by the sharp straight sides and locks must be a man made navigation.
By the time I reach the outskirts of Friesling and it's time for the next stop I've covered 60km in around 3 hours from my last stop. That's not a pace that will break any records, but it's been into a growing headwind, on gravel, and I can see now that the whole time it's been rising – although so slowly that the 360m of elevation gained have hardly been noticeable. I don't really see anything of Friesling itself – my track sticks resolutely to the river, the combination of river bank and thick undergrowth obscuring pretty much all of the town. When I do leave the trail and onto a bridge I'm already on the sprawling urban roads beyond. With zero imagination whatsoever, I blindly follow signs to another McDs for the now due refuelling stop.
175km – McDs, Friesling – 15:00, 30 July 2022 (1,389KM total)
Lingering slightly too long at the huge touch screen I order what seems like an unnecessary quantity of food once again. Is that a look of concern I see on the server's face when she realises there is just one person seated at the table she's delivering too. Or maybe I just smell that bad. It is still very hot and, for no apparent reason, I didn't drop back to a more relaxed pace after Landshut, even though I'm no longer chasing a store close time.
Catching up on my phone immediately has me confused. Nico has posted a picture of his bike in Munich, not long previously. But he was originally heading to Innsbruck. That re-route due to the autobahn must have got messy. It's possibly not a bad call to get back on the route that more of the field will have chosen, and it's good to see him back on track. But it must have involved a fair sized diversion. A snapshot of some of our WhatsApp group messages since yesterday evening make for an amusing narrative.
Nico Coetzee: And I thought, oh I don't need to download the Munich tiles, I'm not going near there…
Nico Coetzee: But my batteries are fully charged and the city will keep you awake.
Nico Coetzee: Which I could plug in a USB to charge my brain just as easily.
Chris Van Zyl: Fuck
Nico Coetzee: *wish
...
Robw: Damn this part of Germany is nice - fast forest gravel with bokkies everywhere
Chris Van Zyl: Enjoy
...
Nico Coetzee: I see the mountains. And it's cloudy.
Robw: My jacket just became a zipperless open front model - guess I must go shopping before those clouds
...
Nico Coetzee: Every time a lady passes in the opposite direction on a cycling path I smell the perfume and then wonder what ghastly aroma must be wafting in my slipstream.
Chris Van Zyl: Definitely not easy… 😂 At least you moving in the right direction.
It's amazing how the fortunes and experiences can change so rapidly and be so differemt for riders crossing the same sections of a country. My other exchange is with Yoli about my plans from here
Robw: OK- seems its a 2 McDs day
Robw: 175km
Pixie: 🤣🤣
Pixie: Ben would be happy
Pixie: Good going!
Robw: Just checking distance for hotels so gimme few mos
Pixie: Yeah no rush
Robw: Basically I'm at edge of Munich I thibk
Pixie: Oohh that's awesome
Pixie: How far is Garmisch-Partenkirchen from there?
Robw: About 120
Robw: Could be bus shelter tonight - Nothing doing yet
...
Robw: OK gotta room in wolfsrathausen. Gotta fly to get there in time
As I roll back onto the route I am wondering if I should have been a little bolder and pushed a little further into the night. But I really don't feel I've got a 300km day in the legs at this stage, and even if I did reach Garmisch the extra 50km won't make the difference between me reaching CP2 inside cutoff, I'll still only get there Monday. In my planning I really didn't want to tackle Umbrail Pass (Stelvio) and the Gavia in the same day, but that now seems preferable to tackling either them at night with rain clouds rolling across the mountains. A 2,500m peak is not somewhere you want to be in a storm even in daytime. Alone on a bike at night is a risk too far. Stopping earlier today and a solid ride into the Alps tomorrow should put me near the foot of Stelvio. Well placed to reach CP2 sometime during Monday. As I push the pace in towards Munich it seems a decent plan.
It's a lot further into Munich than I expect. Initially I wind around the end of Munich airport and then follow a long series of pleasantly quiet back roads. It's only when I swing right and left and back onto riverside gravel trails that I recognise I'm on the run into the city itself. I revisited this section of route many times, fiddling and tweaking to come up with what looked like a reasonable direct and traffic free track through the city. At least one of the earlier iterations had me crossing to the east bank of the river and onto city streets but the final version, which is now unfolding under my wheels sticks to the cycle trails heading south along the west bank of the river (still the Isar).
In terms of traffic free, I nailed it. Barely a section on road except where the trail crosses streets across the many bridges. In terms of fast, less so, the trails and parks are heaving – walkers, joggers and cyclists everywhere. I guess I can't complain. I am one of them after all. It's almost all tree lined too. It's a huge relief to be in the shade as the late afternoon sun blaze down. The stony river banks and beds are packed with people too – sunbathing and swimming. I guess in a sweltering city on a Saturday afternoon where better is there to be. there and there little impromput music concerts as local bands busk in the parks, with the predictable occasional smell of a spliff wafting across my path. My mind is drawn back to Nico's comparison to lady's perfume. I probably smell worse than even this.
As I roll into parkland beyond the city the lasting impression of Munich is how little of it I actually saw in a traditional tourist sense. Aside from one glimpse of impressive architecture on the way in, and a church across a bridge that I stopped to photograph I see almost no buildings, shops, or other city sights. You wouldn't think it possible to cycle 25km right through the heart of a city and see almost none of it, but Munich offers this rare feat thanks to it's continuous span of cycle trails. These of course I do see a sizeable slice of. A different form of tourism I guess courtesy of the unique experience which is TCR.
We're not in the approach into the Alps yet, but we are starting to gain elevation. I know the after Munich this beings to pitch up more (even on leaving the city I'm at 527m of elevation, already higher than anywhere for the last two days). I begin to improvise a bit with the route, much to the upset of my Wahoo which begins beeping at me frantically. The general direction is impossible to get wrong – we're following the river, now in a deep ravine to my left which the path has climbed out. Wolfsrathausen lies along that river. But my plotted route uses roads, whereas the cycle trail network also clearly signposts my destination. So for quite a while I follow the pleasant woodland trails. The signage isn't perfect though, and I get lost and end up doubling back twice. Eventually, in a non-descript commuter suburb where railway, bus stations and park and ride converge, I give into the Wahoo's whinging and point myself back onto the road in the direction of my plotted route.
I recall plotting myself along this section – a rising escarpment above the river valley. Aside from a couple of short gradients though, the steady climb is hardly noticeable. By the time I reach the hillside above the town I'm surprised to see we've risen another 150m. It makes for a wonderful fast through switchbacks back down to the river level. It's a main highway though, so I'm glad to be almost the only vehicle on it. Crossing the river I follow a path along the backs of townhouse gardens. When I emerge onto the town streets it's time to fire up Google Maps and navigate the last few hundred meters to the hotel.
241km – Landhaus, Wolfratshausen – 20:00, 30 July 2022 (1,455KM total)
It takes me a full two laps of the hotel building before I realise the reception is the first place I went to – around the back, tucked between the car park and the garden restaurant. The place is busy which adds some delay, and two different receptionists. But eventually it all comes together nicely: I have a safe space under a back porch in the yard negotiated to lock the bike; that all important packed breakfast organised; and even more important a beer and pasto pesto room service on it's way to me. The rooms are over a few floors around that yard the building feels like an old coach house of some form. A modern glass lift beside reception takes my up to the balconied first floor and my room. It's a shame to be in such a lovely hotel for such a short time. But my stinky frame enjoys the shower, and my tummy enjoys the food and beer before the bed swallows me into the depths of sleep.
Just for fun, here's how RWGPS sees the same ride – elevation profiles match, but the numbers are very different!