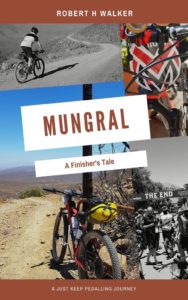 Really pleased to be able to announce publication of the first Just Keep Pedalling book. "Mungral" is the story of the adventures myself and friend Theunis Estherhuizen had on Munga 2018, together with an extensive section of tips for those inspired to see if they have what it takes to become a finisher themselves.
The Kindle edition, and paperback version for those in the UK and US is available on Amazon.
A special print run has been commissioned to ensure South African readers can also enjoy the authentic experience of a proper book. Orders can be placed here.
Some feedback from readers below.
---
Just a note to say that I have received your book and have already read it in full. It was a fabulous and nostalgic trip down memory lane for me and should be prescribed reading for any prospective entrant to the Munga. I am pretty sure it will turn out to be just that. Thank you not only for taking the time to write it, but also doing it in such an authentic and unpretentious way – I loved it.

Dawid
" … Thanks for a humorous and very instructive manual for friendship and mutual suffering …"

Izak
"The book is great, especially the portion on gear and what to pack. Hopefully I'll be able to apply it in the Munga this year."

Kwame