875km – 20 Aug, 08:00 – Loch Lomond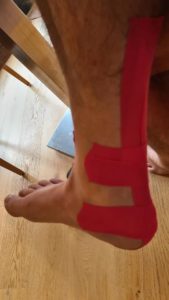 There's something special about reaching the point where you have less distance in front of you than already travelled. It feels like a big wave of kilometres building up behind you, and all you need to do is keep your balance and ride the surf home.  As if that feeling weren't enough, today also offered the unusual pleasure of an extra hour of lazing around in luxury room, and a properly good breakfast before fetching my bike from the shed and kitting up for the day. To top it all off Diane, as hoped, had been able to spare some strapping for my nigglingly painful Achilles. With only a short stretch to ride I had plenty of time to get to Alexandria (just north of Glasgow) to meet my friend's for a quick coffee and a catchup.
I knew Rod and his wife Nicola ran a timber merchants, but I wasn't quite prepared for the scale of the operation when I pulled into the Gilmour and Aitken yard in Alexandra. The trade counter was already busy, and despite arriving way too early, the guys in the office sorted me out with a cuppa whilst I waited. Rod himself was away on a business trip (Ireland I think) and, with it being midweek, Alastair's wife Tracey also wasn't able to make it over. But it was great to take an hour off the bike catching up over coffee with Nicola and Alastair – who had very kindly brought me some fresh AA batteries and a pack of locally made Tunnock's chocolate and caramel bars (not many of which would survive the day). By the time we said our goodbyes the day was beginning to warm up, and I began to progressively shed layers as I started out on the opening stretches towards the middle of Glasgow itself.
882km – 20 Aug, 10:05 – Alexandria
For the first few kilometres I followed  a cycle path along the River Leven through Dumbarton. At times it was very much what I'd expected – inner urban riding alternating between green spaces and housing estates, ducking under, over and across a maze of surface streets and bigger main roads. But here and there it was utterly surprising too. At one point, the definition of "shared use path" took on a whole new meaning as I came to standstill waiting for a large herd of cows ambling along the tarmac on their way to a fresh pasture. It was a mildly surreal sight against the backdrop of rising city buildings just beyond.
I'd intentionally plotted a route through the very heart of the city – on cycle paths wherever possible. I knew it wouldn't be the fastest option, but it was reasonably direct and satisified an inexplicable urge I had felt whilst planning for a totally contrasting experience for this part of the ride. And that was, very much, what the morning delivered. But it was completely absent of one aspect that had worried me – the risk of inadvertently routing through a dodgy area. I wound through docks and some pretty heavy industry, and the occasional street that seemed to have more boarded up shops than open, but in general these were the exception and could have been just as much to do with recent COVID lock-downs than any general urban decline. If anything though, the reverse impression surprised me and challenged my pre-conceptions. Once or twice I saw a stereotypically sight of young men slumped on benches mumbling into a beer can, or with a bag full of bottles by their side. But the overriding feeling I had whilst riding through was of thriving, vibrant communities. At one spot, as I closed in on the very centre of the city, I had to slow down for a cleaning vehicle that was sweeping the cycle path – the only one of these I saw on the whole trip, and which no doubt accounted for a complete lack of the usual trash or gravel on the cycle paths. I lost count of the other riders, joggers and walkers who I passed – almost all of whom said "hello", or responded to my bell with a "thanks". I passed some grand old buildings, and amazing street art as I wound my way slowly through the bustling metropolis. Overall, it was rather sad to leave it behind – although not before passing one of those two bastions of Glaswegian football – Celtic FC. I did wonder if I had accidentally met the manager too – as a smartly dressed chap in a high end, black car swept out of the ground, and stopped to offer to take my picture in front of the club. I was already mounted back up though, and keen push on.
Unusually for me, it's hard to piece together an ordered sequence of all the sights I saw that morning – I have clear memories of canal towpaths, a cycle shop bustling with life alongside one of the locks, a section parallel with the relics of an old railway line, numerous busy parks, and several cacophonous, towering motorway flyovers that I navigated under and around. But, aside from generally following the path of the River Clyde, without studying a map I struggle to put images to places and sections of this part of the ride. I do recall one very specific point as I started to leave Glasgow and its sprawling suburbs behind. What made it memorable was that as I approached it, I instantly recognised I had been there before – except on Google Street View. I had spent some time scrolling up and down this piece of road trying to work out where the supposed cycle path went. It proved no less confusing in real life – the track seemed to disappear beyond the very recognisable blue and yellow garage and car wash. I thought I had found it as I rolled along a lumpy tarmac alley, following a graffiti clad wall with the faint but distinct smell of pee in my nostrils. But it ended abruptly past a pair of bollards – it looked like it was intended to go further, but had never been completed. Instead, the only option was to lug the bike up a steep flight of stairs up to the roadside above which had a cycleway alongside it. Clearly the intentions of the planners and the reality of construction had not quite joined up at this point.
932km – 20 Aug, 13:25 – Hamilton
In the growing humidity of the day, and (without wishing to cause offence to the town and people of Hamilton) surrounded by grey and uninspiring urban sprawl, my spirits flagged a little. I pulled over at a vacant bench, got off the bike, and slumped down for a rest. I looked and smelled bad enough that a six pack of Tennent's Extra would have made me indistinguishable from the drunks I'd seen earlier. Buses, cars and lorries rumbled along the busy road in front of me as I sat there somewhat spaced out and feeling a little dejected. In truth, it was a mix of factors – urban riding is always more of a mental chore than open countryside, but above this it was lunchtime and I knew my body needed fuel, preferably in some tasty and appetizing form. Luckily, Alastair had given me the perfect stop gap that morning – and I broke out the Tunnocks to give me a boost until my path crossed with a proper café. The chocolate bars hit the spot perfectly – after a short break off the bike, the sugar rush kicked in and I was feeling upbeat and ready to go.
Getting around Hamilton had proved a bit of a challenge when planning – I'd mapped out several options (including directly through the middle) until I settled on a winding route around the outside through a couple of parks and along the river. This turned out to be a remarkably pleasant way to negotiate the various busy main roads and spaghetti-like loops of the M74 junctions. It culminated in a truly delightful section once past the town – starting with an ancient, cobbled bridge over Avon Water. Immediately beyond, the cycle route swung through the distinctly French sounding (and wonderfully scenic) Chatelherault Country Park. Aside from a handful of other cyclists, and a couple of coaches of school kids on outings, the open green pastures and woodlands were wonderfully quiet, as were the expanse of car parks at the far end. It was a delicious, but all too short swathe of countryside before getting back onto busier roads again just beyond. Although returning back to civilization did have its benefits, in the form of a clearly open (and very friendly) coffee shop in the town of Larkhall.
943km – 20 Aug, 14:27 – Aroma Coffee & Kitchen, Larkhall
I wasn't entirely optimistic about the staff letting me park my bike inside the café while I ate but fortunately they had a better plan – a small outside courtyard which I could wheel the bike into after a little detour around the block. They seemed a little taken aback when I opted to eat at one of the outside tables, given the overcast afternoon which was definitely hinting at some rain. It wasn't the usual paranoia about leaving my bike unattended that motivated me (the courtyard was very secluded and probably completely safe). After nearly a week on the road, some part of me was feeling the call to be outside under open skies, however grey they were, rather than indoors. It took me by surprise a little – as Yoli would attest, ordinarily I've a definite tendency to loaf around in the house when the weather turns miserable. A few spots of rain did fall as I demolished a huge plate of tasty (and nicely fiery) Asian chicken and chips, topped off with a decent cappuccino.
Aside from a few short detours into towns, the route from Larkhall followed the M74 – at times so close that anyone following my tracker might have wondered if I'd opted to take the motorway home. The riding was becoming noticeably more lumpy as I pushed on – negotiating natural clefts in the landscape, like the river valley which the interestingly named town of Lesmahagow spanned. The climbing had been so gradual and steady that, by the time I started to see noticeably steeper pastures and moors ahead of me, I was already more than half way up the hills of South Lanarkshire – one of the two remaining stretches of significant high ground remaining before the long, flatter sections across the Midlands and south to home. Before tackling the ramps ahead though my progress was briefly halted for a couple of different reasons. The first of which was to take some photos at an interesting art installation which seemed to be celebrating both a significant point for LEJOG riders, and also this area's heritage in coal production (evidenced in the town name of Coalburn which the view spot overlooked). Stood there, I could feel the first breaths of what was clearly a gathering storm, this time from the south. I posted on the WhatsApp group something along the lines that I was about to be hit by the common wisdom of prevailing southerly summer winds – something every JOGLE rider is painfully aware of.
The second pause was for a mechanical, although fortunately not mine. A group of three lads, students in their early twenties I think, were stood by the cycle path with one of their bikes upturned. They were perplexed by the apparent puncture in what they thought was a tubeless rear tire, and stuck on how to get the wheel off. It didn't take long to help them discover a couple of things: firstly, the bike shop which had sold them the new machine had not set the wheels up as tubeless; and secondly the rear rack needed to be unscrewed at the bottom of the seat stays to allow the (not so) quick release thru-axle to be undone. Luckily, from there on it was a normal everyday puncture repair. At this point I was largely superfluous to events – one of the guys knew enough bike maintenance for the rest. My frame pump was the most powerful though, so I hung around chatting whilst he finished up. It turned out the lads had travelled down from where I'd started out the day before – Ben Nevis, near Fort William. They weren't on a JOGLE though, but were doing a 3 peaks hiking challenge, and were now cycling on to the second of those, Sca Fell in the Lake District. Once the wheel was sorted and holding full pressure, I bade them success in their venture and rolled on as they re-assembled the rig. Being younger and no doubt fitter than me, I wondered if they'd pass me across the moor but I didn't see them again.
I zig-zagged across the M74 again just down the road, and immediately found myself dropping down into granny gears as I hit the first ramp of the climb proper up and over the hills. The weather had continued to deteriorate in the half hour or so I spent helping the guys and as I slogged my way up, threatening blasts of wind were beginning to whip across the open, exposed moor. I was barely a couple of kilometres further along before I was stopped once again, this time to kit up into wet weather gear. With the likelihood of a long, slow ride into a cold and wet night I didn't hold off and went for the full outfit – leggings, shoe covers, waterproof shorts, fleece top, and Gore jacket. I may have been crawling into a battering headwind, and lashed by icy rods of rain, but at least inside the layers I was toasty, and reasonably dry while doing it. At one of the earlier stops (perhaps with the lad's mechanical) a LEJOG rider coming north had warned of the state of parts of the cycle lane. He wasn't wrong. In places it was badly rutted and cut up, in fact so much so that often I avoided it altogether and road on the carriageway instead. Luckily the traffic was so light as to be almost non-existent, so this was never really a problem.
There were some brief moments of respite in place where the B7078 turned south eastwards. Where it ran due south though, I was reduced at times almost to a standstill. All around, but especially ahead, the moor seemed endless – although a large factor of that was of course my slow rate of progress. It felt like I'd never get over the endless succession of small rises, and feel the run down to some town or other for an overnight stop. Surprisingly though, despite the weather, the riding moments were not at all unpleasant. The vast, green expanses took on an extra level of stark beauty in the harsh, unforgiving storm. The countryside felt raw, somehow more authentic – as if this was how the land here actually was, in itself, when stripped of any false, comforting veneer of milder weather. I felt strongly connected to it in a way that perhaps no other landscape had reached me so far on the trip.
I stopped frequently, for breath, or to admire the view, and on several occasions to swap messages with Yoli, who was in a battle of her own – trying to find accommodation at a workable point on the other side of the moor. In the end, we settled on Lockerbie as a destination that looked to have places with rooms available. I also remember, on one of the stops, seeing a large flock of sheep all over the road. It was a worrying sight – despite not being the main road across the hills, there were enough fast moving cars and trucks to make this a serious accident waiting to happen. I stopped in the next town (Abington I think) to mention it to some passers-by in case they knew the farmer and could warn him. Their nonchalant reply suggested not only that they did, but that it was such an everyday occurrence as to not warrant any special attention.
A little further along the road came the moment I had been looking forward too for the last couple of hours. Just beyond the wonderfully named town of Elvanfoot, the B road joined the railway and M74 in a narrow valley, and began a long and very welcome run down and off the moor at last. Coincidentally, although I didn't spot it at the time, this was the exact spot I clicked over 1,000km for the trip so far. I was still a couple of hours riding from my bed, but there was now just one set of significant hills for the whole of the rest of the journey. Considering the later than usual start to the day, the busy city I'd had to navigate, and the terrain and conditions I'd needed to cross with a strapped and painful Achilles, I was rather pleased with the distance I'd managed to cover.
Around the town of Beattock I hit a milestone I was fully aware of on the ride – I rejoined the route of LEL 2013, just outside of Moffat. It was every bit as dull and unremarkable going south as it had been going the other way. There were a couple of new sections of proper cycle path, but mostly it was along the a largely straight and uninteresting B road. I found myself doing exactly what I'd done seven years ago, sticking my head down and settling into a time trial position and cadence, in an effort to power myself through it as quickly as possible. It worked too, albeit helped by the gradual downward slope. I managed to cover the remaining distance in not much over an hour, despite the wind and the poor road surface (made treacherously slippery after the showers). The greater part of this section I had both my front lights on full power to help pick out lurking potholes now that it was fully dark.
1032km – 20 Aug, 21:40 – Townhead Hotel, Lockerbie
It was a relief to reach the bright lights at the edge of Lockerbie, and roll into the town. I'd missed any chance of an evening meal by the time I reached the pub where Yoli had booked me a room, but luckily I still had one freeze dried meal in my fork bag (spaghetti bolognaise). I forget if I thought to grab a beer from the bar on the way to my room – I have a feeling I did though. Either way, the room and food were exactly what I needed to top off a decent day on the road.