Including Kenny, one of the taxi drivers in the rank at the airport, and the chap from the table next to me at dinner, three people had told me that the A9/A99 up the east coast was not an especially nice road for cycling. But having double checked the route in bed the night before, there really weren't a lot of options to get where I was going. At least it was a Saturday, which the blog posts I'd quickly scanned suggested would mean less traffic and fewer trucks. Worrying about road conditions wasn't the ideal mental state to be starting out on my long, solo journey. Luckily I had the morning routine of kitting up, stashing gear and packing bags to distract me. By the time I was stood outside ready to wheel off, I was half an hour later than I'd planned to be away,. With a lower than typical 170km planned for the day, it wouldn't really matter. Even at touring pace, barring mechanicals I should be in Wick well before nightfall.
17km – 15th Aug, 05:50 – Inverness
It was a damp, grey, and misty morning as I rolled back through the shopping precinct again – now almost deserted aside from the occasional dog walker. Just a few metres beyond where I had swung back yesterday, the picturesque streets of the city gave way to an industrial zone – a mix of ship repair yards, warehouses and offices. The road became rough and potholed, demanding careful piloting meaning I could only occasionally glance at the GPS to check my route. There was no missing the left turn I was supposed to take though – it's cycle path sign covered over, and a red "CLOSED" board blocking the way. I contemplated hopping the barrier, but the track beyond was broken and overgrown. I pedalled up and down the street before figuring that going under the bridge I was trying to get onto should loop me around to the road above. It wasn't the smoothest of starts and I hoped the rest of the paths I'd planned to use weren't similarly non-existent. I was well aware of the patchy reputation of "Sustrans" (the UK national body responsible for cycle routes) for creating some laughably unusable paths.
The path for cyclists and walkers on the bridge wasn't exactly wide, but it was adequate. One other rider passed me coming the other way and it was a bit of a squeeze to get past, but neither of us had to completely stop. I've never been great with heights, and the sheer height of this open span above the river had me more than a shade nervous. The view was tremendous, but I only managed to glance at it briefly. The rest of the time my eyes were firmly planted on the path ahead of me. Sure enough, Sustrans lived up to their reputation – asking me cross to the other side of the road for no more than a few hundred meters, before having to cross back to pick up the route again. With absolutely no traffic, I ignored their directions, hopped onto the carriageway and whizzed along the short stretch to the left turn down to the estuary. This was more like it – quiet lanes, with interesting views. At some point I passed one of the other B&Bs I'd considered for the night before. It looked fairly closed though – perhaps just the early hour, or maybe not re-opened since lockdown had been lifted.
A couple of loops and kinks aside, the cycle way (seemingly numbered route 1) was heading in the right direction and on mostly traffic free side lanes with occasional sections of generally ride-able path. I was definitely glad of the wider 33mm gravel tyres in places. An alternating mix of light rain and mist blew across my path as I wound along at an easy pace. It soon fogged up my glasses and covered my jacket, waterproof over shorts and leggings with a fine coating of water drops. Leaving the B&B I thought I might be over dressed, but my core temperature was spot on – neither warm nor cold. I snapped a quick photo as I crossed the second branch of the estuary, and spotted a comment on the WhatsApp group from Nico along the lines of "nice looking cyclepath". Clearly the LiveTrack was working and he was in full blown dot-watcher cum stalker mode. A little further along I sent back a picture of a particularly pleasant section of purpose built trail somewhere on the way into Dingwall.
The route up and out of Dingwall led me onto "Old Evanton Road" – or a name something like that. It was a good sign. This took me parallel to the A9 for as far as possible until it became impossible to avoid joining the busier road. For some reason though, whilst mapping out this section I'd imagined it to be considerably hillier than it turned out to be. Sure, the road did roll up and down a fair bit, but it was easy flowing riding much of it under a thick canopy of leafy green woodland. I was rather glad of the manageable gradients – the airport check-in counter scale had confirmed the rig as much weightier than I'm used to riding. Even allowing for the weight of the packing cardboard, I was cruising along on something like 25kg or more of machine and gear.
As time moved on, my surroundings started to wake up and I began to encounter groups of other riders. A few also loaded down with touring gear like myself, but most were out on weekend morning rides. I was sorely tempted to head into what was clearly a local cyclists coffee spot at a clearing in the woods. But I'd only been rolling a couple of hours and, as tempting as a decent brew was, I needed to put some kilometres under my wheels before taking a stop. It was the right call, but I was through Evanton and Alness without spotting anything as inviting as that café. The riding continued to be pleasant, but my craving for coffee was beginning to spiral a tad as the backroads came to an end at the A9 bypass around Tain.
82km – 15th Aug, 09:40 – Tain
With over a third of my distance for the day already under my wheels, this was definitely now an acceptable time for a stop, so I crossed the main road and headed into the town. Maybe my choice of streets was bad, but no obvious coffee shop sprang out at me, aside from a bakery with no obvious place to sit. Out of desperation, I pulled hopefully into a garage on the off chance they had a machine of some kind. I was out of luck – although having already stopped, I made the best of it and grabbed refills for my water bottles, and a Coke to appease the caffeine devils. Together with a nearly-squashed-flat pocket croissant, a Baby Bel cheese, and a banana, my impromptu breakfast was not quite as I'd pictured. But at least I had a view of the sea, sort of (probably still estuary in fact).
There was no longer any avoiding the main road, and as I swung right onto it the initial impressions were not great. The shoulder, whilst not an actual cycle lane, was wide enough to almost get away from the traffic. Maybe it was the contrast with the quiet lanes up to here, but I felt uncomfortable suddenly finding myself in the midst of a steady stream of cars and camper vans. In truth, it was more the big differences in speed, and the noise (especially the sports cars) that was unnerving. Pretty much all of them gave me a decent amount of road room as they passed. I have a pact with Yoli that I won't take undue risks whilst out on these long rides. With 100km of this road ahead of me, it was time to have a conversation with myself. It wasn't ideal, or especially fun, to be on a busy road, but it also did not feel particularly unsafe – at least no more so than on any normal day ride back home. I needed to put the nervousness away and ride with confidence as a part of the traffic, not trying to escape it.
Even in the overcast conditions, the causeway across the Dornoch Firth was stunning. Along with many others, I pulled into a parking spot to take a quick photo. Just up in front of where I stopped was a slick, customised Aston Martin Vantage and decked out Honda Goldwing, both of which had roared past me. It was a good chance to put my theory into practice and go make friends with some of the traffic. It turned out they were also touring the NC500 (North Coast 500), although our modes of transport could hardly have been more different. I rolled out a little before them and, sure enough, when they passed me again it was with a wide berth and friendly blasts of their horns. OK, it wasn't going to be practical to stop and have an actual conversation with every vehicle on the road, but I resolved to start an unspoken one as they came up behind me. When the road was twisting and narrow, I moved into a primary position in the middle of the lane to signal my presence. And when it straightened and was safe to pass, I pulled into the side and waved a thank you for waiting as they passed. Amazingly, not only did it make me feel more comfortable, it seemed to actually work with the drivers. I started to get a wave or flick of the flashers in return.
108km – 15th Aug, 11:12 – Golspie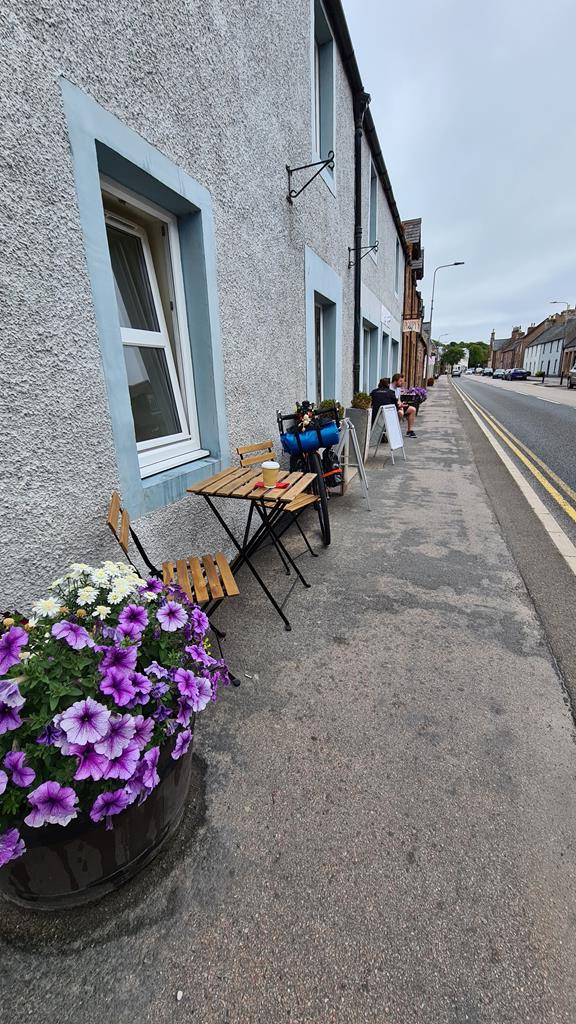 Almost perfectly in sync with my improving mood, rolling through the little coastal town of Golspie I spied an open café. A couple sat outside reckoned the coffee and food were good, and kindly agreed to keep an eye on my bike as I ducked eagerly inside. They were the first of several people who asked about the rig, or commented on the setup as I sat at one of the three small tables on the narrow pavement outside – relishing my cuppa and a tasty bacon roll. I decided to skip the fact that technically this was my third breakfast, and instead focus on the weather, which seemed to be clearing. It was possibly an over optimistic move, but I lathered up with sun cream in the hope of some sunnier riding ahead.
At the far end of town the road arced left and then right again in a long, sweeping curve that climbed back towards the countryside once more. Over the crest of this hill, a brown tourist attraction sign pointed right into the entrance of Dunrobin Castle. The actual castle part was too far off in the trees to be properly visible from the road, but it was clearly at the centre of a large estate. As if to underline its importance, it even had a dedicated station on the railway line to my left – and most of the traffic behind me seemed to have it on their sightseeing list. For a short way I found myself alone on an empty road.
The sight of Dunrobin Station sparked a question in my mind. It struck me that there had been an option to get the train from Inverness most of the way up the east coast, saving myself a day's riding along the potentially busy main road. That day could have been used at the end of the trip to maybe ride on and complete a full JOGLE. It cast a fleeting shadow of doubt around my planning. But the next couple of kilometres banished all of that. The road seemed to get less busy – occasional pockets of cars and vans, but pleasant long spells all to myself. More importantly, Golspie seemed to be something of a gateway into a totally different world. All of a sudden on one side a purple swathe of heather clad moorland rose up towards the sky, whilst on the other side a narrow stretch of farmland lay between me and the open sea. Ahead lay a snaking stretch of sublime tarmac that seemed to hover on the divide between coast and highlands. Amidst all the warnings I had been given about how much traffic this road carried, not one person had mentioned how utterly gorgeous it could be. With no time pressures, I stopped often to try and catch some of its beauty in photos.
You spend so many hours studying maps to devise a route that certain names get lodged in your mind. I couldn't remember exactly why, but the town of Helmsdale was one of those. Perhaps it was the quaint harbour, or maybe I'd earmarked it as a possible food stop. In the end, although picturesque – especially the river valley and imposing medieval looking tower – I had no need of anything and rolled through without stopping. Just beyond, the tarmac decided to quit hovering and actually venture onto some of the higher ground. Visible long before I reached it's opening ramps, was a long climb up into the hills. The traffic behind me was clearly relishing it rather more than I, as a procession of super cars and motorbikes blasted past in a deafening roar of enthusiasm. As is always the case, once I actually got onto it, the climb proved much more enjoyable than it appeared from a distance. The afternoon was hot, but the gradient was forgiving enough to maintain a decent cadence and keep some airflow going. In between stretches of open moorland, the roadside left of me was flanked with stands of short trees.
Overall it was rather scenic, although up ahead was a strange sight that I struggled to make sense of. Two guys were jogging up the hill. There was no pavement for them – like me they were in traffic. I uttered something which I hoped sounded encouraging as I passed them, but I couldn't figure out why anyone would choose to be running on a main A road when presumably all around there were any number of more pleasant hiking trails. In a lay-by a few hundred meters further along came the answer – a couple of people were stood by a camper van, smaller van, and maybe a car. I called out to ask whether they were support crew to the runners
"Yeah, he's doing great. He's running non-stop from Lands' End to John O'Groats."
I forget the exact stats hastily tossed out at me, but it was something mind boggling in terms of number of days so far, how many marathon's he'd already done today, and that he was aiming to finish tonight (or was it tomorrow). All of a sudden, my "big adventure" began to feel rather modest.
What had appeared to be the top of the hill turned out to be just the point where the road ducked inland along a fold in the landscape before crossing a stream and swinging back out again. The actual crest was about a 1.5km further along, and prompted me to stop for a quick duck into the bushes to take a pee. A fast downhill followed, considerably shorter than the climb courtesy of a much steeper gradient. I was glad not to have been travelling south, although even before reaching the village of Berriedale at the bottom the next hill was visible snaking up and out of the valley. Thanks to some major roadworks, this next ramp had its own rather distinct "character". I was worried about getting caught slogging slowly up the single lane stop-go section after the traffic direction switched ahead of me. But a rather ingenious option opened up on my right in the form of the new carriageway – close enough to completion to be easily rideable on gravel tyres. The shiny new Armco barrier even offered me a convenient place to stand my bike as I snapped a picture of the pretty village at the river mouth.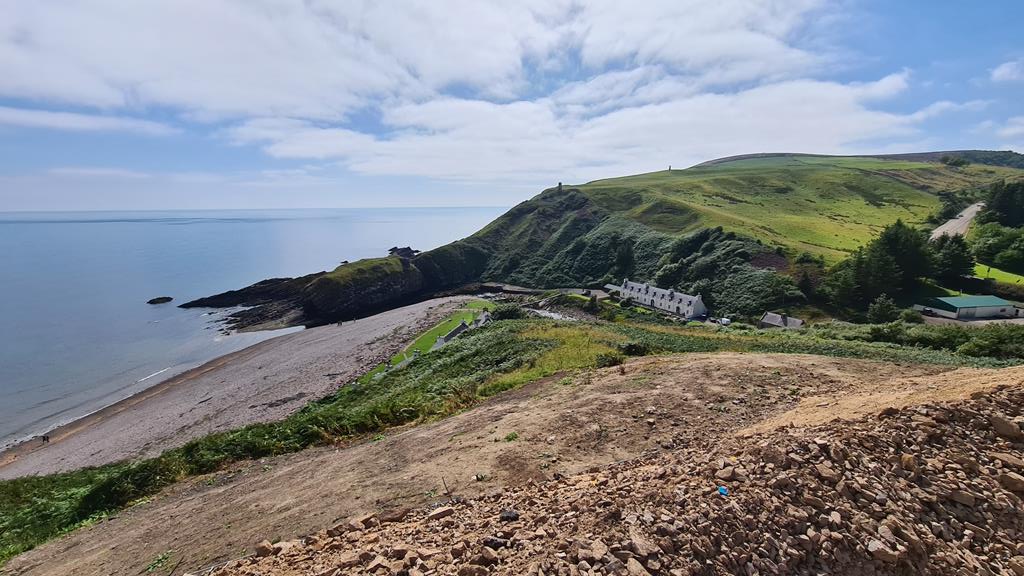 I was half expecting a reprimand for riding through their zone from the group of workmen gathered up ahead, but instead I got a friendly wave and greeting as I bumped up the last ramp and out of the stop-go section. One benefit of roadworks is they hold up the cars, and by the time the next wave came through I was pretty much done slogging up the shallowing incline. As I began to freewheel, the landscape in front underwent another marked change. The high ground inland was gone, and as far ahead as I could see were miles of open, rolling, coastland pastures. The afternoon was getting distinctly warm, and I was rapidly closing in on my destination for the night. A café bar caught my attention beside the road. The impulse for a beer and ice cream took a few seconds to permeate my brain, meaning I had to pull into a driveway and swing back to the inviting looking establishment.
159km – 15th Aug, 15:15 – The Bay Dunbeath
The barman was quick to open the side gate of the rear garden so that I could wheel my bike out of sight of the road. It was infinitely preferable to trying to lock it up – a largely futile exercise anyway, since it wouldn't protect any of the bags or their contents which were just as essential to my journey as the bike itself. A neat row of tables stood with an idyllic view of a flat calm sea. It was completely without shade though, and I was soon roasting. I apologised to the tables either side of me as I stripped off a succession of layers, including the thermal vest that had long ceased to be necessary.
Another item of housekeeping needing attention was my phone and watch, which got attached to their respective power packs. A big benefit of Garmin LiveTrack over my old tracker (recently sold on eBay) is that it's essentially free rather than the large annual service fee charged by SPOT. The downside (aside from being limited to cell coverage areas) is that a whole day of tracking is pushing it even for an up to date GPS and phone combo, so at some point a top up charge will be needed. Stops like this, where I was waiting for food anyway were ideal for that.
A massive plate of fries, and bowl with several ice cream scoops appeared and disappeared almost as rapidly. The beer I savoured though – enjoying the luxury of just 30km of riding left and absolutely no rush to do it. I struck up conversation with another ride who was heading south. He was concerned about the dual carriageway south of Tain and contemplating taking the train from there. I did my best to explain the back lanes and cycle paths I'd used to avoid it. Almost incidentally, in the last stages of packing to leave, I learned he was from Slovakia and we chatted briefly about how my TCR experience had ended in the High Tatras mountains – an area he seemed to know well.
Aside from the pure joy of a relaxed, late afternoon meander towards my hotel in Wick, there were just a couple of points that I remember from the final section. The first was an enormous wind farm, sitting far out to sea. I posted a photo on the ride's Whats App group with a message to Gideon Krige, who had named one of our Cape Audaxes the "Tour de Windfarm".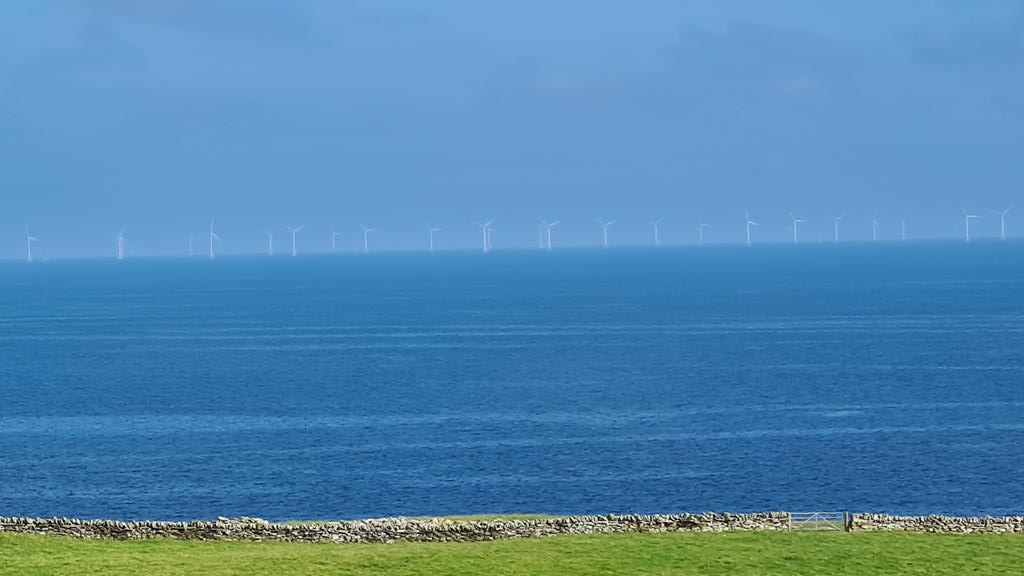 The second was an event that started out as a helpful gesture, and ended up becoming an encounter that proved hard to extricate myself from. I spotted a rider with a bike trailer on the other side of the road clearly trying to sort something mechanical. All seemed fairly innocuous at first, but over the next 30 minutes I began to question whether some of his marbles may have rolled off along with the wheel bearings he also seemed to be lacking. It's hard to properly describe what he was riding, beyond the word "wreck". He'd bought it on eBay for some crazily low price, and then – to use his words – "ridden it until it was worn out". I think he said he'd already done a LEJOG and was now heading south again. At some stage he had become homeless – it wasn't exactly clear whether this was before setting off, or as a result of the length of time he'd been away. The mess of mechanics in front of me was his entire world. The trailer was mostly functional, but the bike's drive train, tyres, front fork, and hubs were all shot to the point that apparently several bike shops had been unable (or perhaps unwilling) to help him. At some point, he latched onto my knowledge of dynamos, which took us into a whole other thread of conversation. His need for economy meant he camped rather than using hotels, which led to him having almost no working electronic gear – his backup phone was on its last bar. Our chat was friendly – he was a personable guy – but it was hard not to sense a level of craziness in there above and beyond what I'm occasionally accused of for doing long solo rides. There was literally nothing my meagre spares or limited mechanical skills could do for the hapless guy and his battered gear. I spotted my chance to exit when the owner of the house whose driveway we sprawled across needed us to move so he could pull out. I left the rider no better off than I'd found him and with nothing more than a few kind words, which I suspect followed the theme of the local bike mechanics he'd tried.
193km – 15 Aug, 18:20 – Norseman Hotel, Wick
The guy at reception was especially helpful making space in the unused library / meeting room alongside the entrance to store my bike. At this point it was the only one there, but apparently other riders were expected.
It was such a lovely evening it was tempting to wander around and sightsee or find a restaurant. But there were a couple of problems with that – a bath, and room service. It was just way too tempting to soak, and order beer and curry from the menu. For some reason I now don't fully recall, I also ordered the soup of the day as well (pea and ham). It was a lot of food – but tasty enough that surprisingly little remained at the end. Although the small food baby in my stomach did suggest I may have over eaten a tad. I was tempted to skip doing any laundry, but this early in the ride that was not going to be good in terms of odour management. Plus it was warm enough that, along with the twisting towel trick, most of it would dry. I forget how far into watching highlights of the Criterium du Dauphine highlights I got before fatigue overtook me and I abandoned the TV in favour of sleep.